Concerns about the stability of USDT led to a flurry of buyback requests worth more than $9 billion in the past week. Are investors worried about the possibility of a crash?
The circulating supply of USDT is now rapidly decreasing
Over the past week, the market capitalization of stablecoins This fell by more than $9 billion as holders rushed to exchange tokens for US dollars.
Last week, USDT briefly lost its peg, trading as low as $0.95 as the market sold off in a panic due to stablecoins UST of the Terra fall. The arbitrageurs bought USDT when it is trading below the peg to exchange tokens for US dollars on a 1:1 ratio, both benefiting from the spread and helping USDT back to the closing level. However, even though the closing price is currently stable at $1, the exchange activity USDT still going on.
USDT are collateral-backed stablecoins, which means that for every USDT in circulation, Tether own cash, cash equivalents or commercial paper to back it on a 1:1 basis with US dollars. Tether states that USDT holders can exchange their tokens to US dollars at any time. When USDT lost its peg on May 12, Tether was reassure holder on Twitter that the company will fulfill all buyback requests and is processing over $2 billion in a single day. The amount of USDT in circulation currently stands at $74.3 billion, down from a peak of $84.1 billion less than a week ago.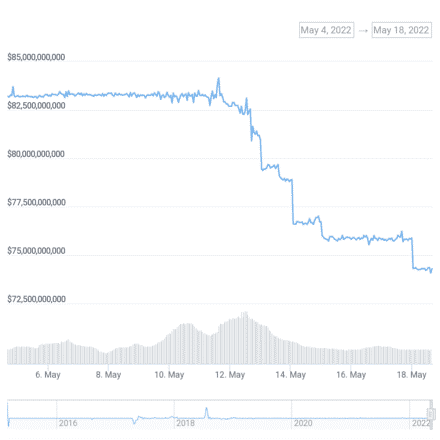 USDT Market Cap | Source: CoinGecko
Although Tether guarantees a buyback, it seems that many holders are continuing to convert tokens to real US dollars even after the market has stabilized. The question is why do holders exit in bulk even when Tether has secured redemption?
The collateral quality of stablecoin USDT
For several years, there was a lot of controversy about whether USDT was fully backed and what assets Tether held to back their stablecoins? In 2019, Tether faced its first class action lawsuit when investors allege that the company lied that every USDT issue was paid for entirely with funds in a bank account. The case finally ended in October 2021 and the Commodity Futures Trading Commission forced Tether to pay a $42.5 million fine.
However, the controversy did not stop there. As the lawsuit ends, Chinese property developer Evergrande is facing a severe liquidity crisis and is at risk of bankruptcy. One report alleged that Tether holds large amounts of Evergrade debt to back USDT, along with billions of dollars in commercial paper issued by other major Chinese companies. With Evergrade nearly insolvent, the situation once again raises doubts about USDT's support.
In response, Tether denied claims USDT was not fully backed and allegations that it held debt issued by Evergrande. In February, Tether released its most recent quarterly report stating that the company holds $24.1 billion in commercial paper and certificates of deposit, $4.1 billion in cash and bank deposits, 3 billion dollars in money market funds and 34.5 billion dollars in treasury bills as of December 31, 2021. The company also recorded a significant decrease in commercial paper holdings (21%) since the previous quarterly validation.
Last month, Tether CTO Paolo Ardoino said the company would further reduce the share of USDT-backed commercial paper, replacing it with U.S. Treasuries. However, despite the company's commitment to enhancing the transparency of USDT-backed assets, some are concerned that Tether could cause all USDT holders to go into a bank run." miss life" like UST.
Compare USDT Ponzi
In recent days, some have compared USDT to a Ponzi scheme based on mass buybacks. Augustus Investments Group President Christopher Bloomstran mentioned Tether's declining market capitalization in tweets on Wednesday, accused Tether of lying about its commercial paper reserves and called the company's activities "far beyond Maddoff's," in relation to Bernie Madoff, the operator of the largest Ponzi scheme in history. was worth about $64.8 billion at its peak.
Several members of the crypto community protested Bloomstran's comments. Three Arrows Capital co-founder, Su Zhu, has answer Bloomstran's tweet that the recent $9 billion worth of buyback requests Tether has processed proves USDT is "convertible to USD".
Others, such as Mike Dudas, founder of 6th Man Ventures, have also shown USDT's market cap decline only proves that holders are successfully exchanging USDT. However, while Dudas refutes claims Tether works like a Ponzi scheme, he said he prefers holding other stablecoins.
"I still feel more comfortable with my money in the form of USDC/USDP due to the quality of the reserve. In fact, they are better than USDT reserves," he speak.
While arguing that USDT's reserves are not of the same quality as other stablecoins, Dudas also pointed out that Tether regularly discloses collateral holdings. Tether has also been investigated by the New York Attorney General to further prove the assets that support USDT.
However, it seems that USDT's loss of peg and recent buybacks have worried many investors. The market's fear from last week's UST failure may have spilled over into USDT, although the two tokens achieved dollar pegs in radically different ways. More broadly, investors may also fear that the current weak macroeconomic environment negatively impacts the crypto market and devalues Tether's U.S. commercial paper and Treasuries. hold.
While Tether has used over $9 billion in buybacks in the past few days, if liquidity for USDT collateral dries up, the company's ability to redeem could suffer. While it is unlikely that such a significant liquidity crunch would occur in the absence of a global financial crisis, it is clear that many investors believe there is a risk to holding USDT in light of the market climate. recent recession.
Join our channel to get the latest investment signals!