Bitcoin (BTC) faced a sell-off on June 27 when US stocks fell.
Macro factors
US stocks fell on Monday (June 27) after the major indexes recovered strongly last week from deep declines this year. Wall Street is bracing for its worst first half in decades.
Ending Monday's session, the Dow Jones Industrial Average fell 62.42 points (equivalent to 0.2%) to 31,438 points. The S&P 500 fell 0.3% to 3,900, and the Nasdaq Composite lost 0.7% to 11,524.
The major indexes struggled as investors weighed whether US stocks had bottomed out or were just recovering from oversold markets.
Investors will keep an eye on more data on Tuesday including June consumer confidence and April home prices to gauge the health of the economy. Recently, recession fears have increased as the US Federal Reserve tries to combat inflation with aggressive interest rate hikes.
Nike shares edged higher in after-hours trading after the sportswear company topped fourth-quarter earnings and sales expectations, despite China's coronavirus shutdown and tougher environment. for consumers in the US.
Several major banks raised their dividends in response to the US Federal Reserve's stress tests this year, including Bank of America, Morgan Stanley and Goldman Sachs. However, JPMorgan and Citigroup say increasingly stringent capital requirements force them to keep their dividends unchanged.
Despite last week's rally, the S&P 500 fell by nearly 14% in the second quarter, on track for its worst time since the first quarter of 2020, when the pandemic broke out.
Meanwhile, shares in the Asia-Pacific region rose slightly on Tuesday as investors weighed economic concerns.
Japan's Nikkei 225 gained 0.11%, while Topix gained 0.26%. In South Korea, Kospi gained 0.51% and Kosdaq inched up 0.29%. Australia's S&P/ASX 200 also edged higher by 0.22%.
Oil prices rose in a volatile session on Monday (June 27), as investors awaited a move against Russia's oil and gas exports, possibly from the G7 leaders meeting. in Germany.
End of trading session on Monday, Brent oil contract increased 1,74% to 115 USD/barrel. WTI oil contract advanced $ 1.95 (equivalent to 1.8%) to $ 109 / barrel.
Bitcoin and Altcoins
Data from TradingView shows BTC/USD is trailing the equity markets, falling together as the final week of June begins.
At the present time, BTC is trading below $ 21,000, hitting a three-day low at $ 20,510 after a steady weekend.
In the context of traders lacking confidence in the price increase, expectations of further decline still exist, with Bitcoin remains below the key 200-week moving average (WMA) at $ 22,430.
"Bitcoin says NO to $ 21,000 support. We are seeing the market being restructured", Michaël van de Poppe said.
Another post argued that lower levels would attract traders to open long positions. If BTC fails to hold the support located at $ 20,325 and around $ 20,100, it could lead to a drop to $ 19,000.
Meanwhile, analyst Credible Crypto already fabricate requirements to ensure that this month's $ 17,600 low will not be challenged. Accordingly, Bitcoin needs a rally towards $ 30,000.
"If BTC reclaims $ 25,000, it can gradually move towards $ 30,000, at which point the price will stop making new bottoms," he shared.
"So if we are going to see a new bottom, I predict it will happen before the market reclaims $ 25,000."
Bitcoin still on track to close first month below 200WMA on date, shows bear market currently ongoing.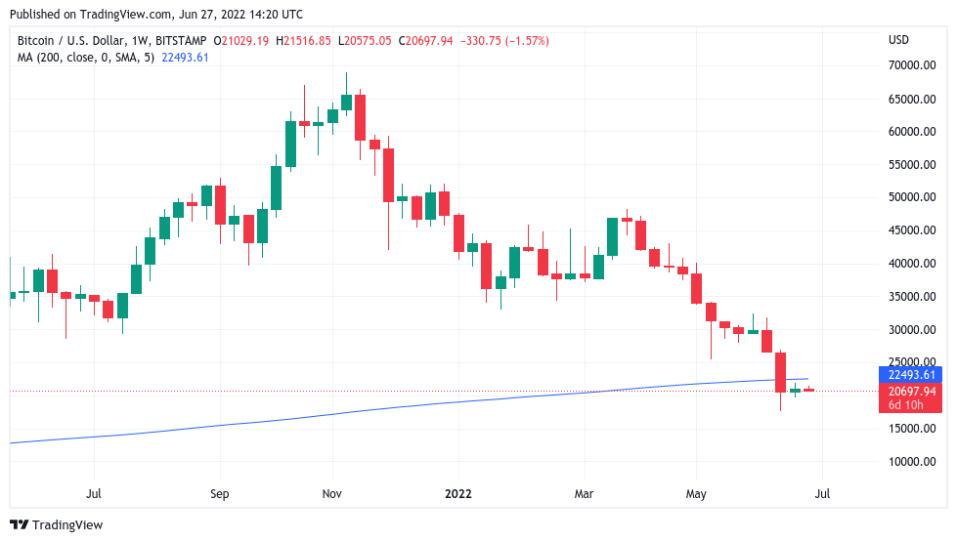 Meanwhile, evidence of investors buying dips continues to grow.
After whales decided to accumulate BTC around $ 20,000, major exchanges have seen a sharp drop in BTC supply in recent days.
Follow data from on-chain analytics firm, Glassnode, June 26 saw the largest cumulative change in BTC not held on exchanges.
The 30-day average of BTC supply across exchanges fell by 153,849 as the coins moved elsewhere.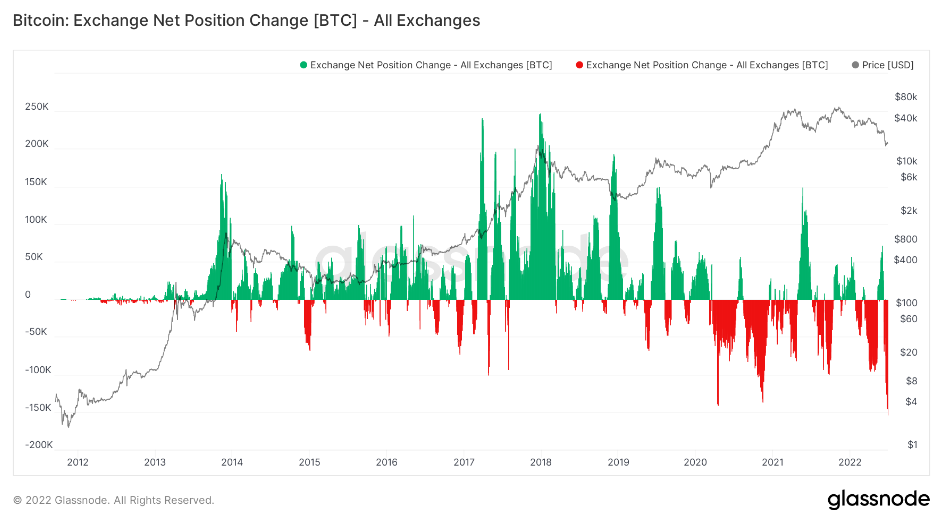 Currently, the Mayer Multiple Index also continues to show the potential for outstanding gains by buying BTC at current levels.
Toward Altcoins, the market is also witnessing a slight decline after BTC returned below the $ 21,000 area. Leading the decline in the top 100 is XDC Network (XDC) upon the loss of 11.9% of value in the last 24 hours, followed by Polygon (MATIC) when a decrease of 5.6% was recorded.
Ethereum also showed slight downward momentum, losing 1.3% during the day, now trading around $ 1,190.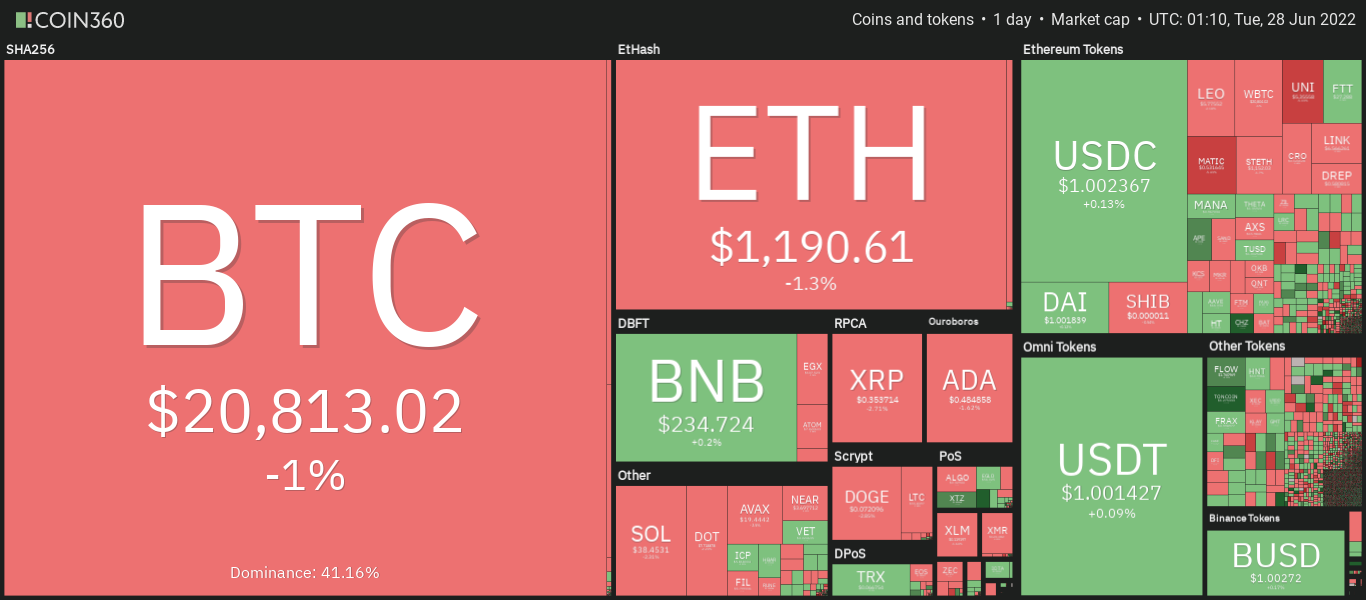 Market sentiment also recorded negative signals as the fear and greed index dropped back to 10, showing that traders are very confused and "extreme fear" when Bitcoin loses the key $ 21,000 area.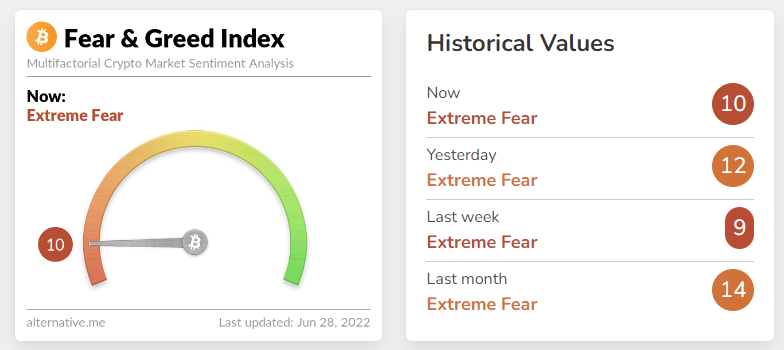 Join our channel to get the latest investment signals!