Overview of Aptos
Aptos is a project blockchain new layer-1, focused development towards the goal of providing blockchain most secure and available to a large number of users worldwide. Aptos promises to become a layer-1 blockchain surpassing 2 seniors Ethereum and Solana, with a strong development team that has served for big projects like Diem and Novice.
Present, Aptos The token has not been launched yet, and there is no documentation on the project's token either. Aptos The mainnet has not been released yet, so there are no mainnet parameters of this blockchain.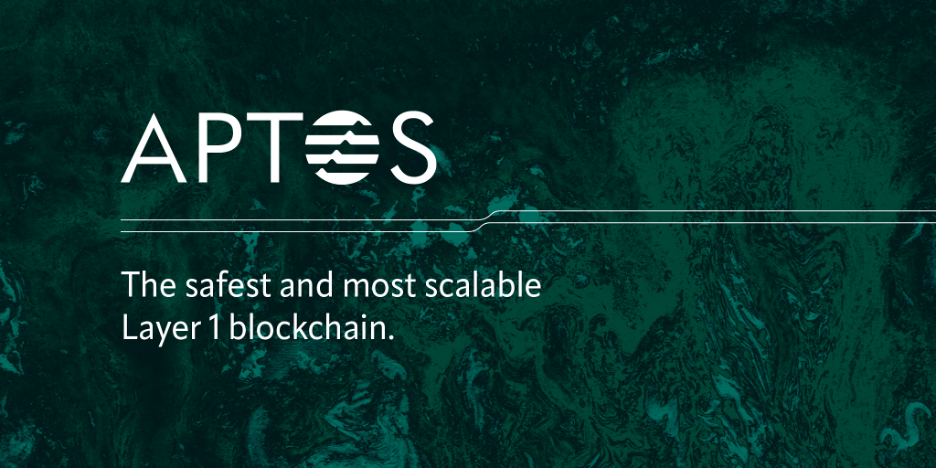 Highlights of Aptos
Distinctive features of the Aptos blockchain compared to other layer-1s include:
Move programming language: The programming language of Aptos is a central focus of the project, designed for secure management of resources, and for easy verification of commands on the blockchain.
Byzantine Fault Tolerant Mechanism (BFT) low latency: Team Aptos focused for a long time to complement their BFT mechanism, ensuring the safety of the network even though the nodes have been manipulated and engaged in cyberattacks.
Ability to change private key to increase user security.
High TPS: In laboratory conditions, if you ignore many factors about storage, consensus mechanism, network, etc. TPS of Aptos can be up to 125,000 - 160,000 transactions per second.
Network upgrade capabilities: Team Aptos believes that in order to adapt to the rapidly changing market, the network must have excellent upgradability. Therefore, they created Aptos with the ability to upgrade the network without downtime to accommodate continuous network upgrades in the future.
Validators capable of running various nodes: Validators can choose to run nodes at many different levels, with the simplest node running level being reduced so that validators only need to meet basic requirements, thereby rapidly increasing the number of validators.
Investors and partners Aptos
Currently, Aptos has undergone many rounds of funding, invested by many large investment funds.
On July 25, 2022, Aptos announced to receive $150 million Series A investment from major funds including FTX Ventures, Jump Crypto, Apollo, Griffin Gaming Partners, Franklin Templeton, Circle Ventures, Superscrypt, with 2 investors from private round (a16z crypto and Multicoins).
The first investment round of Aptos was on March 15, 2022, with 200 million invested from a16z, Tiger Global, Katie Haun, Multicoin Capital, Three Arrows Capital, FTX Ventures and Coinbase Ventures.
Currently, Aptos has just announced a single partner, Google Cloud, which they use to store data to make it easier for validators to run the node (it only takes 15 minutes for a node to be installed and startup).
Development process and roadmap
Aptos has had a long development process, but public events have only appeared since the beginning of 2022 so far:
Quarter 1 2022 (March 15) - Testnet for developers: Improve the Move programming language to be more developer-friendly, enabling developers.
21/4/2022: Using Google Cloud as a data storage application makes it easier to run a node. However, this affects the decentralization of the blockchain when Aptos decides to use Google's services.
Q2 2022 - Incentivized testnet launch: For the first time, the testnet is public for the community to use and run node.
Q3 2022 - Mainnet public: This will be the next big milestone for Aptos. After successfully raising $ 350 million, Aptos mainnet event is very much anticipated by the community.
Quarter 4 2022 - Quarter 1 2023: Aptos continues to grow the network with new updates.
Analysis of the Aptos . ecosystem
An overview of the puzzle pieces on Aptos will be introduced and analyzed in the following section, according to the categories in the ecosystem. Information is collected through Aptos skins on the project's social networking sites (July 28, 2022). Although the project has not yet launched on the mainnet, there are many projects ready to launch on Aptos when the network goes live.
AMM DEXs
Projects to do about DEX on the Aptos ecosystem including:
Pontem: The project was invested by Delphi, Alameda, Mechanism, Animoca Brands, Aptos Labs and many others, with a round worth of $4.5 million. The project is in testnet stage and has a total of 75,000 testers at the moment.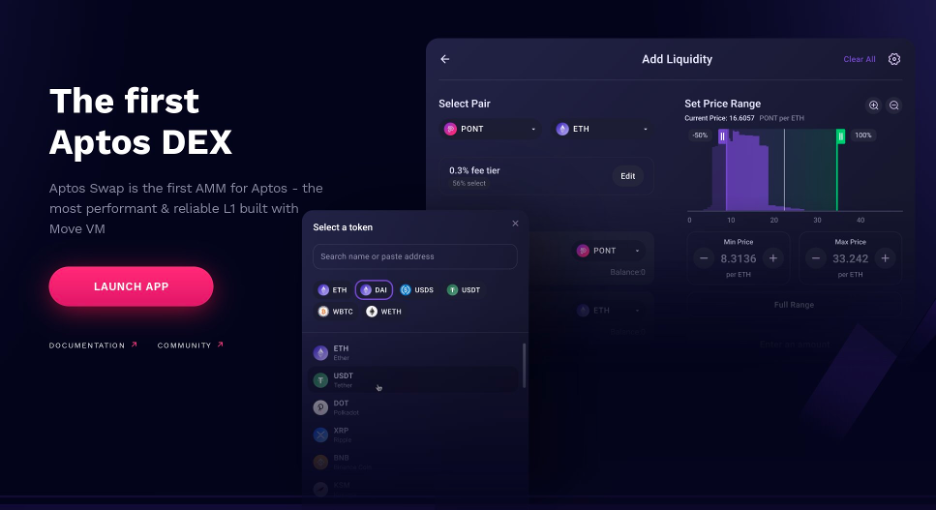 Laminar, Econia, Empo, Hanson: NS DEX on Aptos not much information has been published. The project is in development. Of which the majority of DEX operate according to the mechanism AMM, except that Econia operates on an orderbook mechanism.
In addition, there is a project working on trading aggregator is Hippo - help users to trade on a single interface and achieve the best trade price.
⇒ Comments: Array AMM DEX is the first area to be perfected in any ecosystem that prepares the future for other areas. The Aptos system is in the early stages of perfecting the DEX array, in the early stages of developing the first largest players.
Currently, the biggest player is Pontem and the rest of the projects are in the devnet stage, and it is likely that they will soon open liquidity mining programs as well as other programs to attract liquidity in the near future.
Users can participate in product use programs, airdrop programs or liquidity mining to make profits for themselves!
Lending & Borrowing
Projects to do about Lending & Borrowing on the Aptos ecosystem includes:
Vial: Currently, the project has launched devnet, users can try the project's products.
Njord Finance: The project does not have much information, but is supported by Twitter of Aptos Labs.
Ultima: Project lending won 3rd prize Aptos hackathon 2022. The project is under development.
Currently, there are three lending projects in development on Aptos and one project is in the devnet period, users can join and experience beta project products.
NFT Marketplace
Projects about NFT Marketplace on the Aptos ecosystem including:
Curiosity: The project is in devnet stage, supported by Aptos communication on Twitter.
Topaz: The project is in devnet stage.
Currently, the NFT Market hasn't come into operation yet because Aptos doesn't have mainnet yet. After the mainnet in Q3 takes place, these markets will be the focus of projects NFT, where more attention is being focused on Curiosity as this project has media support from Aptos Labs.
The infrastructure
Infrastructure projects on the Aptos ecosystem include:
Wallet on Aptos: Martian, Fewcha, Aptos Wallet, Hive - these wallets support the Aptos ecosystem, and are developing their products as extensions, apps on iOS and Android. Pontem Network - the project with the most interest in AMM DEX - is also developing their own wallet for Aptos.
Oracle on Aptos: Oracle The first and only one announced to work on Aptos at the moment is Switchboard. The oracle the biggest in the market like Chainlink, Band Protocol has not announced this blockchain support yet.
Explorer on Aptos Currently there is 1 devnet explorer, but this explorer shows not much information and is also under development.
Bridges: There is currently no information on which bridges will support Aptos. This is an extremely important area for money to flow into the ecosystem, and needs to be watched more in the future.
⇒ Comments: The infrastructure pieces on Aptos are in the early stages of development, so there are many shortcomings. In addition, because it is a chain that does not support EVM, connecting to the user files of the chain EVM now will be difficult. Not only that, the infrastructure tools will have to develop from scratch with a new programming language (Move), so building the tools will take development time.
During the mainnet preparation time in Q3 2022, Aptos' infrastructure segment will need to develop a lot to make it easy for users to use.
Other pieces
Other projects on the Aptos ecosystem include:
Fund Management: Solrise is the first and only project at the moment working on Fund Management on the Aptos system. This project was originally developed on Solana, and now they will expand to Aptos.
Payment: Paymagic works on payments on Aptos, this project has worked on many ecosystems and is expanding to support other platforms. KNIFE and project on Aptos.
Liquid Staking: Zaptos is a project that allows users to profit from farming on Aptos, and is in development.
Domain name service: Aptos Name Service - Project about Name Service with domain names ending in ".aptos".
Messinging project: Dialect - The project is about messing on multiple chains and now they will support Aptos in the near future.
⇒ Comments: In general, the Aptos ecosystem has had a certain completion of projects working in different fields. However, most of the projects are still in the development stage because Aptos is not yet mainnet, and will need to monitor this ecosystem more when they go to mainnet at the end of Q3 2022 according to the roadmap.
Assessment and projection of the Aptos . ecosystem
An overview of the Aptos . ecosystem
Looking at the overview of the system, Aptos has had leading projects in most important areas, except for the bridge segment. Basic arrays about DeFi On the existing system (including DEXs, Lending), basic infrastructure projects such as explorer, oracles, wallet are also in the process of being completed.
Aptos also has a large number of projects from other chains extending to such as Solrise, Pontem Network, etc. Finally, Aptos has a large backer, which has gained great attention from the market as well as the support of other players. VCs to develop the ecosystem.
However, this ecosystem still has many weaknesses:
First, Aptos is not an EVM chain, and their main programming language is Move. This will cause many difficulties for new developers who want to develop projects on this new blockchain, especially when the infrastructure to support developers is not much.
Another disadvantage of non-EVM chains is that users of that chain will have to be exposed to a completely new set of tools, hindering them in the process of exposure and use. This weakness will cause fewer users to use Aptos when they launch the mainnet.
For retail investors, the fact that the project has raised a lot of capital at a high valuation will make it more difficult to invest in tokens to find profits.
Projecting the future of the Aptos . ecosystem
In the near future, the Aptos ecosystem is likely to have the following developments for growth:
Since they use a new programming language, they need to attract more developers to the platform. Hackathons can be opened, with many programs to attract developers and projects from other chains to increase the number of projects, as well as develop tools to make programming on Aptos easier.
The mainnet is promised to launch in Q3 2022, so it is highly likely that before October 2022, users will be able to experience the project's applications, along with many opportunities for airdrops and farming on Aptos.
The bridges will support Aptos after they launch the mainnet, to circulate the money in and out of the ecosystem. The system's Explorer will be improved to be more user-friendly and feature more features.
After the mainnet, the projects will one by one launch their products, and will form the leading projects and become the mainstay in the Aptos ecosystem.
Conclude
The Aptos system is getting a lot of attention after successfully raising $350 million in the past 6 months. In the near future, the project's mainnet event and token release will certainly be very noticeable because they have both a large number of projects on the system and many large backers to support the development of the ecosystem.
This article has summarized the most basic information you need to know about Aptos. With this post. T-REX I hope readers can grasp some of its investment potential.
Join our channel to get the latest investment signals!