I. What is DarkShield Game?
DarkShield Games Studio specializes in the development of coding games, 2D and 3D RPG video games. DarkShield Games creates a link between the game industry and the world crypto.
In the near future, the project will promote marketing activities in international and Vietnamese markets.
II. Project highlights
Game Characters can be traded as NFT unique on the market.
Point system
Earn in-game points to exchange for NFTs and valuable tokens
Initial Game Offering (IGO)
The community can vote and invest in potential new games.
Token and NFT marketplace for in-game trading and exchange.
Multiplayer
Online multiplayer feature where users compete to win and get rewards.
Bonus Pool
Liquid Pool-based in-game rewards for online multiplayer gameplay.
III. Product
Zygut is a fighting game with 1:1 combat function and Story mode. With beautiful graphic design and impressive game mechanics, Zygut promises to bring many interesting experiences to players.
Currently, the game has released a trailer, you can watch it below:
IV. Development roadmap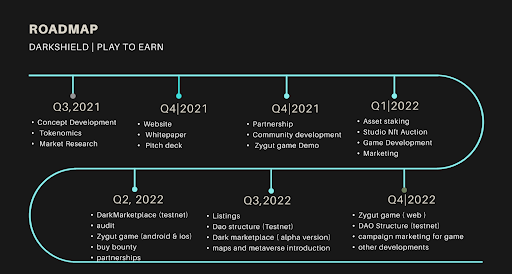 Q3, 2021
Release Tokenomics
Content development
Search market
Q4, 2021
Website Establishment
Whitepaper Release
Release Pitch deck
Find partners
Community development
Test game Zygut
Q1, 2022
Issuing Asset Staking
Studio Development and Auction
Game development
Marketing
Q2, 2022
Test game Zygut
DarkMarketplace (Testnet)
Audit
Zygut game release (Android & Ios)
Buy bounty
Seeking partner
Q3, 2022
Listing the exchange
Dark Market (Alpha Version)
Introducing the in-game map and Metaverse
Q4, 2022
Game Zygut (Web)
Decentralized governance structure KNIFE (Testnet)
Marketing campaign for the game
Other development activities
V. Current partner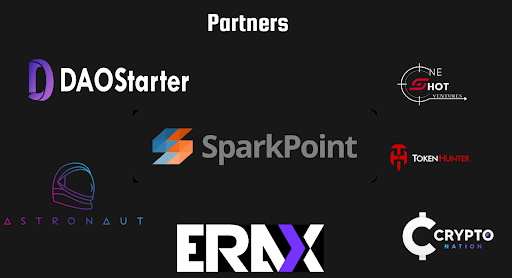 BECAUSE. Exchanges
Currently, $ tokenDKS are traded at some famous exchanges such as: MEXC, PancakeSwap, Poocoin, ...
VII. Tokenomics
Circulating currency in DarkShield Games Studio is powered by $DKS, a cryptographically secured asset created on Binance Smart Chain (BSC). DarkShield Tokens (DKS) will act as a utility token that powers DarkShield's cross-chain game studio, including game rewards, stakes, and serves as an in-game currency.
Role:
Game Rewards
Get points and convert to DKS . tokens
Complete in-game challenges and get DKS . rewards
Staking
APR Staking Rewards
Join IDO
Increase skills in the game
In-game currency
Buy/sell NFTs, in-game assets, e.g. land.
Setting up an in-game base
Rewards
Administration
DAO structure
Acceptance protocol
Suggestions
Right to vote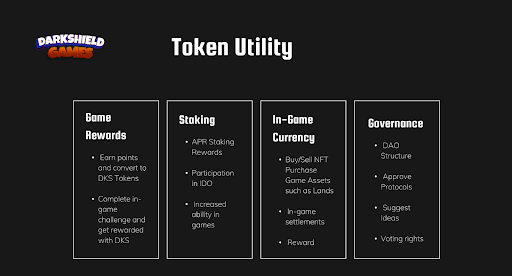 Basic information:
Token Name: DarkShield
Token: DKS
Blockchain: Binance Smart Chain (BEP-20)
Smart Contract: 0x121235cff4c59eec80b14c1d38b44e7de3a18287
Total supply: 5,000,000,000
Circulating volume: 97,500,000
Distribution: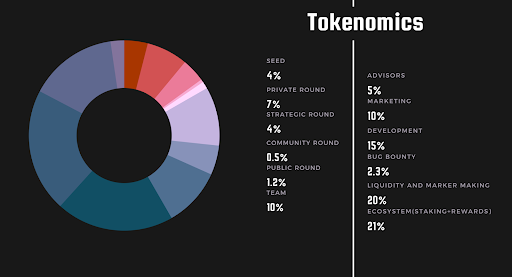 VIII. Community
To receive the earliest information from the project, readers can follow the communication channels below:
IX. Conclusion
DarkShield Game trust cryptocurrency is the future of Finance and the gaming industry provides the most amazing system to be able to easily interact with cryptocurrency and technology Blockchain. Through a point and reward system, game objects and characters become compatible with NFT items. And only games that are fully crypto and FT compatible will be produced by the studio. 
Join our channel to get the latest investment signals!