Only about 1 month left, the big upgrade Merge will be deployed on blockchain Ethereum and the network's PoW miners are forced to mine other coins. So far, it looks like miners will stick with chain Ethereum PoW until the last minute because profits are increasing. While Ethereum Will change the consensus rules soon, community members cryptocurrency trying to guess where the hashrate will go after the Merge transition.
Countless theories about Ethereum's hashrate
On August 11, 2022, during the Consensus Layer Call live stream, the developers Ethereum said Merge will most likely happen on or around September 15 to 16. The next day, Ethereum co-founder Vitalik Buterin confirmed the upgrade is likely to be implemented on September 15.
"Total terminal difficulty has been set at 58750000000000000000000. As such, the Ethereum PoW network now has a fixed number of hashes left to mine," said Buterin. speak.
Since then, the question has been where the current Ethereum hashrate will go after the transition. Many speculate the majority of hashrate will move to Ethereum Classic, but there are other opinions. In addition to the proposal to fork Ethereum ETHW most likely accounts for a small portion of the Ethereum hashrate, there are supporters hope Their chain will be enhanced with security. There is currently no basis for predicting how much hashrate the potential ETHW will receive after the Merge.
A supporter of the RVN . project hope Ravencoin Network will be promoted.
"If you are looking for the time to own RVN, it is now. Thousands of miners ETH will switch to RVN due to mining ETH will end next month. The next two years will be huge for RVN."
However, to date, there has been no significant migration from the Ethereum network to blockchain Other Ethash like Ravencoin and Ethereum Classic.
Looking at the stats, there was a sudden drop in the Ethereum hashrate, which started on June 6. On that day, there were 1.23 petahash per second (PH/s) or 1,230 terahash per second (TH/s) dedicated to the Ethereum chain. According to the data, around 230 TH/s have left the network, but none of the Ethash-enabled blockchains accumulate hashes to the same extent.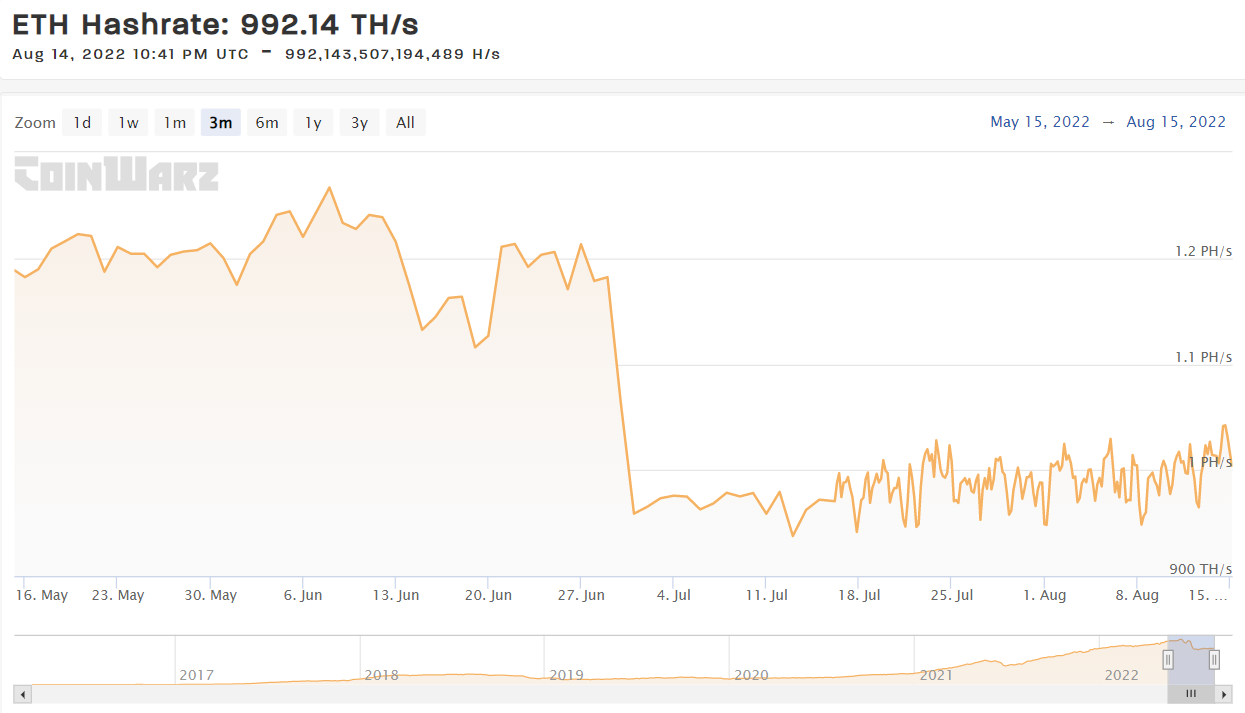 Ethereum Classic will benefit
The reason is that ETH mining is still very profitable, compared to other Ethash-enabled chains. Data shows that Bitmain's Antminer E9 (2,400 MH/s) receives an estimated $60.55 per day with an electricity cost of $0.12 per kilowatt hour (kWh). A11 Pro (1,500 MH/s) of Innosilicon receives an estimated $34.53 per day for the same electricity price. Currently, many of the top ETH mining pools also mine the Ethereum Classic chain. Some of the top ETH miners also contribute hashrates to Ravencoin's 2.31 TH/s and Ergo's 11.95 TH/s.
With such profits and the new Antminer E9 going on sale in the first week of July, it is likely that ETH miners will stick with the ETH chain until the end. While ETH lost 230 TH/s on 4/72022, ETC has seen a small spike of 7.12 TH/s since then. According to JPMorgan's recent weekly capital flow update published on Wednesday, the Merge transition will greatly affect ETH miners. In parallel, Ethereum Classic will benefit from this process, having seen a spike in hashrate in July. In addition, the bank highlights weekly capital flows that also highlight the altcoin use Ethash like ERG and RVN.
Join our channel to get the latest investment signals!