Entering November, analysts are busy studying the main market movements that occurred in October. While Bitcoin relatively unchanged with growth of just 5,89% for the month, Arcane Research senior analyst Vetle Lunde, describe potential direction in the next few months.
"Uptober" – refers to the bullish historical performance of Bitcoin in October is a popular topic on Crypto Twitter and according to Lunde, this performance seems to be happening again. data analytics, BTC and exchange tokens outperformed the index of large-cap coins through Oct.
Twitter's takeover event Elon Musk helped push the index of large-cap coins above Bitcoin with an amazing 20% monthly increase. DOGE helped cement the strength of large cap coins by generating a gain of 144% over the past 7 days.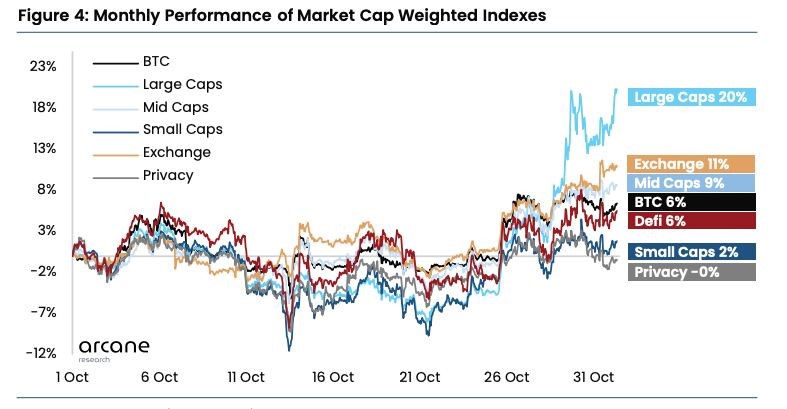 Spot market Bitcoin October was driven by increased volume and lower volatility, and benefited from a short squeeze that strengthened the market in the short term. According to Lunde, the last week of October recorded the largest short liquidation volume since July 26, 2021.
While this activity helped push the Bitcoin price up 6%, ETH and BNB significantly more than 18% and 19%, respectively.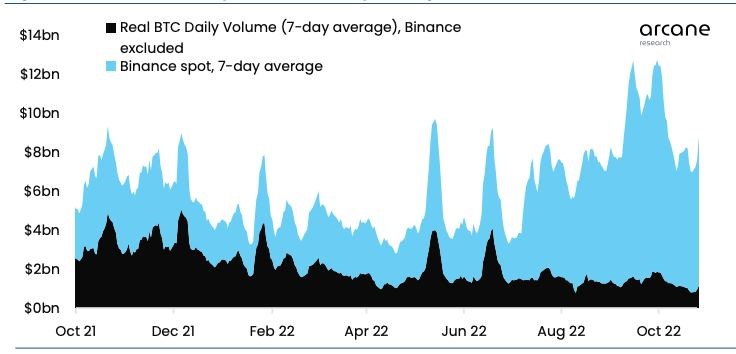 Short squeeze helped boost overall, but Lunde concluded that momentum did not produce a significant change in BTC price. BTC spot volume is up 46% over the past 7 days and the 30-day volatility index is at a 2-year low. Furthermore, the 7-day volatility index is sitting at 2.2%, while the yearly average is at 3%.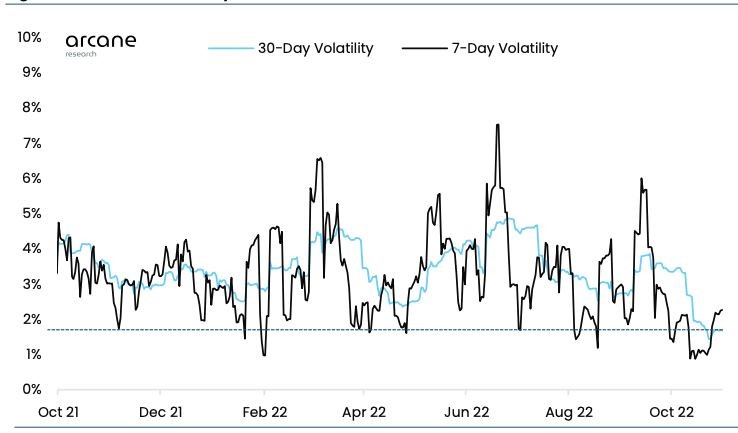 Comparing the volatility of the previous short squeeze to the recent short squeeze, Lunde said:
"July 26 Squeeze saw a daily peak-to-trough shift of 15% as the market rapidly rallied, while the October 25 and October 26 moves featured a peak-to-trough shift. daily is 5% and 6% respectively. Furthermore, the momentum has stopped, suggesting that traders should prepare for a longer consolidation."
Although Bitcoin is attractively priced, the best approach to this market is to use short-term dollar cost averaging rather than leverage, according to Lunde. Bitcoin has low volatility and closely follows the US equity market, so it is important to keep an eye on the Q3 earnings report.
Fed policy will continue dominant Bitcoin price
Chairman of the Federal Reserve of the United States (Fed) Jerome Powell will speak after the US Federal Open Market Committee meeting on November 2 on US monetary policy, inflation and the upcoming interest rate hike.
According to Lunde, there are two scenarios to watch for:
"Scenario 1: Jerome Powell is still very wise in fighting inflation and preparing for the market to rise further. In my opinion, this is the most logical scenario. In this environment, I expect the correlation between BTC and other asset classes to remain elevated and the current 4.5-month trading range to hold, with activity diminishing, resulting in a bearish environment. longer-term opportunities to accumulate.
Scenario 2: Jerome Powell offers policy changes. In this case, I see the correlation market softening. Last week, we saw market activity related to cryptocurrency unique structure that causes the correlations to drop through a significant short squeeze. Anticipating the policy change Pivot will lead to a similar reaction and revive the story of BTC's digital gold."
Under the second scenario, some analysts believe that cryptocurrency may begin to decouple from the US equity market. Accordingly, the market reaction is repeated cryptocurrency mid-2020 pushed the Bitcoin price above $20,000.
What will happen in the long term?
In the long term, Lunde predicts Bitcoin and digital asset adoption will continue to be the emerging trend. Pointing to a Fidelity survey showing increased interest from institutional markets in 2022, Lunde remains bullish on BTC at current prices.
While Bitcoin is seeing fewer transactions on-chain, increased participation from a clearer regulatory framework is possible in the long term. A clearer framework could eventually emerge if US voters start considering cryptocurrency policy when casting their ballots.
Bitcoin's sluggish growth, correlation with stocks, and a persistent downtrend for nearly a year remain a threat, but many analysts believe that Bitcoin is undervalued.
Join our channel to get the latest investment signals!