During the second-quarter earnings report meeting held on Wednesday (July 20), the electric car maker Tesla (TSLA) notification sold 75% No. Bitcoin (BTC) is holding, bringing in $936 million in cash.
According to CEO Elon Musk, job Tesla sells most of BTC to maximize its cash position is because of the uncertainty in the lockdown action due to the Covid-19 pandemic in China. However, he added that Tesla willing to increase exposure to BTC Future. Musk also said Tesla didn't sell any coins Dogecoin (DOGE) any.
In February 2021, Tesla revealed in its filing SEC about the purchase of 1.5 billion USD Bitcoin, contributed to the market euphoria and caused the price to explode from around $20,000 in December 2020 to $60,000 in March 2021. BTC of Tesla reached $2 billion. 
The company started accepting BTC to pay for its vehicles last March, but Musk turned the car around after six weeks because of concerns about the impact of mining. Bitcoin for the environment.
Tesla held about 42,000 BTC, so if they sold the 75% and collected $936 million in cash, that would mean an average selling price of about $29,000. Meanwhile, BTC ended Q2 at around $18,700, meaning Tesla avoided a significant loss by selling coins before that point.
Immediately after the news of Tesla was announced, the Bitcoin price dropped from a daily high of $24,280 to $22,900, before settling around $23,153 for the time being.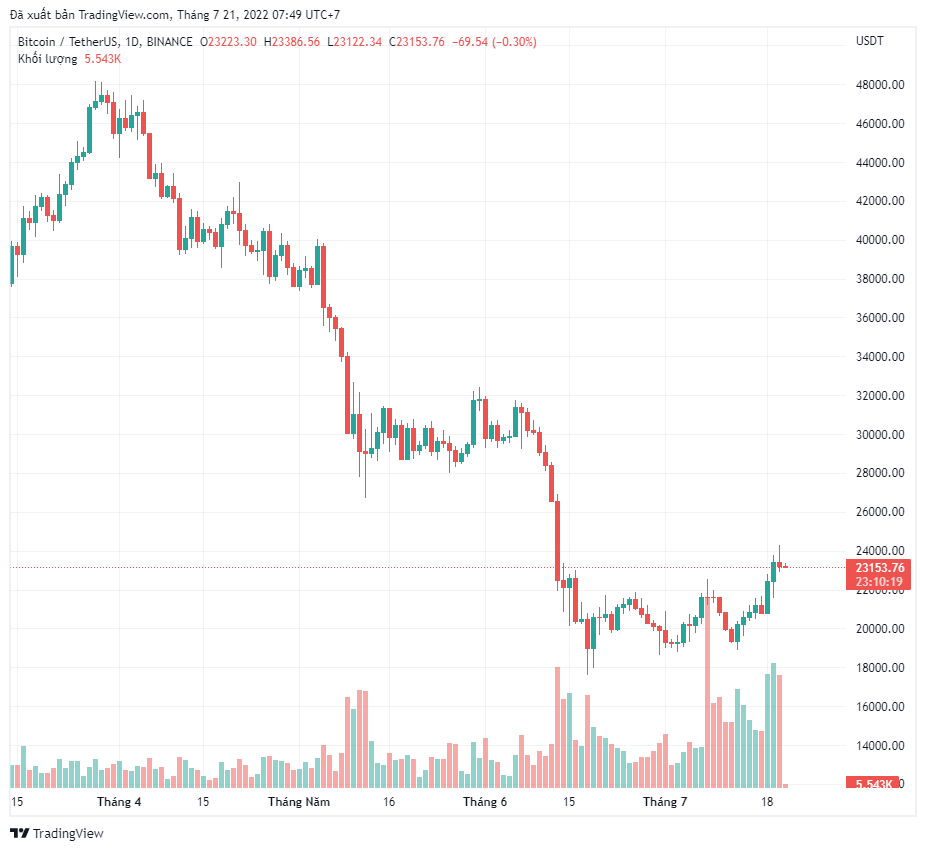 BTC price chart/USDT | Source: Tradingview
Investors' expectation of price increase was too soon
Yesterday's unexpected bounce may also help provide a little perspective on the market for investors cryptocurrency, who are ready to call for an end to the bear market.
"A lot of you didn't go through the early months of the bear market. You get excited by dead cat bounces and bull traps, act like a quick pump is the end of a bear cycle."
Although the drop for BTC over the past 24 hours has been relatively small, many altcoin experienced a sharper decline due to the recent rallies which created a good opportunity for investors to make some gains.
's Layer-2 Solution Ethereum, Polygon, fell 11.5% after a week of increase of 87%. Arweave (AR) saw a price drop of 10,84% and Filecoin (FIL) experienced a drop of 10.2%.
On the other hand, the only tokens in the top 100 that have kept positive gains on the day are Steem (STEEM) and Reef (REEF), which recorded slight gains of 6,27% and 3,15% respectively.
Market capitalization cryptocurrency the total is now $1.035 trillion and Bitcoin dominance is 42.7%.
Join our channel to get the latest investment signals!