So far, the market cryptocurrency The crash in 2022 has led to a deep drop in almost every coin. To deal with the current situation, Polkadot working hard to make sure dip buyers can use DOT their own in profitable cases.
As revealed recently, Polkadot implemented staking dashboard cryptocurrency Newly designed in a user-friendly manner. Number of nominations Polkadot passed the 30,000 mark shortly after the improvement was announced at Polkadot Decoded. This indicates high demand or interest in staking DOT.
The new staking feature highlights Polkadot's efforts to incentivize investors to stake DOT, especially if they are long-term HODLers. Such measures can support a higher floor price because the more holders stake, the lower the selling pressure.
At the time of writing, altcoin ranked 12th in terms of market cap trading at $6.91 after gaining 2% in 24 hours and 0.7% in the past 7 days. It is currently trading in the same price range as it was at the June 2022 low, thus highlighting a price floor or support here.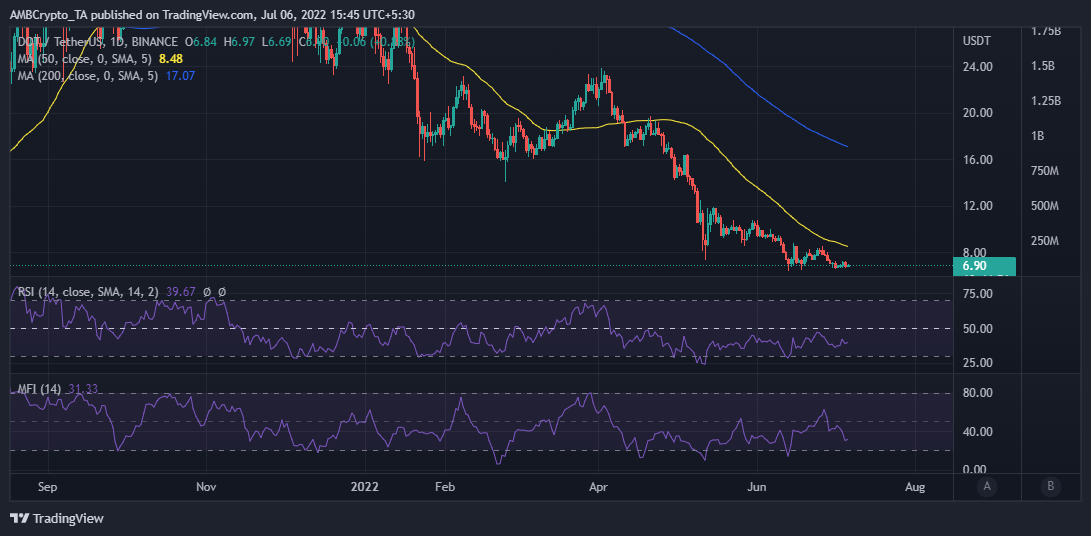 Compared to the ATH set in November 2021, DOT is now trading lower to 87%. The Money Flow Index (MFI) represents a significant outflow of money over the past few days. However, DOT is likely to rebound from the current floor price if market conditions allow.
Is it time for the price of DOT to rise again?
Polkadot's new staking dashboard may not have an immediate impact on the price, but it will make a definite contribution in the long run. Looking at the chart, the DOT remains constrained near the 30-day low. This is consistent with the developer's poor performance since mid-June, thus reflecting low investor confidence. However, the social dominance index shows increased activity since the beginning of July.

Social activity (purple) and social dominance (red) | Source: Santiment
DOT's low price action proves that uncertainty persists. However, some on-chain indicators show that investors have bought at the current low price. For example, the supply held by whales increased from a 30-day low of 43,92% on July 1 to 44,54% on July 6.

Supply held by whales | Source: Santiment
The DOT Volume Index also jumped notably in the first 6 days of July.
The increased volume and supply held by whales confirms the significant DOT accumulated over the past few days. However, its price action remains bearish, indicating a lack of enough buying pressure to support major upside momentum.
Join our channel to get the latest investment signals!