Polkadot has been and is getting a lot of attention because of the approach parachain full of creativity. This article is everything you need to know about cross-chain blockchain this (cross block chain).
Polkadot quickly become one of the blockchain the most popular and one of the blockchain The biggest cryptocurrency to date.
The hype about Polkadot is getting stronger and stronger, so this is probably the most complete and concise guide.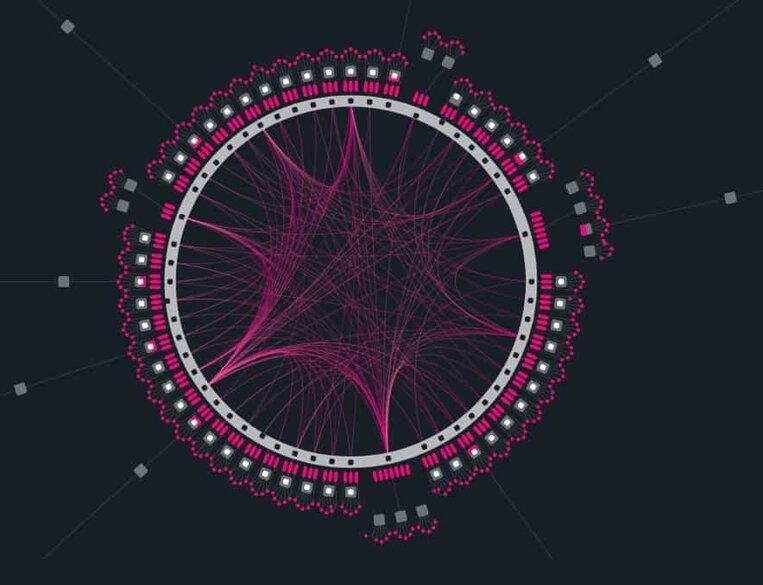 What is Polkadot?
Co-Founder Ethereum, Gavin Wood, saying that this is the project against blockchain maximalism. According to CoinGecko, its popularity is super fast and the returns it has made since launch are amazing. Polkadot is currently on the list of top 10 cryptocurrencies by market capitalization.
But what is Polkadot and what is its impact on the blockchain industry? Who is using it and is the hype surrounding it cliché or well-founded? Simply put, then Polkadot (DOT) is a blockchain network:
Connect blockchains together.
Allows users to easily build a blockchain with their framework.
Store blockchains, handle security and transactions.
Features of Polkadot
Connection: The repay chain
A project with a private blockchain is a wonderful thing. However, for most blockchains, it is also a barrier to reaching the large blockchain community. In essence, a blockchain project will need to develop critical infrastructure to access it securely and efficiently. In the past, there were many projects that failed because they could not provide important connections.
Polkadot acts as a "transition chain". Roughly speaking, it is a large blockchain whose main purpose is to connect other blockchains to itself and provide its own method of communication with that blockchain. The "hub and spoke" model helps small blockchains to be tied to the big chain and brings many other benefits.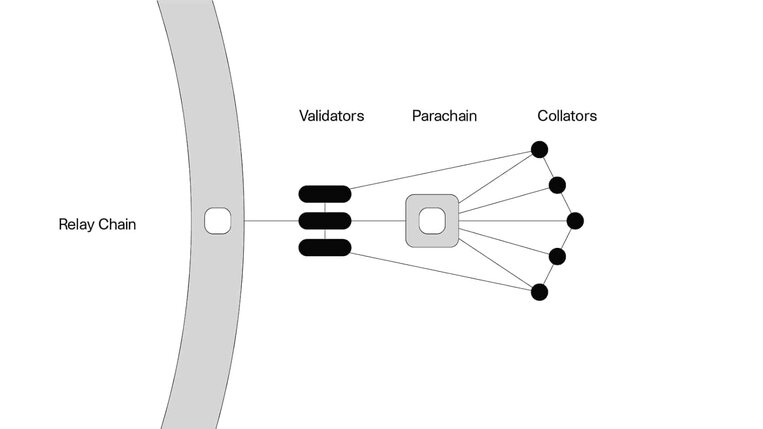 Blockchain builder: Substrate
The Polkadot framework includes a tool called Substrate that makes it easier to build a brand new blockchain. This tool is designed to help teams build the blockchain they want and has protocol connection points tied to relay chain features.
This tool offers two main benefits: it allows teams to spend less time building the underlying infrastructure for a blockchain project, and helps them focus their energy on the project's added value.
It also provides access to the world of blockchain for development teams with great ideas but not the expertise to build a brand new blockchain. This dual-use technology is very powerful and is considered the main reason why development teams choose Polkadot for their projects.
Security and Speed: Server Platform
Since Polkadot will process transactions from all chains at the same time. So blockchains, called parachain, operating on a relay chain will enjoy one of the biggest benefits: using built-in security, fast transaction speeds, and the scalable nature of Polkadot.
No need to create a secure system for the blockchain with all the necessary confirmations and avoid high gas fees from other networks, giving the development team more time and energy for the core value of the blockchain. their.
Bridge to the world
Polkadot is designed to act as a medium between parachain on its network. However, it also has a connection with blockchains like Ethereum and Bitcoin. This means that parachains can access and interact with large networks without having to choose which network to connect to. With this mindset, Polkadot does not have to participate in the competition for the top position like Ethereum but rather to provide benefits to collaborative blockchains and add value to both parties.
On-chain upgrade
First, Polkadot announced support for upgrades within the chain itself, preventing the risk of a hard fork for critical updates. This reduces the risk of the community being split into two parts, an administrative cleanup hassle and unexpected token volatility.
Risks behind Polkadot
There are plenty of reasons to like Polkadot and it's also easy to see why the platform has garnered so much attention. However, understanding the potential risks of this blockchain is equally important.
Polkadot's biggest risk is that multiple platforms lead to massive competition. While Polkadot is offering some innovation in its approach, its core value is a Proof-of-Stake platform that creates a connection between blockchains.
There are several other platforms that also serve the same purpose and each with their own distinct characteristics of how they get things done like Polygon, Avalanche and Cosmos.
Like Ethereum, Polkadot has the ability to connect to any network. Thus, it can protect member blockchains from being isolated from an attractive blockchain network. However, the competition of blockchain is very fierce right now and the market is not saturated yet.
The platform has suffered major setbacks, especially the hack 2017 took a toll on finances and reputation. Although the development team has patched the holes and thanks to these scars it has become stronger than other platforms. But it is not pleasant to see a foundation shaken when $150 million has been stolen.
Finally, another potential risk is also an interesting point of this transition sequence. In fact, to enter the Polkadot space, blockchains must bid for space in a "slot auction". auction). The winning blockchain will pay this bid in DOT and the space of that blockchain will be kept for the duration of the participation.
This makes it difficult for small projects without much funding to compete for a position.
Minimize risk with Kusama
"Warning: this is a test network. It will be extremely chaotic."
Kusama, Polkadot's canary web (canary in a coal mine, that is, a warning of risk). In order to minimize the risk to the project of this blockchain itself and its member blockchains, Polkadot has created a close copy of itself to test new ideas, test quality, detect problems in the corner. hidden. Basically crash testing of projects before officially running on Polkadot.
Kusama was received very positively. But participation in Polkadot is limited due to location auctions, which forces projects that want to participate in this space to wait until the next auction if unsuccessful.
Kusama provides a low-stake way to completely solve any difficulty when coding the project and allows Polkadot to test new code on its own without affecting any parachains. According to R&D (short for Risk & Danger), the development team Kusama, then this is the best way to test crazy ideas, turn them into possible solutions, and then put them on the network as a creative breakthrough.
Administration of Polkadot
Polkadot users can influence the growth of the network in 3 ways:
Own DOT - anyone who buys DOT tokens can use DOT to propose network changes and approve or reject major changes submitted by others.
Board - elected by the pensioner, Board members are responsible for recommending changes and for overseeing authorized changes made by DOT holders. The Board member's proposal does not need as many votes as the proposal of a regular DOT holder to be approved.
Technical Committee - Consists of the Polkadot construction team. These groups can make special recommendations in the event of an emergency. The members of the technical committee are voted on by the members of the Council.
What makes Polkadot different from Ethereum?
There is much speculation about the difference between Polkadot and Ethereum since both share the same founder.
Indeed, Polkadot and Ethereum's major update, known as Ethereum 2.0, have many similarities in design and operation.
Both operate a main blockchain, which executes transactions and allows for the creation of many smaller blockchains to utilize its resources. Both use staking as a method of keeping the network in sync instead of mining.
Currently, the development team is conducting research on how transactions between networks interact with each other. For example, Parity has developed technology designed for people who want to deploy applications that leverage Ethereum's code and ecosystem but run on Polkadot.
Some of the top projects on Polkadot
While Polkadot's infrastructure is impressive, the various projects built on or connected to it offer an interesting look at the quality of the platform as a whole. Some focus on enabling Polkadot's core capabilities and others just use parachain to provide their own products or services. Top projects in the Polkadot network include:
Kakura Network (Acala) focus on creating and deploying smart contracts DeFi for different users. That way it will create a hub DeFi enable liquidity and cross-blockchain applications.
Moonriver (Moonbeam) is an Ethereum-compatible smart contract parachain that connects Ethereum-based projects with Polkadot, focusing on allowing minimal smart contract reconfiguration or the need to use new development tools for interoperability between blockchains.
Khala (Phala) Network focuses on privacy-preserving cloud computing services. It is based on TEE-Blockchain Hybrid Architecture (TEE-Blockchain Hybrid Architecture) and provides users with a solid balance between computing power, cloud-based flexibility, and blockchain-based security.
Bifrost is built as a DeFi hub, hosting applications that allow users to access many DeFi features while also offering a number of staking rewards and various liquidity options.
Shiden (Plasm) is also a smart contract platform designed to support Dapps on Kusama/Polkadot. It was built with speed and scalability in mind, concentrating its services on Layer 2.
Conclude
As the level of discussion around Polkadot increases with location auctions attracting investment and other projects, the community wonders what the platform will look like in the next year or two.
Although it is not completely without risks and drawbacks, it has been developed by an excellent team, attracted many projects and is still realizing what was advertised.
Join our channel to get the latest investment signals!