Decentralized exchange (DEX) using the command book dYdX will leave blockchain Ethereum to set up the root chain on the ecosystem Cosmos. The move comes as a surprise as the project defines itself as providing "advanced crypto-financial products, operating on blockchain Ethereum".
This exchange is the only platform that offers lending, borrowing, perpetual futures, margin and spot trading. Users connect their wallets similarly to a DEX standard and then deposit the funds in the custody (custodial) of dYdX through smart contracts. However, the funds can only be accessed through the user's wallet, unlike centralized exchanges. With this hybrid approach, dYdX Be unique in the ecosystem Ethereum.
Why Cosmos?
dYdX describe The move is to "rebuild dYdX as a standalone blockchain based on Cosmos, which features fully decentralized, off-chain, order book and matching engine." This will be the fourth version of DEX, using consensus mechanism Tendermint.
Using Cosmos SDK, the migration will allow the new version to be "fully decentralized" along with other features. More, Cosmos provides near-unequaled cross-chain interoperability through the IBC Protocol. The current dYdX token is token ERC-20 based on Ethereum uses StarWare's StarkEX to support layer 2 functionality. However, if switched to Cosmos, the dYdX platform will provide tokens that are actually used on its own blockchain and governance system.
Once dYdX becomes an independent blockchain using Cosmos SDK, it will have a token layer 1, validators, and staking mechanisms. Therefore, the platform will not have to perform Ethereum updates or experience any problems that may arise before the time of the Merge. PoS scheduled for September 2022.
"On Cosmos, each validator will run an in-memory command book without ever committing to consensus… The command book each validator stores will eventually fit together. On a real-time basis, orders are matched by the network. Those transactions are then committed on-chain block by block."
dYdX claims they are "advocate for radical technological changes" and that Cosmos is the ecosystem that will allow them to continue to improve in accordance with their vision.
The main reason that prompted dYdX to leave was the high throughput required when running a decentralized system with a live order book. This trading mechanism is "critical for the needs of professional traders and institutions" and claims to process more than 1,000 transactions per second. While maintaining on Ethereum, dYdX noticed scaling issues.
"The basic problem with everyone layer 1 or layer 2 that we can develop on top of which is none that can handle even close to the throughput required to run a first-class order book and execution engine."
Once migrated, traders will no longer have to pay gas fees to execute transactions, but instead, pay fees based on completed transactions. This fee will then be paid to stakers and validators.
Skip layer 2
On Ethereum, dYdX must use StarkWare Layer 2 to provide some of its products, such as a perpetual contract marketplace. In the past, the platform has sought to move towards layer 2 to reduce gas fees and allow the exchange to scale.
"Ethereum can handle about 15 transactions per second (TPS). This number is not enough to support the rapid growth of DeFi… Layer 2 scaling solutions – in the form of Rollups – free up Ethereum's base layer by reducing execution load, resulting in reduced gas costs and increased throughput without increasing network load."
For dYdX itself, for conversion, token holders ERC-20 had to agree because "the dYdX Protocol dYdX token is managed by the holder… dYdX Trading Inc. have no control over how they are used." The new protocol will be completely open source and is currently looking to attract developers to support the migration process.
Following the important development announcement, the dYdX token price showed bullish signals with an increase of 4% in the last 24 hours and 33% in 7 days.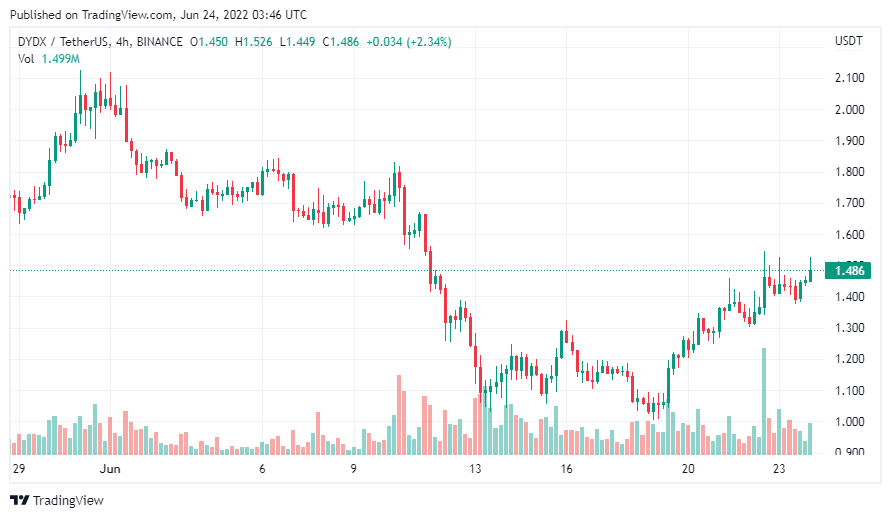 Source: Tradingview
Join our channel to get the latest investment signals!