Early this morning, Optimism official notification held the first OP airdrop. Optimism said that because the number of users requesting the airdrop was too high, the project encountered some problems leading to system overload.
Optimism also note to users that OP tokens are only supported on the project's layer-2 network and cannot yet be migrated to the mainnet of the project. Ethereum, so care should be taken to avoid errors and fraud.
The experience gained during this airdrop will be used by Optimism to overcome in future airdrops.
Several exchanges, including Binance, OKX, LBank, MEXC and AAX, KuCoin announced plans to list OP tokens at different times of the day.
Bybit is the first exchange to list OP and the price is currently trading at $1.7 after peaking at $14.
The source: Bybit
While, Binance Announcement will list OP at 10:00 today on June 1 (Vietnam time) and includes trading pairs OP/BTC, OP/BUSD and OP/USDT.
As a Layer 2 network based on roll-up, Optimism allows applications Ethereum achieve faster and cheaper transactions while ensuring the same level of security from blockchain Ethereum main.
Last month, Optimism unveiled a new governance structure backed by its own token. The initial supply will be distributed through a retroactive airdrop to users including early Optimism adopters as well as active participants on Ethereum, such as multi-signature wallet signers, voters KNIFE and Gitcoin sponsors. The snapshot of the address was taken on March 25.
According to the initial announcement, 248,000 addresses have been allocated 214 million OPs (5% out of a total of 4.29 billion supply), with an average eligible address pocketing 860 tokens. However, 17,000 of these addresses were later deleted, reducing the total number of addresses that qualified to 231,000.
Optimism raised $150 million in a March round due Paradigm led the way, with a $1.65 billion project. The Layer 2 Network also announced an ecosystem development fund worth 231 million OP tokens to fund projects building solutions on the platform, allocating the first batch of 36.6 million OPs to the project team DeFi "partners" on Ethereum within 3 weeks from the time of the airdrop.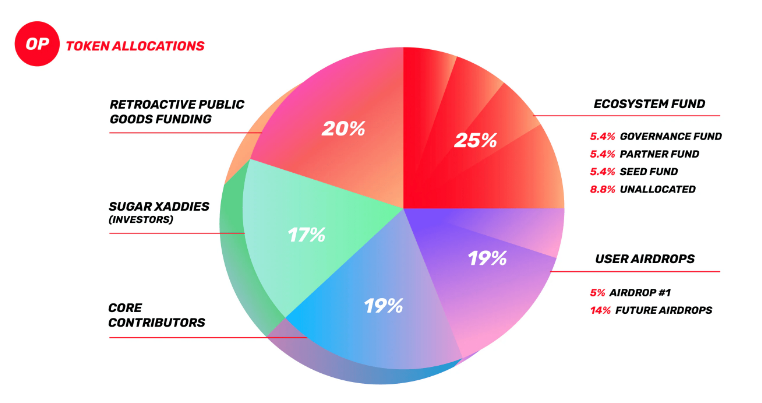 Distribution of OP tokens. Source: Optimism
Join our channel to get the latest investment signals!