Average cost to make a transaction Ethereum (ETH) at $2.96 on Sunday (May 29), hitting its lowest level in more than ten months. At the moment, the number is slightly higher, 0.002 ETH ($3.56) per transaction.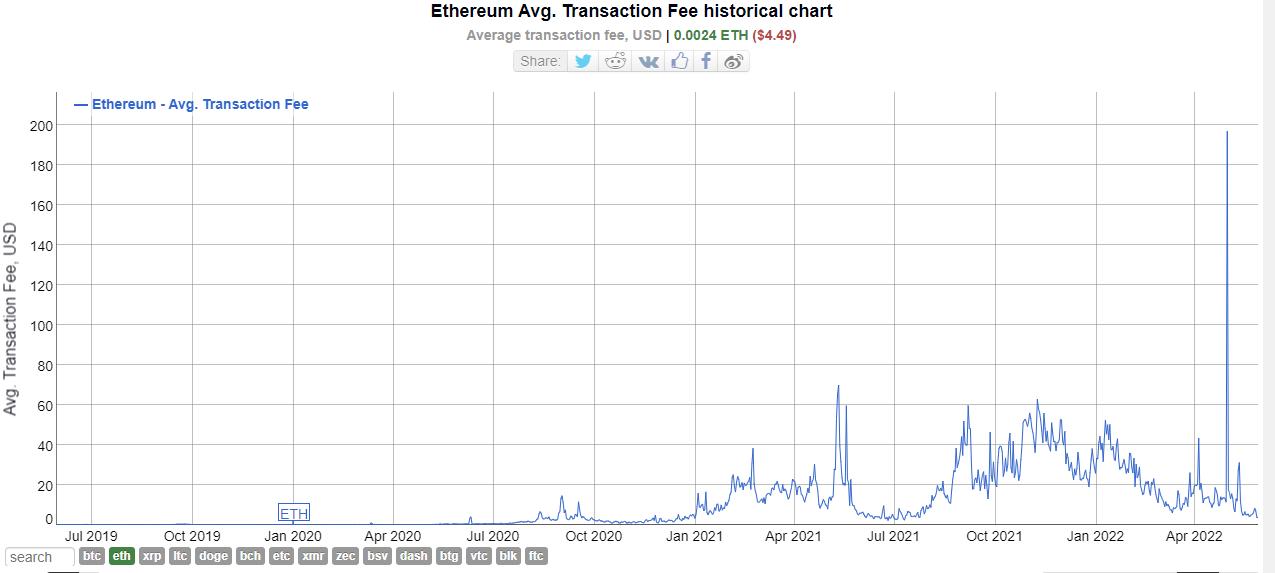 According to a report from Santiment, low gas fees show interest in using the platform blockchain of the Ethereum has decreased significantly.
Transaction fee of Ethereum hasn't been that low for quite some time. Like T-REX already news about the fact that gas fees have been falling since mid-February and in the first week of March slipped below the $10 mark.
The last time the average ETH fee fell below $3 was on July 11, 2021, about ten months ago. In fact, for a few weeks in July 2021, the average gas charge for using a Layer-1 (L1) network of Ethereum from less than 3 to 8 USD per transaction.
In addition to the average Ethereum fee dropping to a new low, the average gas fee has also dropped significantly this week. For example, on March 8, 2022, the average ETH fee was 0.0014 ETH ($3.73) per transaction and today it's 0.00065 ETH ($1.04).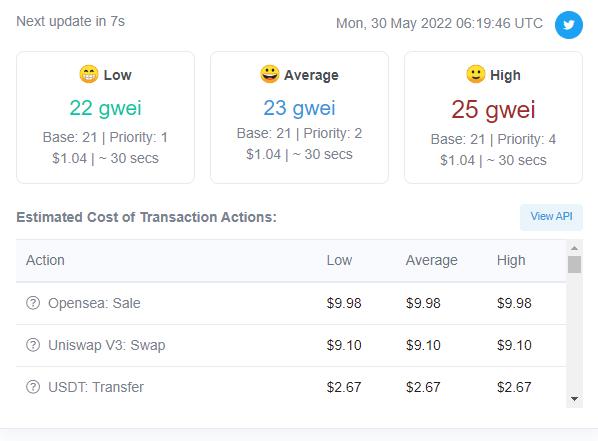 Cost to make a transaction on Opensea is about 9.98 USD, swap on decentralized exchange (DEX) as Uniswap today is 9.1 USD.
Cost to move ERC20 tokens like USDT or USDC is about 2.67 USD. Regarding Ethereum's mining reward, miners earned about 50,241,489 yesterday (May 2), equal to 94.7% of miner Bitcoin (BTC) obtained on the same day, $53,035,200.
The Layer-2 (L2) transaction fees for transferring ETH are also quite low. Zksync transactions are around 0.04 USD and swaps cost 0.09 USD. Loopring's ETH transaction fee is at $0.04 per transfer, but swaps will require $0.45. Use Optimism just 0.12 USD and Arbitrum One will need 0.23 USD for each ETH transaction.
When ETH fees are low, this is a good time to trade if there is a need to move ETH or ERC20, swap tokens or conduct a market sale. NFT.
Join our channel to get the latest investment signals!