Despite the recent negative news regarding the collapse of the exchange FTX and the departure of some prominent projects such as DeGods and y00ts, market NFT above Solana is exploding rapidly.
They are driven by ecosystem seniors like Taiyo Pilots, ABC, Okay Bears, Elixir, Famous Fox Federation, Solana Mokey Business. Among them, ABC is leading the way with an increase of 1,700% from the lows in November.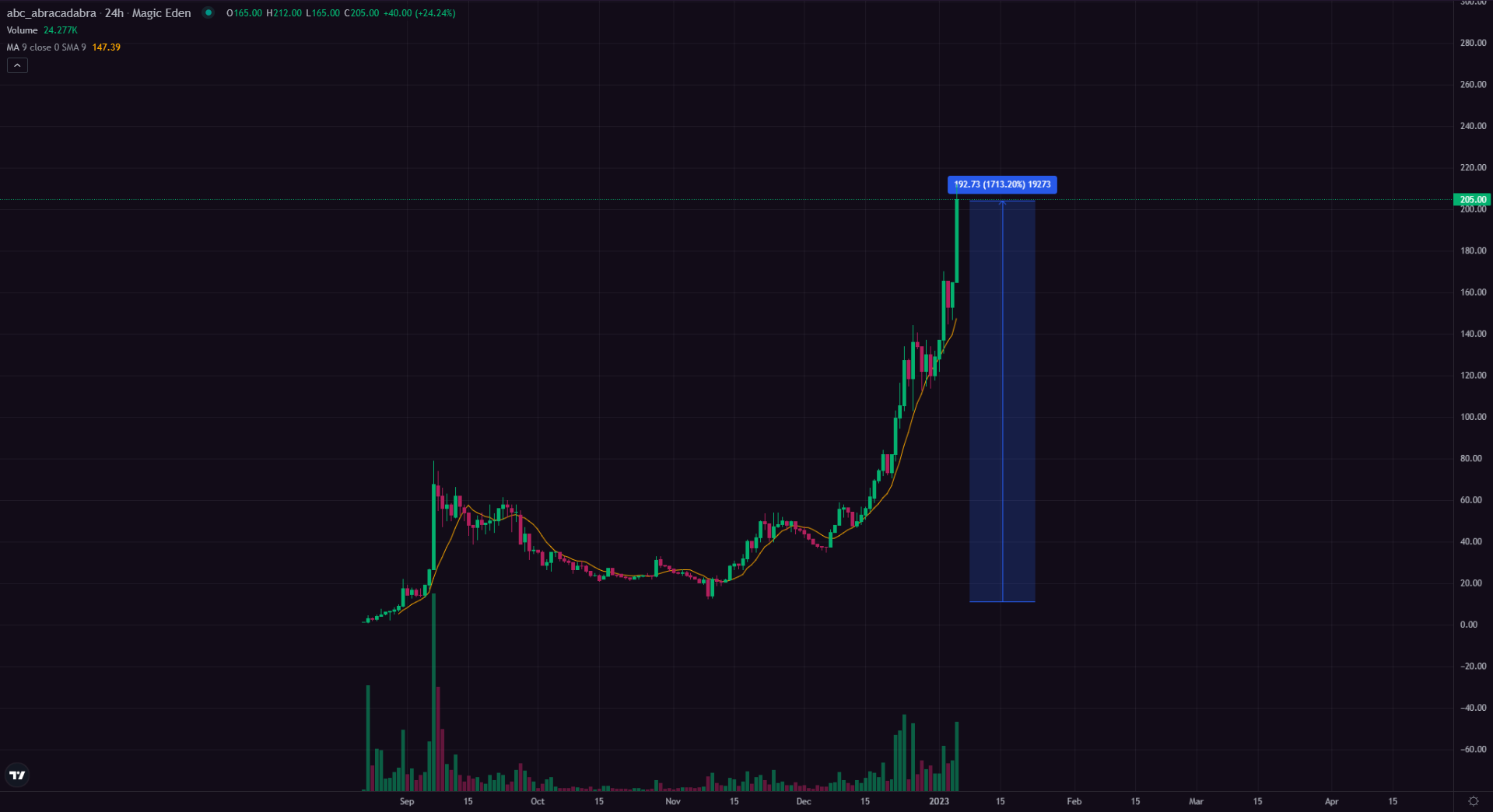 ABC chart/SOL Daily | Source: Magiceden
This growth can be attributed to the partnership with HadeSwap, one of the platforms AMM top dedicated to NFT above Solana. Người dùng có thể staking NFT ABC để nhận thưởng 40% tổng cung HADES, token quản trị của nền tảng.
🔁 Hadeswap Major Update

tl;dr:
- Broad NFT x DeFi vision
- $HADES whitepaper
- New landing page w/ future features
- Why bonding?
- Use of governance
- #ABC NFT staking
- Introducing Hades NFT
- $HADES value accrual

Excited yet? Let's dive in!
↓

December 22, 2022
Some small-cap but good-quality projects like Sharx by sharky.fi and Underground Society are also emerging as a phenomenon. In which Sharx by sharky.fi is about NFT lending and Underground Society on margin creating liquidity for NFT. They both have very impressive gains from the lows, with Sharx by sharky.fi gaining over 700% and Underground Society 500% in just 1 month minting Launchpad on Magic Eden.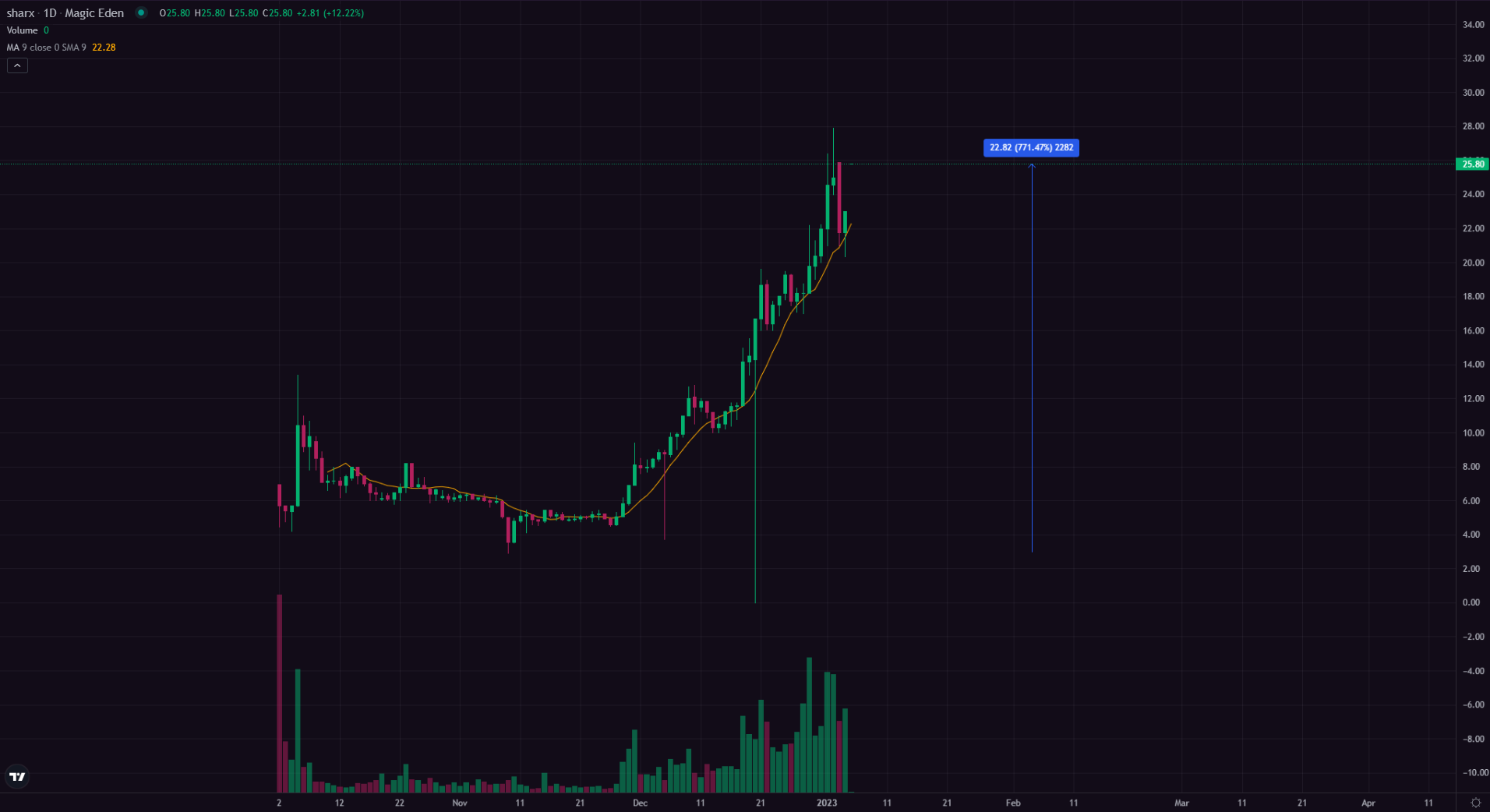 SHARX chart/SOL Daily | Source: Magiceden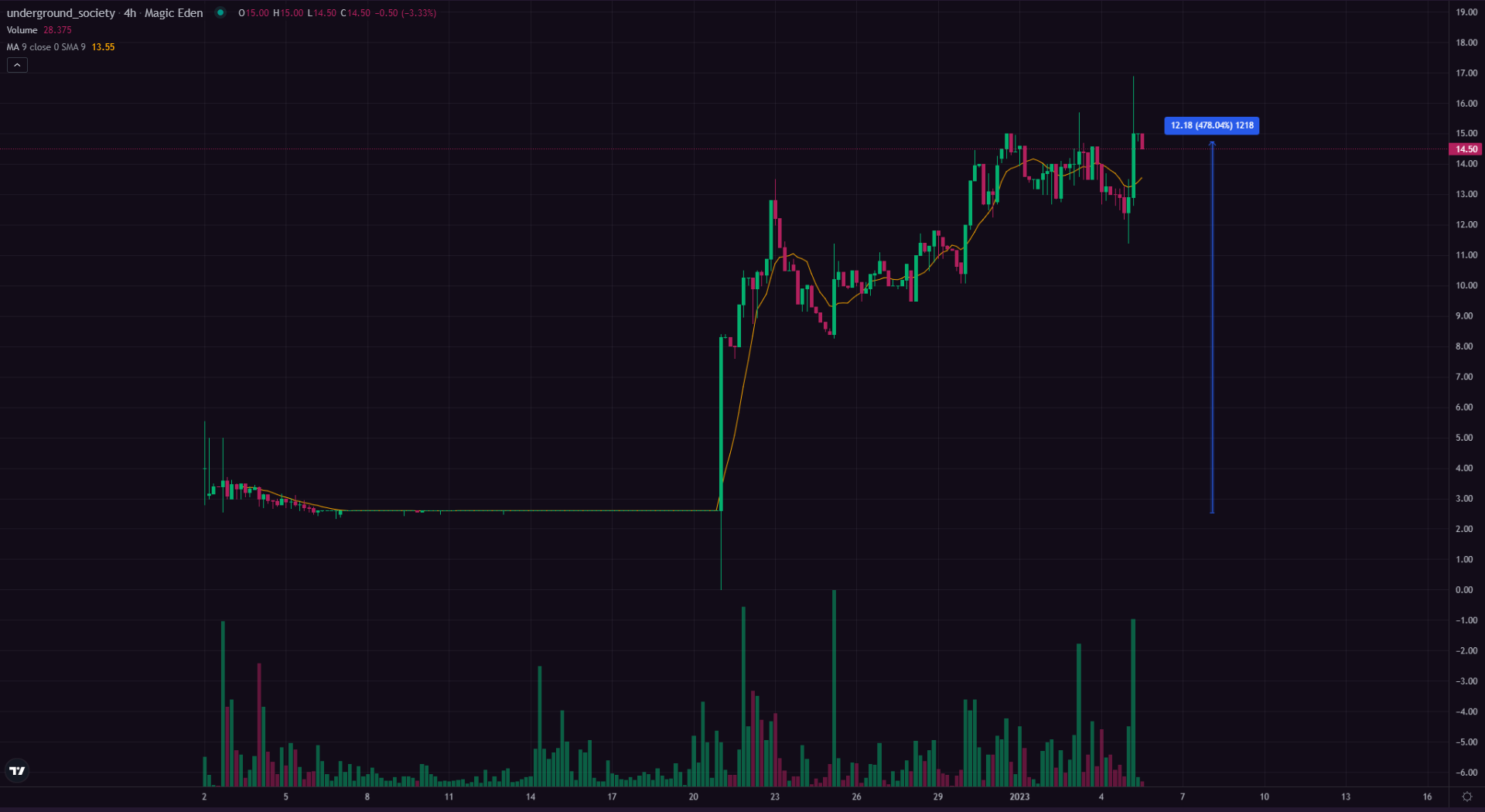 Underground Society/SOL 4-hour chart | Source: Magiceden
After all, Solana is one of the largest NFT markets, second only to Ethereum. According to NFT data tracking platform CryptoSlam, Solana has had more than $80 million in NFT sales in the past 30 days. Blockchain there were more than 800,000 transactions in that period, far exceeding Polygon and ImmutableX.

Source: CryptoSlam
Market capitalization of prominent NFT projects (Source: Hyperspace)
DeGods: $87 million
y00ts: $36 million
ABC: $28 million
Sharx by sharky.fi: $3 million
Underground Society: $1 million
In general, NFT is becoming the center of attention on Solana and these NFT projects still have the potential to grow in the future when users return.
The price of SOL has dropped quite sharply in 2022, but in reality the top NFT projects on it still have growth of up to 100 or 300 times the mint price. It can be said that, with NFT Solana, there is no winter this year.
Who knows, it will be triggered by the big bang Bonk Inu, a memecoin modeled after Shiba Inu that has been taking the market by storm for the past week. Many traders have returned to the market to catch the wave this time.
Join our channel to get the latest investment signals!