The policy of the US Federal Reserve (Fed) and macroeconomic factors are no longer the focus of traders.
That is the message from the derivatives market, as there is no indication of the need for Put. Bitcoin and ETH eased after the dovish Fed minutes released on Wednesday.
The persistent put trend shows that the market is focusing entirely on the spread caused by the failure of the FTX under Sam Bankman-Fried (formerly the world's third largest trading platform) and is unlikely to find a bottom solely on improving macro conditions.
Dick Lo, founder and CEO of quantum-based trading firm TDX Strategies, said:
"Cryptocurrencies are still very much at risk driven by this event, reacting to news/rumors about the situation of major crypto lender Genesis."
The market was stirred by the Fed's drastic liquidity tightening policy, so it had long been waiting for the central bank to signal a change in policy to raise interest rates quickly. Fortunately, they got what they wanted yesterday.
"The majority of participants assessed a slowdown in rate hikes as likely soon," the minutes said.
The minutes also hinted at a lack of support for the statement of "higher interest rates in the long run" following Chairman Jerome Powell's meeting, pushing the US dollar and Treasury yields lower and stocks rose higher.
However, the Put-Call deviation of BTC and ETH (measurement of the cost of a bullish call versus a bearish put) remains entrenched in negative territory, implying in favor of Put.

Sleepnoise: Amberdata
Both short- and long-term deviations have mostly turned in favor of calls since the release of the Fed minutes.
"Customers are not selling their holdings, but want to hedge downside risk," Lo said.
Analytics company blockchain Korea-based CryptoQuant said:
"Ongoing financial problems at Genesis Trading, needing $0.5–1.0 billion from outside investors to stay in business, continue to push prices Bitcoin down".
Genesis, one of many companies exposed to FTX, hired a restructuring advisor after suspending withdrawals. FTX filed for bankruptcy protection on 11/11.
Bitcoin was trading near $16,538 at press time, after failing to establish a foothold above the $17,000 mark earlier today.
According to several chart analysts, the largest cryptocurrency by market value is heading towards $13,000.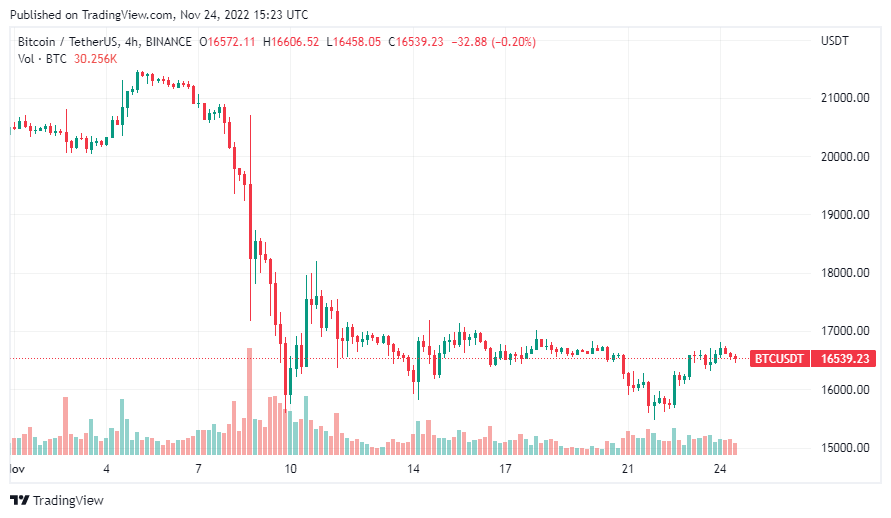 Price chart BTC | Source: Tradingview
Katie Stockton, founder and managing partner at Fairlead Strategies said in a note to clients:
"Recent volatility in the crypto market has broken down" Bitcoin longer term below key support near $18,300, increasing downside risks to support from 2019 tops (~$13,900) in the coming months. The bear market cycle remains in force, with negative long-term momentum allowing oversold conditions to persist."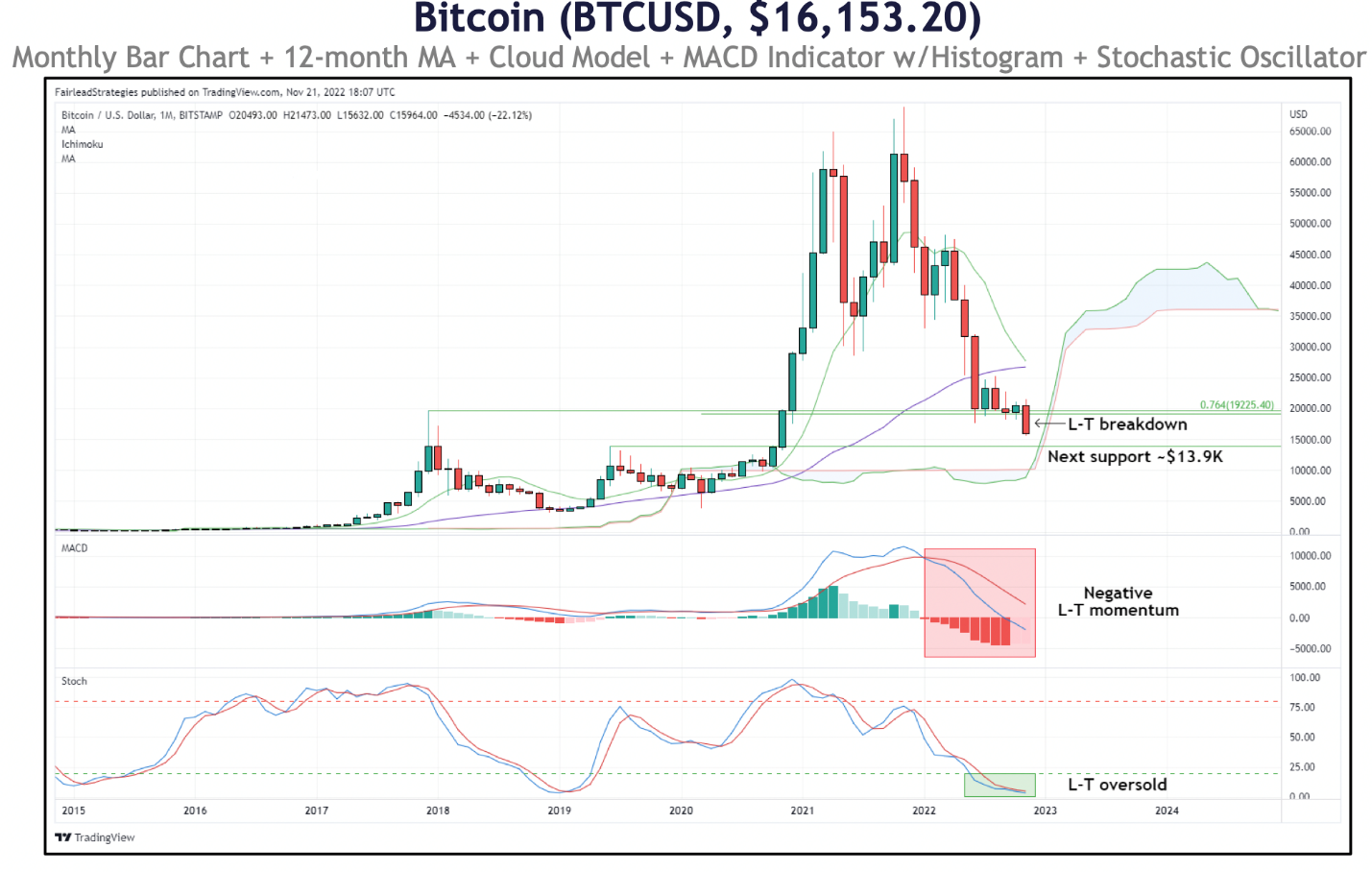 Bitcoin has dropped below key support | Source: Fairlead Strategies
Join our channel to get the latest investment signals!