The upcoming merge is the most talked about development of the ecosystem cryptocurrency because the Ethereum encountered many obstacles in the process of transitioning from PoW to PoS.
A protocol whose fate is largely tied to a successful Merge completion event is Lido KNIFE (LDO) – a liquidity staking platform that allows users to mine the value of their assets for use in decentralized finance and earn staking profits.
Data from TradingView shows that since LDO hit a low of $0.42 on June 30, the price has increased by 107.6% and recorded a daily high of $0.874 on July 9. But at the time of writing, altcoin This fell back to $0.62.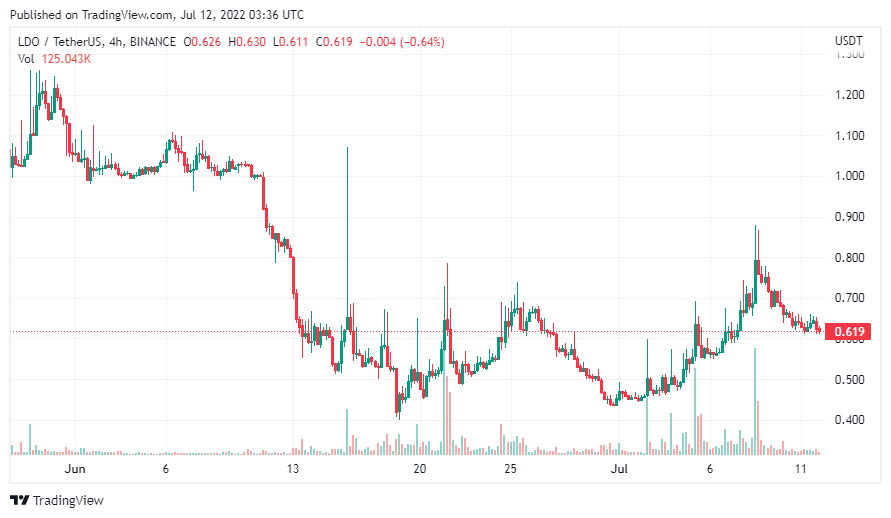 Three reasons explain the big change of LDO is the successful Merge on testnet Sepolia, deposit amount ETH Continuous increase on platform and price ETH staked (stETH) recovered against the spot price of ETH albeit at a rather slow pace.
Merge testnet Sepolia
Switch to PoS It was a challenging process, but the network got one step closer to its destination on July 6 when it successfully merged the PoW and PoS above testnet Sepolia's Ethereum.
After this progress, only one more Merge test will be conducted on the Goerli testnet and if no further serious problems arise then the mainnet will follow. Ethereum.
Because Lido specializes in providing liquidity staking services for Ethereum, every step towards the full transition to PoS benefits this liquidity staking platform. Because, ETH holders want a less complicated way of staking tokens to be able to use the services of Lido and don't have to worry about locking tokens.
ETH deposits continue to increase
Interest in staking on Lido continues to grow, as demonstrated by data provided by Dune Analytics, which shows an increasing number of ETH being deposited into the protocol.

Amount of ETH staked in Lido | Source: Dune Analytics
According to the chart above, as of 7/7, there were 4,240 million ETH staked through Lido.

stETH begins to recover
Another factor driving the value of LDO is the stETH price recovery. The token has lost its peg against ETH over the past few months as funds have been struggling to sell stETH in an attempt to prevent default.
According to data from Dune Analytics, the stETH price is currently trading at around 97.2% ETH price, up from the low of 93.6% that occurred on June 18.

While stETH has not fully recovered to ETH parity, its move in the right direction combined with less selling pressure from forced liquidations seems to have helped restore some investor confidence in the cryptocurrency market. tokens.
This drives the LDO price as the protocol is the largest provider of liquid ETH staking and the largest issuer of stETH.
Join our channel to get the latest investment signals!