Solana is one of the networks Layer-1 was heavily affected by the winter in the market cryptocurrency lengthen. But sunny skies could return, says Chris Williams.
Solana attracts many people's attention with Breakpoint
It's an important moment for Solana when the Layer-1 network held the Breakpoint 2022 conference. Thousands of fans Solana flocked to Lisbon for the flagship event of blockchain layer-1.
Arguably the biggest news during the event was the fact that Google Cloud disclosure that they are launching the Solana validator and will begin indexing Solana data through the BigQuery product in early 2023.
Google Cloud will also integrate Solana through Blockchain Node Engine, intended to help users launch their own nodes in the cloud.
According to CoinGecko data, SOL immediately rallied, surpassing $ 38 shortly after the announcement was made, but the rally did not last. Since then, the token has cooled to 11% and is trading around $ 31 today.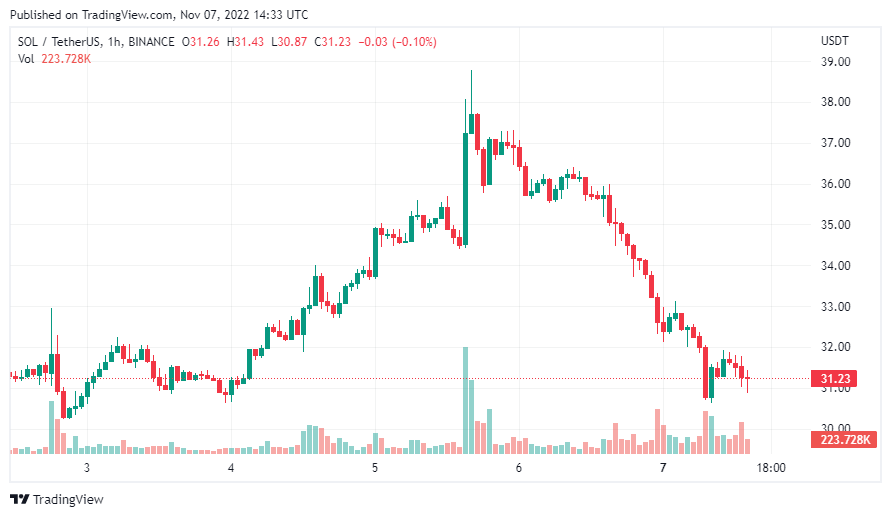 Price chart SOL/USD – 1 hour | Source: TradingView
With a different approach to blockchains Ethereum, engineers working in the Solana ecosystem have focused on building products for the mass market. The Saga phone, for example, is aiming to be the world's first Web3-enabled smartphone. Solana announced at Breakpoint that they will ship the product to developers as soon as next month.
Publisher USDC, Circle, also appeared at Breakpoint, said they will offer their Euro Coin service on Solana in the first half of 2023. Circle also revealed that their upcoming cross-chain protocol will support Solana.
The most anticipated game of GameFi, developers Star Atlas shared an early demo for the game at Breakpoint. Solana's high-speed transaction processing (around 65,000 transactions per second) could make it a top contender for the Web3 gaming space, however, as of now, there are no true top titles. go live on this blockchain. Games usually take years to develop, so it may take some time until the ecosystem GameFi of Solana began to explode.
Solana's Status in the DeFi . Space
Like most projects, Solana has had a rough year, especially in the ecosystem DeFi its.
Solana leads with total locked assets (TVL) hit 10 billion USD when SOL reached nearly $ 260 in November 2021, around the time the first version of Breakpoint was released.

Total value of locked assets (TVL) in Solana DeFi | Source: Defi Llama
However, Solana DeFi failed this year due to falling market prices, liquidity flowing to other networks, and massive token unlocking schedules that diluted the value of the project. According to Defi Llama data, the total value locked on Solana currently stands at around $968 million, lower than the $1.31 billion of Solana. Avalanche and 32.29 billion USD of Ethereum.
If the numbers don't change much going forward, Solana could see that it thrives in other areas. However, it should also be noted that the total TVL by number of SOLs remained more stable, decreasing by about 54% from the peak in June 2022 to about 31.3 million SOL.
Notably, Solana's TVL is currently behind Arbitrum of the network Ethereum Layer-2 and advance instructions Optimism a little. If Layer-2 continues to grow at its current rate, Solana may find that it will not only have to compete with other Layer-1 networks for liquidity.
Both the Mango Markets and Solend mining attacks occurred due to the low level of liquidity on the platform, which made it easy for whales to manipulate the market to borrow too large loans. While Solana protocols are offering solutions to this problem, the network's DeFi ecosystem can continue to fail, as long as liquidity is low.
By far, the biggest criticism of the Solana network has been the ongoing outages. Solana has experienced several hour-long outages over the past two years, with four in 2022, and the most recent outage occurred last month due to a misconfigured node. Most notably in September 2021 when the network crashed for 18 hours.
Outages are a persistent problem for the system and Solana Labs CEO Anatoly Yakovenko say, an upcoming upgrade will prevent such problems in the future. If Solana can fix this problem, the network will be in a better position and likely to explode strongly in the next market growth cycle. cryptocurrency.
High speed and low cost
While Solana DeFi may fall into a slump, the same won't happen for the ecosystem. NFT of the network.
With the ecosystem NFT second largest Ethereum, Solana built a community called "JPEG enthusiasts" that grew rapidly. This year, the collections NFT like DeGods and y00ts have taken by storm, trading in the thousands of dollars on the secondary market despite adverse market conditions.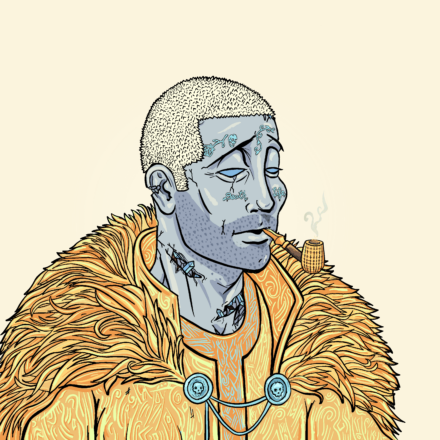 DeGod # 4833 | Source: DeGods
Solana has also attracted many big names from the world of digital art. At Breakpoint, Metaplex was notification that they will launch "Immersive 3D NFT" from Beeple on Solana. Besides that, ppplpleasr, another top artist in the NFT space, has also previously launched Solana NFT.
The next NFT bull cycle will likely see an explosive growth of Solana as the NFT community and its infrastructure have made remarkable gains during the current bear market.
Solana also seems to be aware of her place in the world of high-speed, low-cost GameFi. The Breakpoint event has dedicated a day to Star Atlas and other development teams show off their latest advancements to Web3 users from everywhere.
Future for Solana?
Although the network still has challenges to overcome, it is clear that Solana has had a lot of positive developments.
The various announcements made at Breakpoint demonstrate that potential companies, artists and projects are interested in Solana despite the difficulties the network faces.
Solana and SOL are not the only victims of the crypto winter. While SOL is down about 86.9% from its peak, many other Layer-1 networks have suffered similar damage.
In the past, Ethereum's competitors, sometimes referred to as the "Ethereum Terminator," have seen activity wane and many tokens "die out" during bear markets. None of them have had as many active developments as Solana has done in recent months.
Perhaps the biggest hurdle ahead for Solana lies in the competition. New Layer-1 networks like Aptos and Sui, developed by former employees of Meta, is being compared to Solana due to its promise of high speed. Both projects have received a huge amount of investment capital up to 9 figures this year.
Aptos claims to be able to process 100,000 transactions per second through its Move programming language, launched a token airdrop last month, and the APT prediction market has a high potential for future growth.
Sui is also said to be preparing his own airdrop. If these projects successfully attract attention from space crypto, they could overtake Solana in the next bull market.
Like the other leaders of the "Layer-1 alternative" space, Solana will soon have to compete with Layer-2 networks as well. The rapid growth of Arbitrum and Optimism This year has proven that liquidity will move to Layer-2 if Ethereum succeeds and many other Layer-2 projects have yet to be launched in earnest.
However, Solana still has one of the most active and fastest growing ecosystems in the crypto space, with some promising developments in the future. With news as well as positive developments, once sentiment turns to the upside, there is good reason to believe that SOL is indeed exploding.
Join our channel to get the latest investment signals!