Protocol Founder DeFi Synthetix, Kain Warwick, proposed turning off very high returns for stakers SNX and the total supply limit SNX at 300 million.
Synthetix The protocol allows traders to issue a synthetic version of cryptocurrency origin, traditional financial assets and online goods Ethereum and Optimism.
At Proposal for improvement Synthetix (SIP) file filed on Thursday, Warwick explained that SNX reward inflation was originally intended to "launch the network". However, he believes that is no longer necessary as they can generate a sustainable fee profit from the atomic swap.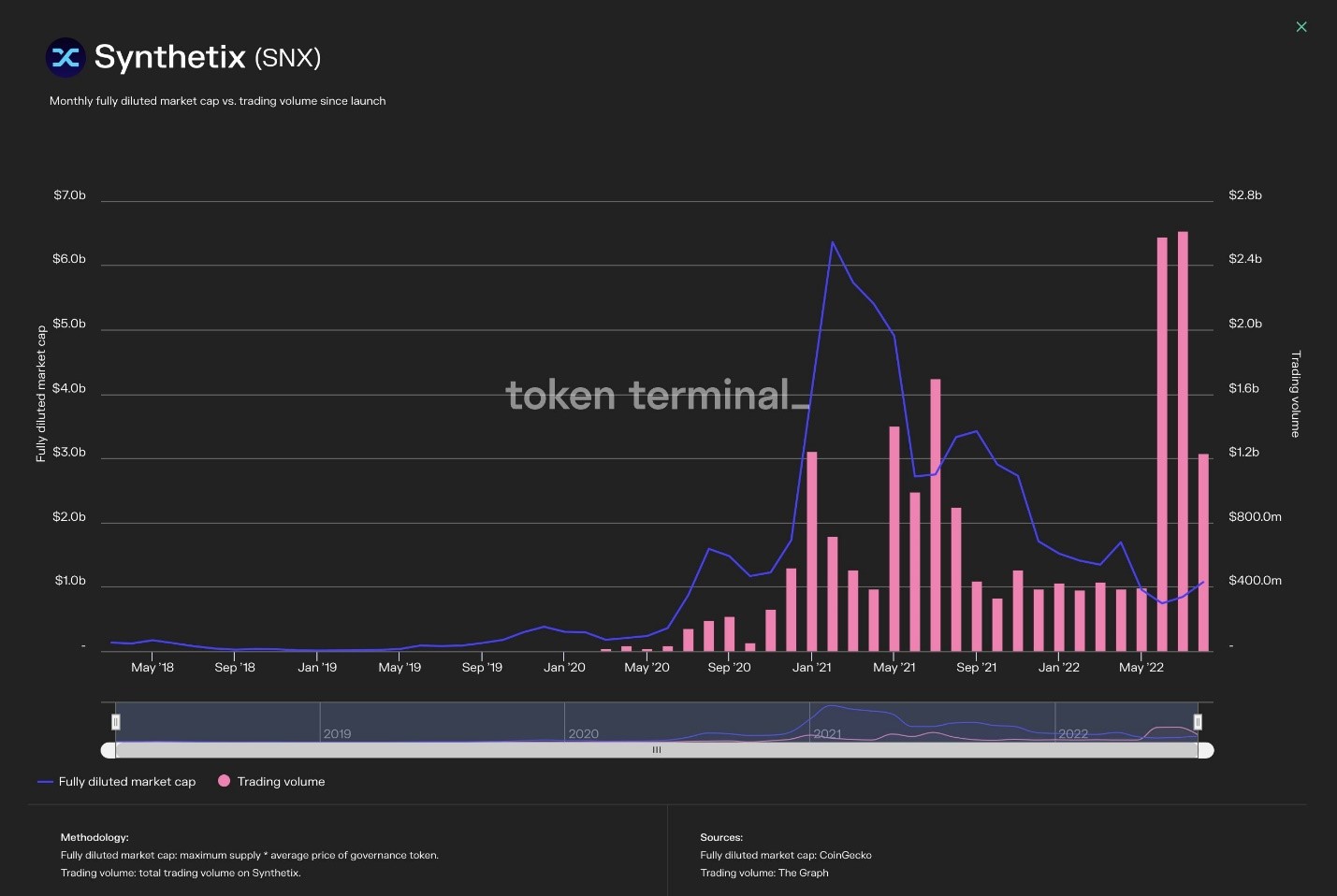 Market capitalization phase dilution and trading volume since launch | Source: Token Terminal
The sharp increase in fee revenue is due to protocols DeFi 1inch and Curve started using the Synthetix platform for atomic swaps, bringing more traffic to the protocol. In June, the protocol crossed the $1 million daily fee mark, which is 4 times the number Bitcoin are earning.
According to Cryptofees, Synthetix is currently having a 7-day average fee of $158,857, which is slightly below the 7-day average of Bitcoin. Bitcoin is 222,651 dollars.
Stakers receive all fees stablecoins sUSD from protocol users. Currently, the annual percentage return for stakers including SNX rewards and sUSD fees is around 67%, but this number is likely to drop to close to 15-20% if based solely on "real return" from sUSD fees.
In a Twitter post on Thursday, Warwick - also known as the "father of modern agriculture" for popularizing yield farming (profitable farming) DeFi – believe that after informal discussions on æSIP-276, shutdown of the money printing machine "is more likely to be adopted". A formal presentation of the proposal is scheduled for next week.
If SIP-276 is accepted by the Synthetix governance community, 10 recurring installments of 675,000 SNX tokens will be added to the current total supply of 293 million to reach the 300 million mark, before ending inflation indefinitely. .
Twitter user Synthaman found the news particularly upbeat, saying that "SNX is about to become a rarity with zero inflation…" while others were uncertain about what SIP-276 means for the protocol. long term.
Analyst firm Delphi Digital has tweets that with Synthetix soon decommissioning SNX tokens, the protocol faces the challenge of maintaining its existing user base and "attracting new users with basic revenue in a highly profitable market." bountiful".
#Synthetix protocol's token, #SNX, is about to become rare commodity with inflation going to ZERO… pic.twitter.com/QtqAX1QYtW

— SynthaMan (@SNXified) August 25, 2022
"The Synthetix protocol SNX token is about to become a rarity with zero inflation."
It remains to be seen whether DeFi protocols like Synthetix can attract enough stakers by relying solely on fee revenue, or how the end of SNX inflation might impact the SNX token price? At press time, SNX trades at $3.13, up 10.5% from last week.
Warwick also noted that a formal presentation of SIP-276 will take place next week, which will be incorporated into Synthetix's governance process if adopted.
At press time, SNX is trading at $2,713 and down 9% on the day.
Join our channel to get the latest investment signals!