Bitcoin has spent more than a year in a downtrend since its all-time high of $69,000 in November 2021.
Price performance BTC causing investors to lose up to 77%, but really how much can it reduce?
Traders and Analysts Bitcoin It has long been agreed that 2022 is the year of the latest bear market cryptocurrency Top.
After sliding from an all-time high (ATH) and starting the year at around $46,000, BTC declined slightly and then returned to levels not seen since November 2020.
Accordingly, the king cryptocurrency pushed into the bottom territory of the historic bear market. Since it has lost at most about 77% since the most recent peak, maybe Bitcoin There is very little room for further reductions.
However, this time it may be different. Here are some of the most popular market commentators' views on where Bitcoin will bottom out.
CryptoBullet: "Buy at ease" for about 16,000 USD
One social media celebrity is following a theory that dates back to early 2022, specifically about an on-chain metric.
For CryptoBullet, cumulative value days destroyed (CVDD) provides important insight into the macro BTC price bottom.
CVDD basically counts the number of days"hodl" that a coin has accumulated when moving to a new wallet. The indicator is expressed as a ratio to the overall age of the market, divided by the 6 million that the analytical resource Woobull explain is the "calibration factor".
Looking back, CVDD acted as an important boundary, and if nothing changes this time around then BTC may have offered buyers the best possible profit opportunity.
According to Woobull, CVDD is currently around $15,900.
"I feel comfortable buying Bitcoin at CVDD. Can it go lower? Yes of course. If another crypto company goes bust or something like that, the price will slide below CVDD, but not by much. Much of the downtrend is over", CryptoBullet tell on Twitter on 11/26.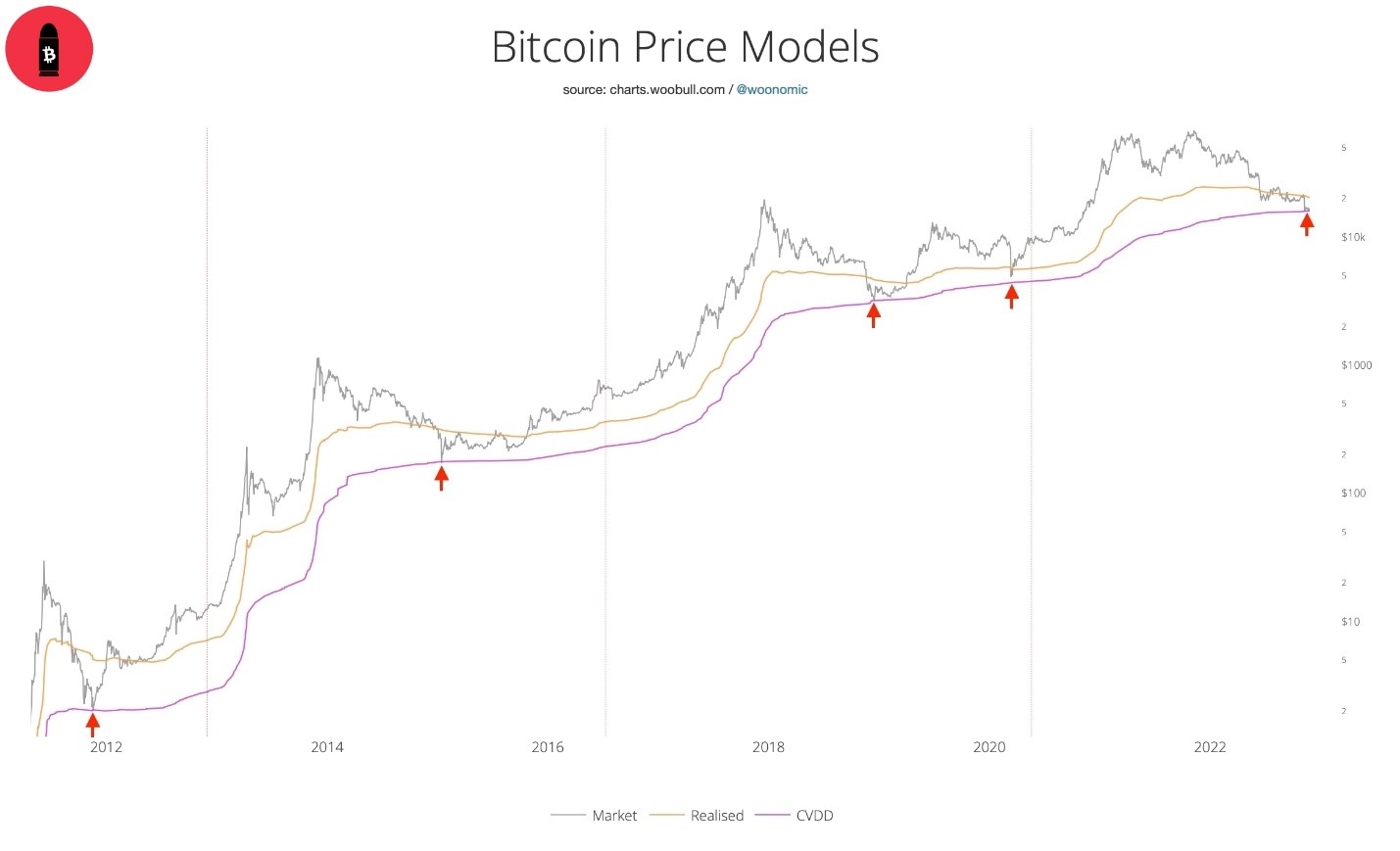 Filbfilb: $6,500 is 'worst case'
Another adept in the crypto market is constantly assessing the strength of the bears around this time.
Filbfilb, co-founder of the trading suite Decentrader, recently said BTC could hit $10,000 around the start of the new year if macro conditions deteriorate.
However, that was the prediction before the incident FTX and the consequences of the incident like adding fuel to the fire that made him reconsider.
During a live stream with co-founder Philip Swift, Filbfilb outlined areas of strong bid support as potential bottoms.
However, these levels are very far apart — a large bid "ladder" is located just below the spot price and is centered around $12,000-14,000. At the same time, support could eventually drop as low as $6,000.
Filbfilb also noted a black swan event, such as further crypto bankruptcies, could trigger a break of the upper support field, opening the door to a slide to $10,000 or less.
However, according to him, a move to the $6,000 region is "unlikely" under the current circumstances.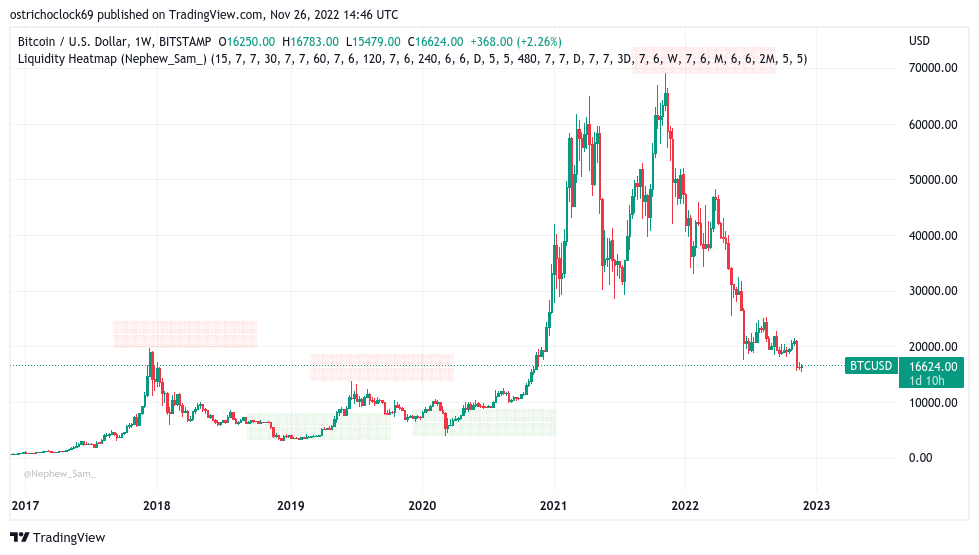 Many eyes are on the level 14,000 USD
Filbfilb's range of higher bid support on exchange order books is also a popular target for a growing number of commentators.
Specifically, $14,000 is now a key point in the sights and orders around that are already planned.
This area will also continue to exacerbate BTC losses relative to the ATHs of previous bear markets.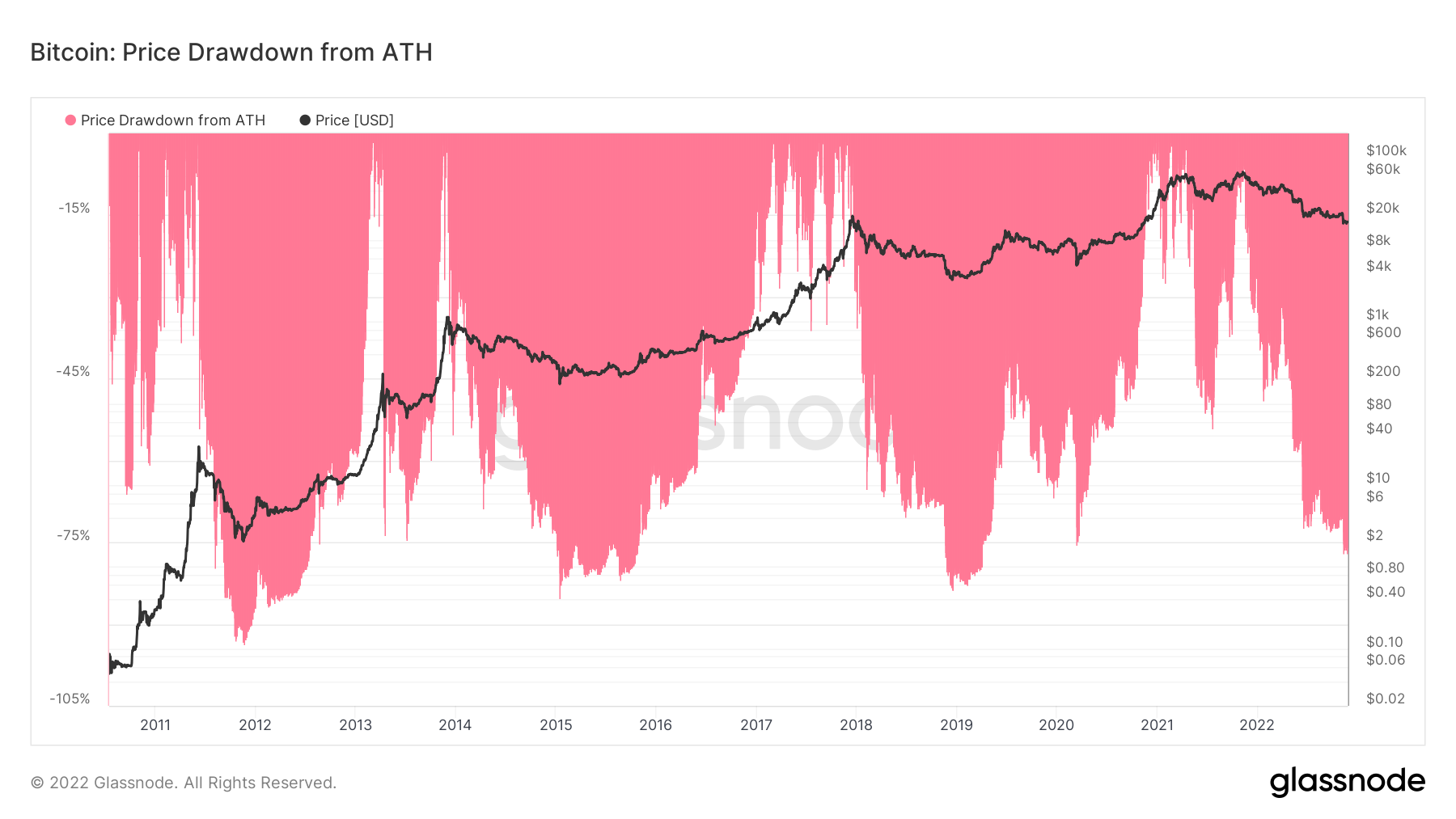 Not only that, but $13,900 also forms an important support line on weekly timeframes as noted by trader and analyst Rekt Capital. This support line has not been tested since the second half of 2020.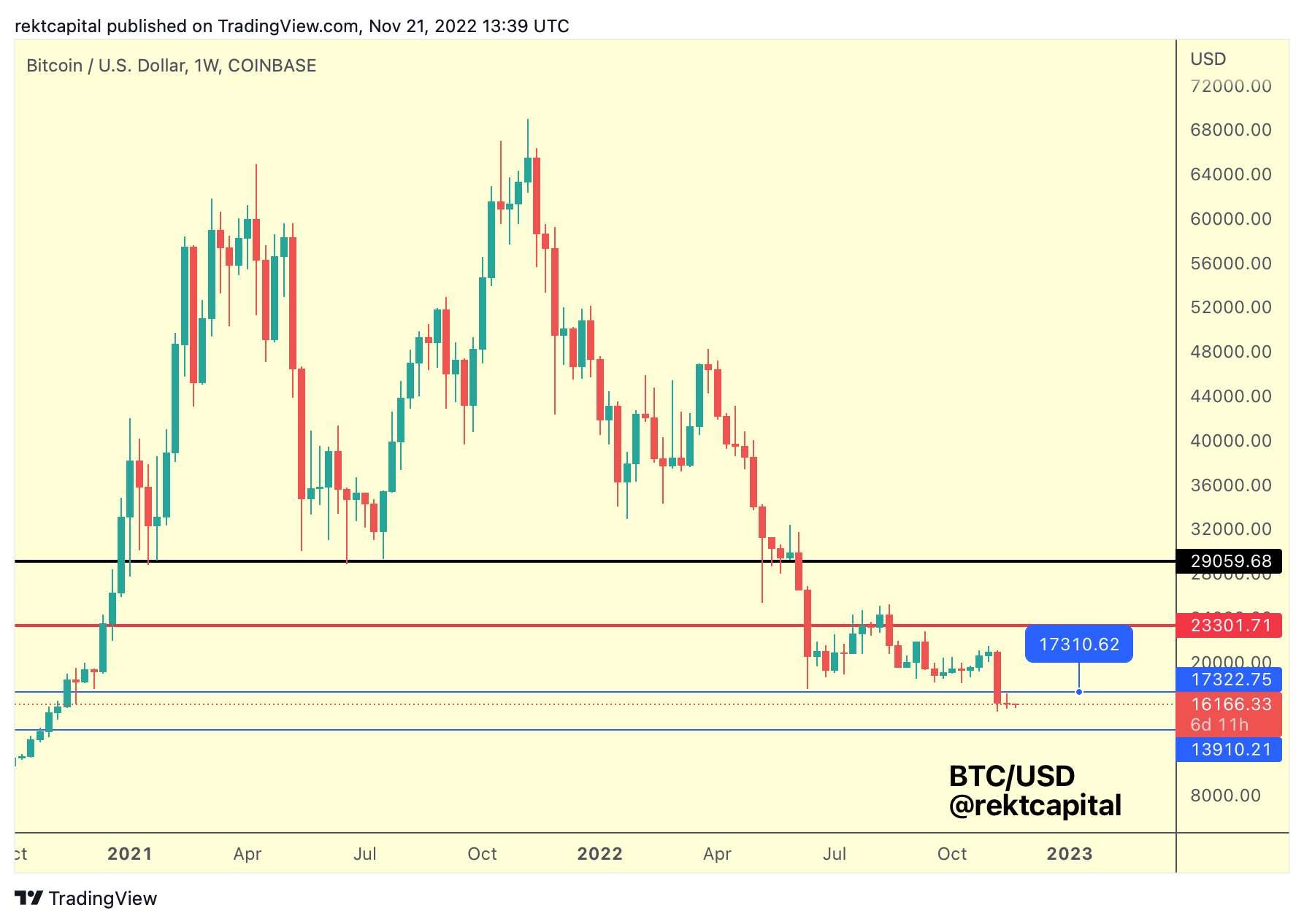 Join our channel to get the latest investment signals!