On exchanges cryptocurrency centralized, at least $20.7 billion was withdrawn.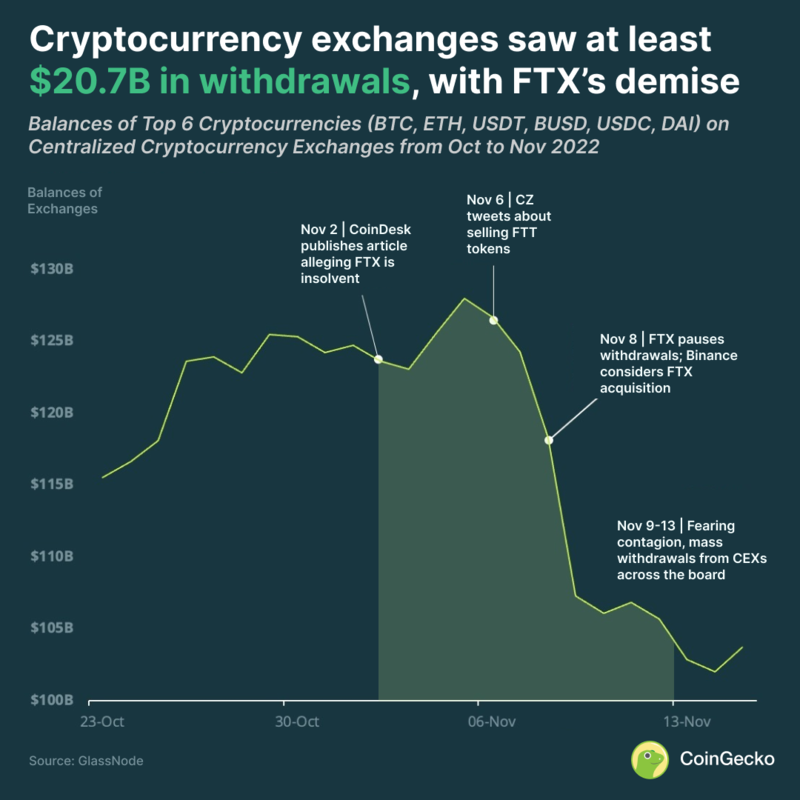 Source: CoinGecko
FTX used to be one of the exchanges cryptocurrency concentrate (CEX) was the largest in the world before its collapse. This sensational event prompted users across exchanges to centralize their funds. Because users rush to withdraw money from CEX, the balance of exchanges decreased by $20.7 billion, from $123.6 billion on November 2 to $102.8 billion on November 13. In less than 2 weeks, balances of the top 6 cryptocurrencies on CEX was significantly reduced by nearly 16.8%.
More than 7.5 billion dollars Okay withdraw from FTX during crash week
At the beginning of November, the company's balance sheet trades Alameda Research Leaked shows a massive reliance on tokens FTT of the sister company FTX. While this caused some anxiety in the community, the exchange's balance only dropped slightly before bouncing back up.
On November 6, CEO Binance Changpeng Zhao (CZ) announced Binance Will sell the whole quantity FTT his hold. This led to a loss of confidence in FTX and started a scramble to withdraw funds from CEXs.
FTX users rushed out, and at the time FTX halted withdrawals on Nov. 8, more than $7.5 billion of the top 6 cryptocurrencies had been withdrawn from the exchange since Nov. 2. The majority of FTX withdrawals followed CZ's tweet, with over $4.9 billion being withdrawn in the three days from Nov. 6 to 8.
From November 2 to 8, the exchange's total balance dropped by $5.3 billion and totaled $118.2 billion. From November 6 to 8, CEX balances dropped by $8.3 billion. This reduction represents the amount that users have completely withdrawn from centralized exchanges, due to concerns about potential contagion effects.
Methodology
The study looked at the 2 largest cryptocurrencies (BTC, ETH), 4 types stablecoins biggest (USDT, USDC, BUSD, DAI) by market cap and check their balances on centralized exchanges, including Binance, Coinbase and Kraken. Data is taken from Glassnode, between October 23 and November 15, 2022.
The price for each day is converted to USD at 07:00 am the next day (Vietnam time). The sum of all 6 assets is also calculated daily, to determine the total balance of the exchange.
Join our channel to get the latest investment signals!