While the field Web3 and GameFi continued to cost users in June and saw funding rounds cut, several popular games kept token prices and user numbers relatively stable. Additionally, gaming platform BinaryX reversed a downtrend, creating a rare breakout amid a bear market, and game developer Playful Studios raised a record amount for its Wildcard fighting game.
Regardless of the problems of the old leaders like DeFi Kingdoms and Axie Infinity However, these developments show that while many difficulties may exist for developers and buyers in the GameFi, but the industry is far from collapsing.
The general market continues to be gloomy. Footprint Analytics data shows that, last month:
On the other hand, in addition to the doldrums, "risky" investments such as Metaverse Land and NFT have performed relatively well against "safe" assets like BTC and ETH.
Here's what happened in GameFi in June.
Overall Quotation of GameFi Market
GameFi project increased by 2.9% over the previous month, funding decreased by 57.7% over the previous month
The number of GameFi games stood at 1,557, an increase of 2.9% from the previous month. Newly released GameFi projects include MIND Games, Fishing Lands and Fantom Survivor currently has very few transactions and users.


Although the market is extremely scared, it still does not stop new projects from appearing.
Funding was down $239 million, or 57.7%, compared to May. In terms of funding rounds, there are more seed rounds than any other category.
Capital mainly flows into the Web3 and NFT. A Web3 project, Wildcard, received $46 million, making it one of the few successful projects during the bear market. Cryptoys, a toy project NFT collectible, digital, closed a funding round with $23 million led by a16z.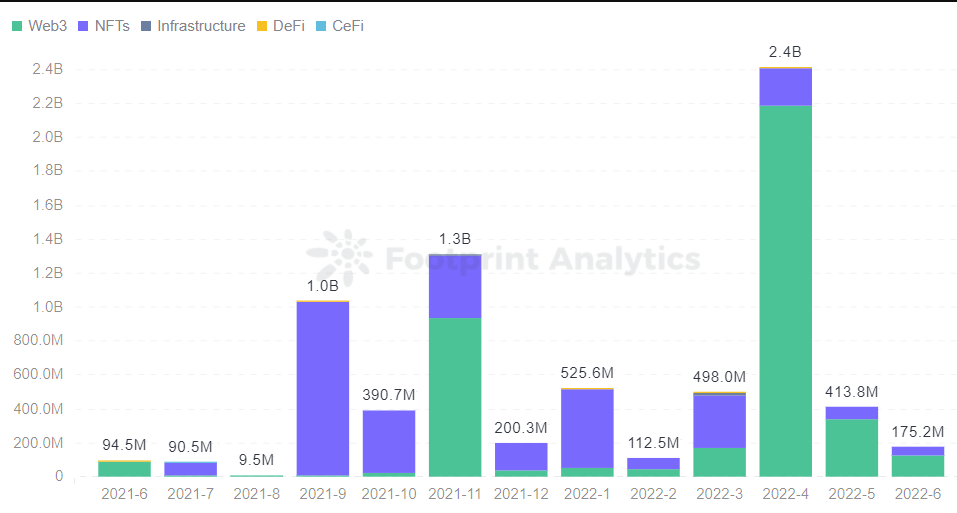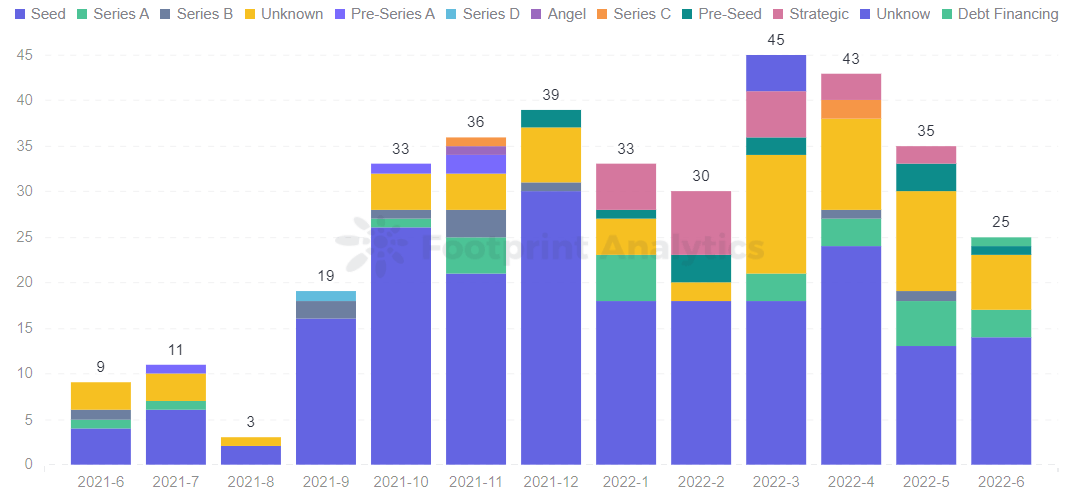 Total GameFi users down 26.9% from last month, volume down from $547 million to $382 million
Although more innovative games and projects are starting to emerge, the macroeconomic environment and volatility of the cryptocurrency market have pushed the number of active users down from a peak of 3.58 million. in January to 1.46 million at the end of June. The number of new users also gradually decreased to 500,000. Compared to May, the number of active users decreased by 26.9% and the number of new users decreased by 16.1%.

In addition, the overall trading volume in June decreased by 30.3% compared to May.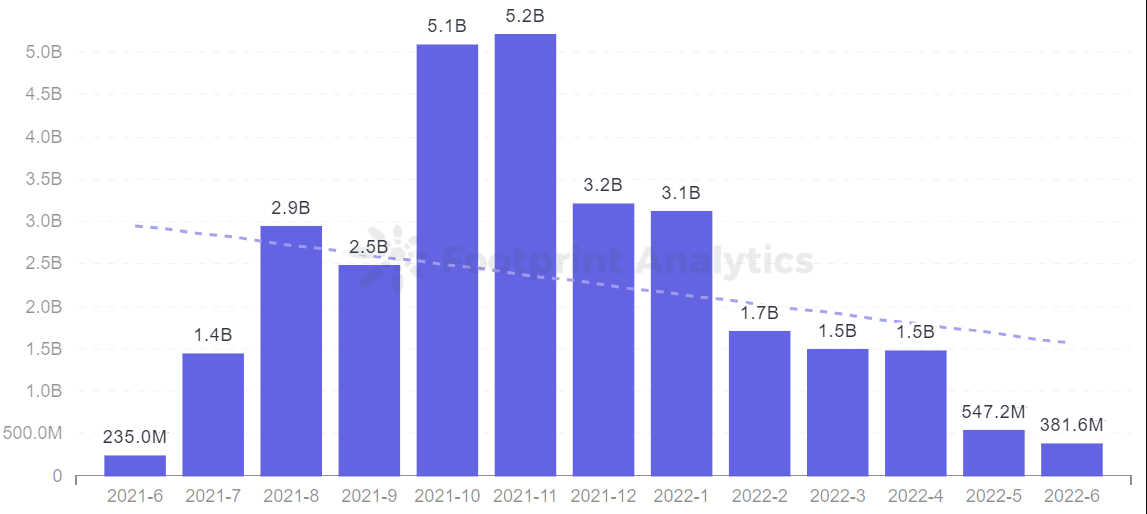 WAX has the most GameFi transactions out of all chains with 87%. This is due to its two flagship game projects, Farmers World and Alien Worlds. Both have maintained a steady number of transactions and users during the bear market.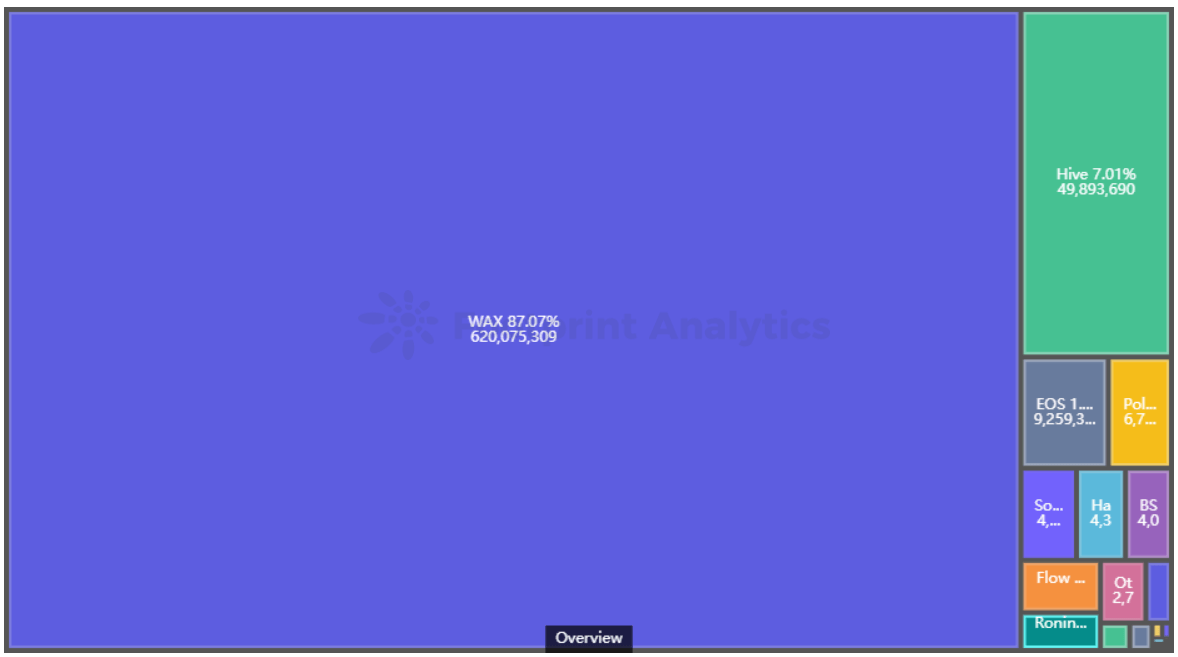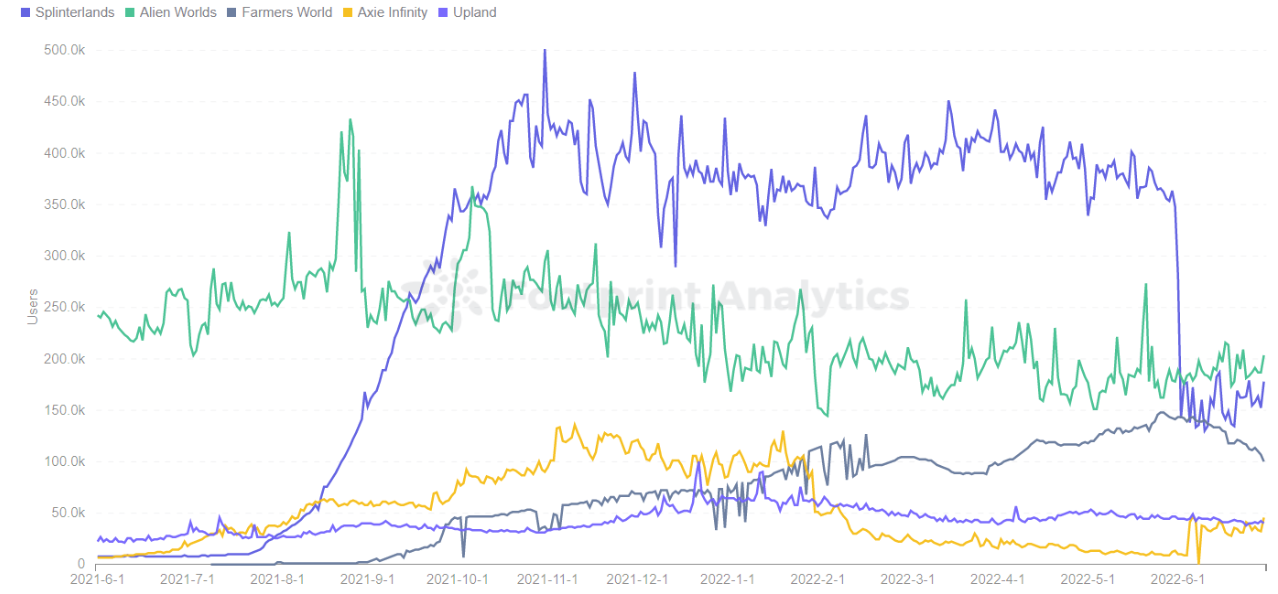 Analysis of the GameFi project in the bear market
BinaryX quietly revived
When the bear market was in full swing, previously lucrative projects like Bomb Crypto, DeFi Kingdoms and StepN have seen NFTs and their tokens severely depreciate, by a fraction of ATH. BinaryX, which was originally a trading protocol that migrated to GameFi and launched a successful game called CyberDragon, seems to be one of many such projects.
BinaryX released its governance token, BNX, at $20.62 in September. In November, Binance announced that BNX is on the Innovation Board and can be deposited on the platform as a perpetual currency, meaning that the coin has no collateral period and holders can directly buy for any number of days for earnings, with an APR of 15%. This caused BNX to hit an ATH of $200.71 on November 15, up 873%.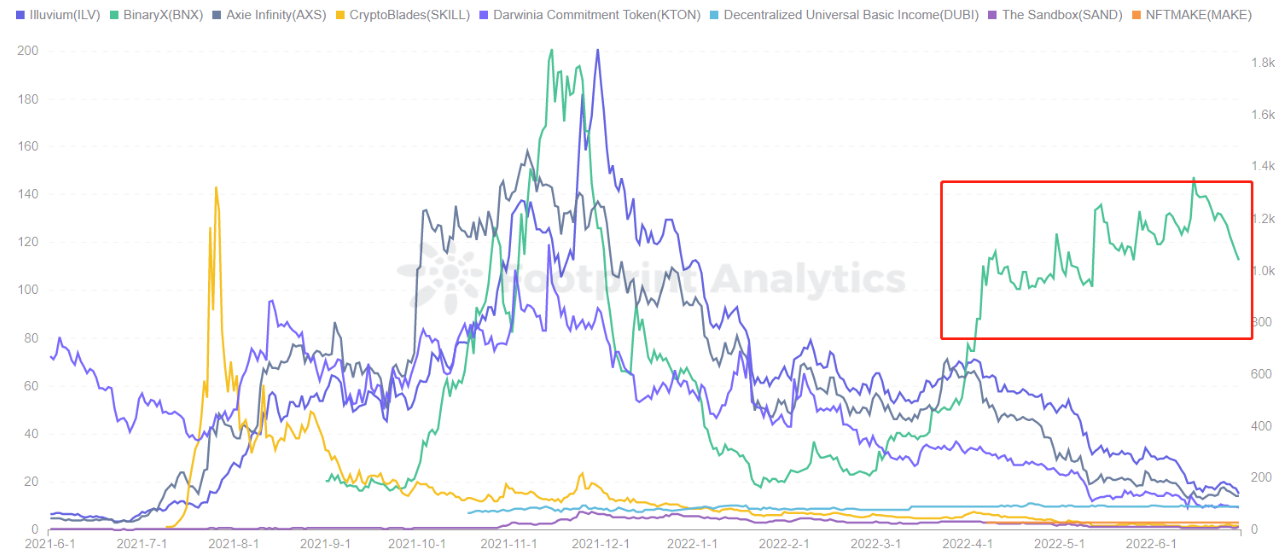 But the good times didn't last. The developers of BNX CyberDragon have modified the character upgrade function multiple times to earn more in-game currency — upgrades require spending Gold.
As a result, most players sold their game assets and left the market, resulting in a rapid decrease in revenue and difficulty attracting new users. This caused BNX to drop from an ATH of $200.71 on Nov. 15 to an all-time low (ATL) of $17.71.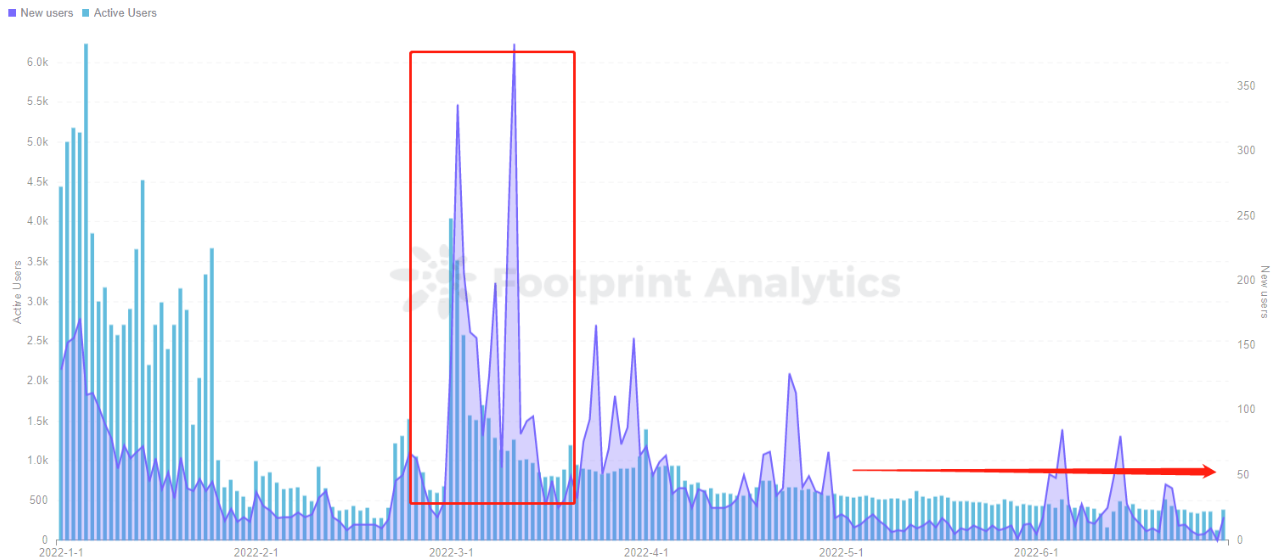 To save the project, BinaryX released CyberDragon V2 in March, adding new modes and gameplay. It also includes a new casting and upgrading mechanic for heroes, which they hope will add to price stability.
Emerging GameFi Projects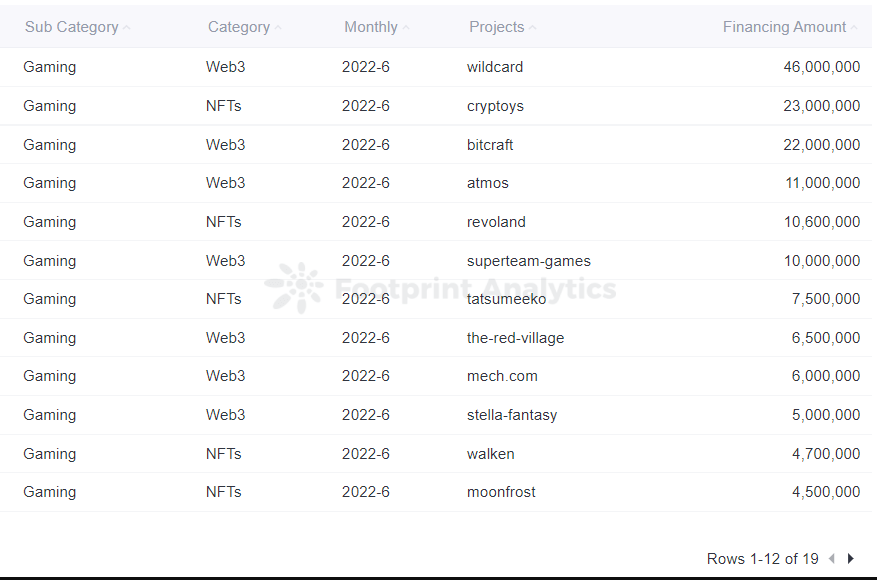 On June 14, The Wildcard Alliance, a gaming ecosystem from Playful Studios, announced the end of a $46 million Series A round.
The funding goes towards Wildcard, a massively multiplayer online fighting game. Besides playing their NFTs against each other, participants can interact and trade directly with fans and in-game holders.
In the context of the current strong devaluation of virtual assets, Wildcard can still receive huge financial resources to support its project development.
Summary
While the overall market continued to slide into June, individual developments in the GameFi sector have shown that it may be more resilient than many thought.
Review of crypto events in June
NFT and GameFi
Metaverse and Web3
DeFi and Token
Network and infrastructure
Organization
All around the world
Join our channel to get the latest investment signals!