Sam Bankman-Fried is reported to have asked investors for an emergency funding of $8 billion to cover the shortfall caused by the volume of withdrawal requests on the exchange. FTX in recent days.
According to a report in the Wall Street Journal (WSJ) citing "people familiar with the matter," the CEO made the request to investors during a November 9 call and outlined the How to help solve your financial problems? FTX.
The source suggested that Bankman-Fried is looking to raise between $3 billion and $4 billion in equity, and that the exchange could borrow to cover the shortfall.
Bankman-Fried also said he will use his personal wealth to "keep customers and investors safe".
During the call, the FTX CEO blamed a campaign against the exchange, which prompted investors to seek withdrawals for fear of losing their investment.
One report from Reuters on Nov. 8 shows that FTX saw around $6 billion in withdrawals in the 72 hours through Nov. 8.
He also stated during the call that FTX would not be able to "process withdrawals as its collateral is depreciating in value and cannot be liquidated".
On November 9, the FTX website displayed the banner "the platform is currently unable to process withdrawals. We strongly advise against sending money."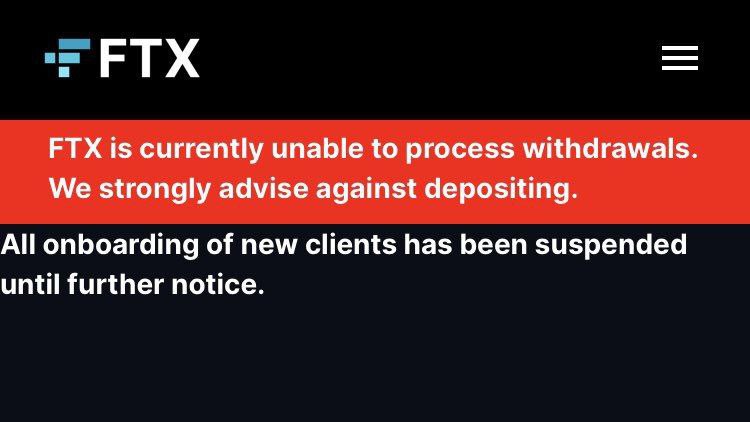 Earlier on 9/11, Bankman-Fried told investors that without the money, the company would have to file for bankruptcy.
The Bloomberg source also confirmed that FTX is looking to raise a combination of debt and equity rescue capital to save itself from liquidation.
On November 8, Binance signed a non-binding letter of intent to purchase FTX but withdrew from the deal less than 48 hours later, citing issues "out of our control or ability to help."
"Based on our due diligence, combined with the latest news regarding the mishandling of client funds and investigations by US authorities, we have decided not to pursue the transaction. potential acquisition".
In a latest tweet, the founder Tron, Justin Sun, said "is working on a solution together with FTX to start a new road map for the future ahead". Looks like Sun is looking to exclusively help token holders involved Tron had funds on FTX lost when the exchange crashed.
"In addition to backing announcements for all Tron token holders (TRX, BTT, JST, SUN, HT) on FTX, we are launching a solution together with FTX to start a new path for the future ahead."
Further to my announcement to stand behind all Tron token (#TRX, #BTT, #JST, #SUN, #HT) holders on #FTX, we are putting together a solution together with #FTX to initiate a pathway forward. @FTX_Official

November 10, 2022
Sun said he and his team have been constantly exploring a solution when Binance withdrew from a potential FTX acquisition.
"The ongoing decline in liquidity, although short-term in nature, is harmful to the growth of the industry as well as to investors. My team worked around the clock to prevent further deterioration. I believe the situation is manageable by taking a holistic approach together with my partners."
Join our channel to get the latest investment signals!