Ethereum Foundation (EF) confirms that the migration from Proof-of-Work (POW) to Proof-of-Stake (POS) of the network will be activated at Total Terminal Difficulty (TTD) 58750000000000000000000, scheduled from September 10 to September 20.
Follow post on the August 24 blog, the first step towards the migration is the Bellatrix upgrade scheduled for 6:34 p.m. on September 6 (UTC). Testnet Kiln will be invalidated that day.
EF continued that the Merge date will be determined by the POW hashrate, adding that "if the hashrate increases, the target TTD will be reached sooner. Conversely, if the hashrate decreases, the target TTD will be reached later." Previously, some industry players had predicted that the Merge could happen on September 15.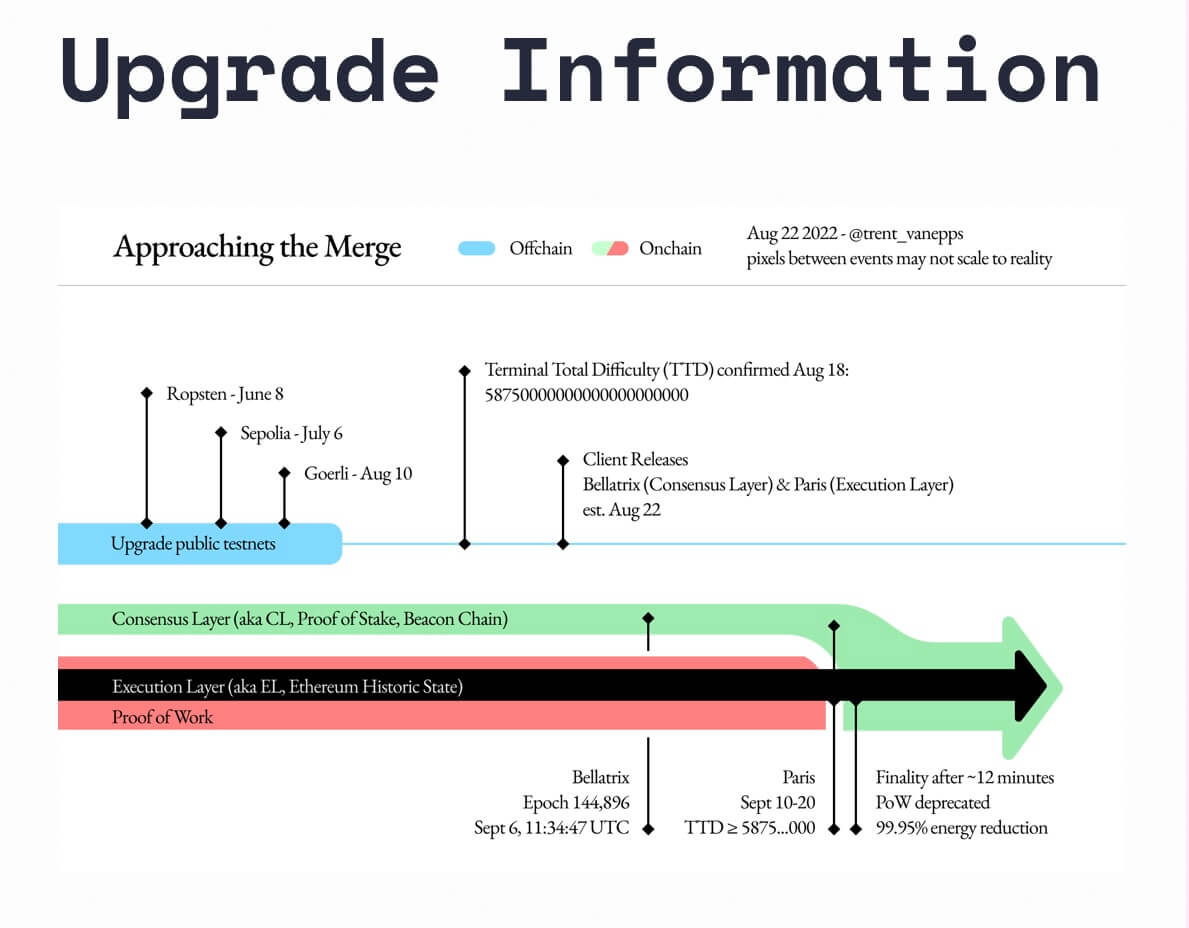 Foundation confirms that all testnet public has been successfully upgraded.
Node operators must maintain an executable and consensus Layer client to survive on the post-merge network. At the same time, "validators must ensure that user transactions and the state transition blocks they create and attest are valid."
Meanwhile, EF revealed a $1 million reward for white hat hackers who find critical vulnerabilities on the network between now and September 8.
Reports have revealed that developers found bugs in mainnet Merge updates of 2 clients Ethereum. However, these errors do not have the ability to stop or delay the Merge.
Trader shows deep concern
An August 22 report by Kaiko highlighted that the funding rate for Ethereum Pretty messy this month.
According to the report, the digital asset recorded a positive funding rate when trading at around $2,000; however, it turned negative when the price dropped to around $1,600 last week.
The report noted a "significant spike in open interest (OI)" as Ethereum fell below $1,600.
Kaiko also revealed that the volume market share of ETH reached its highest level since 2018. The report says "volume market share of ETH-USD vs BTC-USD aggregated across ten exchanges has grown from 38% in mid-July 2022 to 57% five weeks ago," thanks to the optimism surrounding the Merge event.
Join our channel to get the latest investment signals!