Original Token ETH of the Ethereum shows great potential for profit recognition compared to Bitcoin when pair ETH/BTC close to a yearly high.
ETH is drawing a classic bullish reversal pattern
The bullish signals come from the inverse head and shoulders technical pattern, which forms when price makes three bottoms below a common support level known as the neckline. The middle bottom (head) is deeper than the other two bottoms (shoulders).
The inverse head and shoulders setup resolved after the price broke above the neckline and was accompanied by increased volume. According to the rules of technical analysis, the profit target is the length of the maximum distance between the lowest point of the head and the neckline.
Hitherto, ETH drew the same pattern and is now waiting for a breakout above the neckline, as illustrated in the chart below.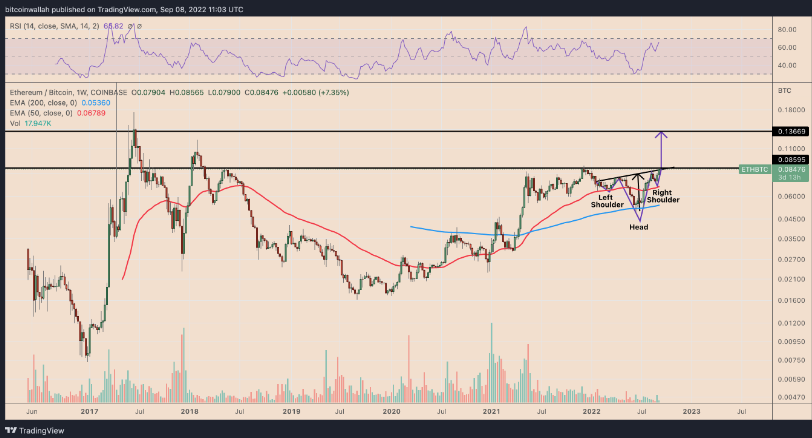 If the price moves definitively above the neckline, ETH's upside target in 2022 will be around 0.136 BTC, which is nearly 60% higher than the current price.
Excitement welcomes Merge event to boost ETH/BTC pair
Possible breakout time before Ethereum switch from PoW to PoS.
While Merge is hailed by proponents as a less energy-intensive PoW alternative, the update could also reduce the annual ETH issuance to 4.2%.
Furthermore, the demand for ETH as a potential vehicle for forked tokens after the Merge has driven the ETH/BTC increased by more than 55% since the announcement of the deployment on 14/7.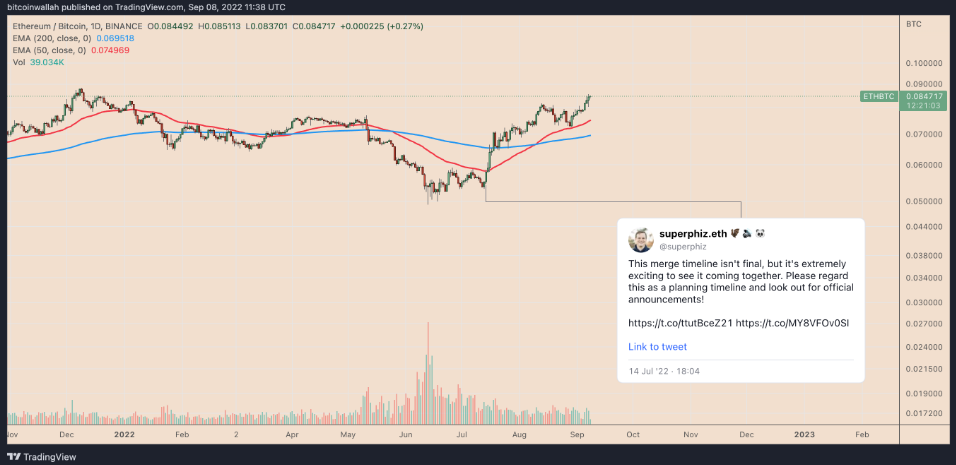 Matt Hougan, chief investment officer at Bitwise Asset Management, believes that transitioning Ethereum to a less energy-intensive protocol could be attractive to institutional investors. In return, it will ensure ETH's market capitalization surpasses Bitcoin.
"It is entirely possible that we will see Ethereum usurp Bitcoin at some point in the future. In my view, it's chasing a bigger market that can be solved."
Currently, Ethereum's $200 billion market cap is chasing Bitcoin's $369 billion.
Sell the truth?
On the other hand, analyst Rable note ETH/BTC is trading near a resistance area that has historically limited rallies. Additionally, the pair's continued uptrend is accompanied by decreasing volume and relative strength index (RSI).
In other words, a bearish divergence implies that the ETH/BTC rally may be near exhaustion, leading to a post-merge correction.
Join our channel to get the latest investment signals!