ETH also inevitably fell during the May crypto market crash. This led to a dramatic drop in the market value of the technology. blockchain The first is supported by smart contracts.
Though, ETH remained the second largest digital asset by market capitalization as of June 2022. Base on the research, ETH closed May with a market cap of around $235 billion, down 31% from the month open.
On May 1st, ETH had an impressive trading volume of up to USD 15.33 billion, corresponding to a market capitalization of approximately USD 341.05 billion.
Historical data of ETH | Source: CoinMarketCap
Why is market capitalization weakening?
The trend of selling digital assets by holders in 2022 deepened during the week of May 9-13, which can be attributed to the decline in ETH's market capitalization.
Some of the other key factors that led to the negative market sentiment include rising interest rates, inflation, and economic turmoil that have affected the entire financial system due to Russia's gratuitous invasion of Ukraine.
In May, the number of large transactions involving ETH peaked at 16,950 at a price of $1,947 on May 12.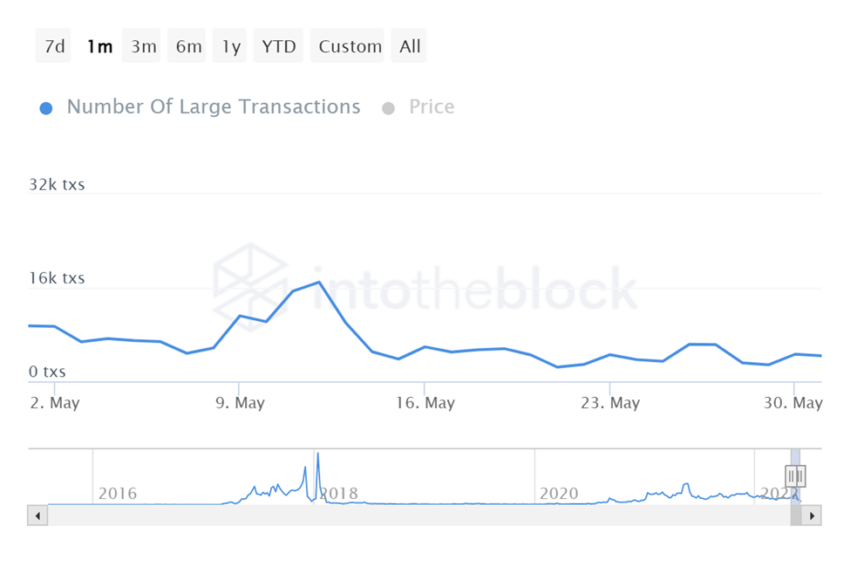 Large number of ETH transactions in May 2022 | Source: Into the Block
Accordingly, the large transaction volume reached 12.25 million ETH (1 ETH = 1,947 USD), about 23.86 billion USD.
Large ETH trading volume in May 2022 | Source: Into the Block
On May 12, ETH price opened at $2,072 and hit an intraday low of $1,748. Trading volume is around $42.46 billion and corresponds to a market cap of $236.88 billion, down 30% from ETH's monthly open.
Due to the market-wide downtrend that pushed ETH price to its lowest level since July 2021, altcoin This failed to recover from the local lows for the rest of the month.
ETH price reaction
ETH opened May 1 at $2,730, hit a monthly high at $2,957 on May 5, tested a monthly low at $1,721 on May 27, and closed the month at $1,942.
Overall, the price dropped 28% between ETH's open and close in May.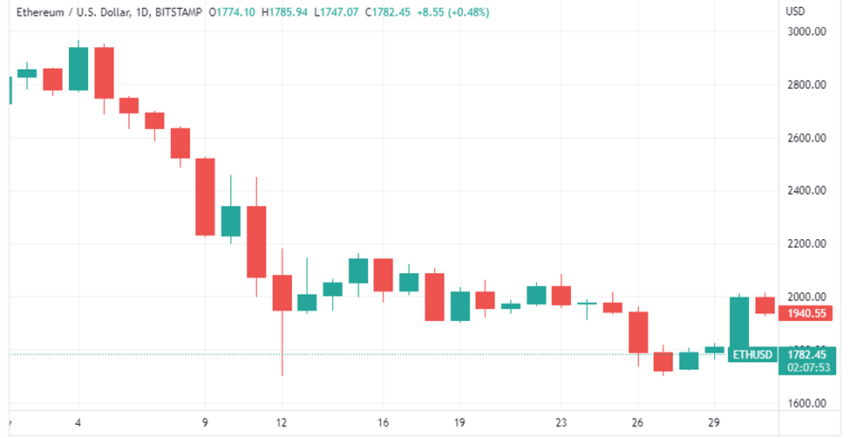 ETH Chart | Source: TradingView
Join our channel to get the latest investment signals!