Weak performance of the market cryptocurrency in the first half of 2022 contributed to prolonging the retracement of 1INCHON from an all-time high (ATH). As of the time of writing, the price is currently below ATH to 88%.
Despite such an outcome, the network remains active in growth. This happens to many companies cryptocurrency focus on long-term growth but does it help? 1INCHON recovery or not?
Despite the sharp drop in prices, 1INCHON showing signs of recovery. So far, it's up 67% from its June low.
At the time of writing, 1INCH is experiencing some selling pressure after facing resistance near the 0.236 Fibonacci retracement area.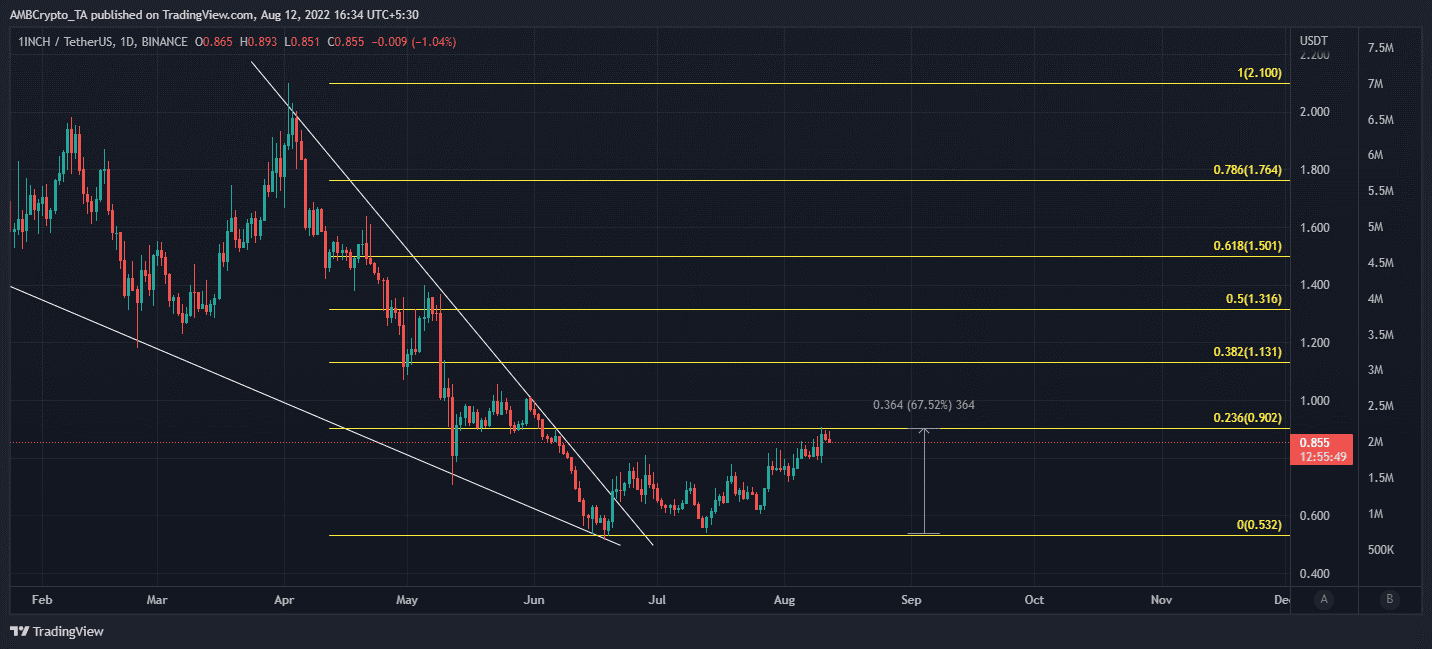 After retesting the Fib retracement, the price dropped 5%, confirming altcoin This "confronted" with significant selling pressure. However, the retracement could change depending on the downside pressure.
Plimited ullback?
1INCH's daily active addresses peaked at 845 on Aug. 11 - the highest since the beginning of the month. On the same day, the indicator started to decrease, which means that some addresses sold 1INCH.

The slightly reduced supply held by top addresses confirms the outflow. Meanwhile, the number of whale transactions recorded 2 transactions worth over 1 million dollars and 2 transactions between 100,000 and 1 million dollars.

Large holders usually don't buy at resistance, so this could explain selling pressure.
However, the increased number of active addresses on August 11 shows that there are a lot of buyers near the Fib level. Maybe that's why the price has only been reduced to a limited extent so far.
At the time of writing, the 90-day "hibernation" circulation index represents a relatively low amount of coins moved over the past 2 days. This means that many long-term investors have yet to "discharge".

Support for road game long
Despite the volatile market situation, 1INCH Network is still busy building and developing towards long-term goals. In particular, they want to attract more liquidity into the ecosystem.
One of the ways the network is aiming to achieve this is through new integrations with Kucoin Wallet. Accordingly, users will gain access to liquidity networks operating across 9 networks.
Join our channel to get the latest investment signals!