NS debate lively on Reddit on Friday (July 15) sparked discussion about whether computing infrastructure is built on Ethereum Are you too focused? According to the data on-chain, about 32% all nodes Ethereum works on Amazon AWS servers. However, Amazon claims the number is closer to 25%.
Morgan Creek co-founder Anthony Pompliano talked about the issue in August 2020.
"Jeff Bezos can turn off most apps"DeFi" based Ethereum this by shutting down AWS. You don't get decentralized if you just spin-up the server with Jeff!".
Since 2020 there have been very few changes regarding the improvement of node decentralization in Ethereum. However, Pomp's tweet was not entirely accurate.
Centralization of Ethereum
The image below shows the percentage of hosted Ethereum nodes running on AWS. At first glance, this may seem worrisome as it goes against the narrative of decentralization in Ethereum.
However, the graph ignores nodes running on private machines instead of servers hosted in the cloud. Hosting providers facilitate about 67% all nodes and 29% are private.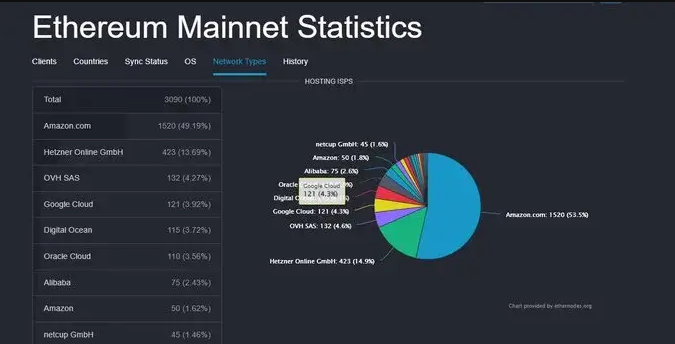 Interestingly, another statistic is that more than 50% private nodes run through a handful of US-based Internet providers. As a result, Verizon, Comcast, Spectrum, and AT&T account for 51% of unhosted Ethereum nodes.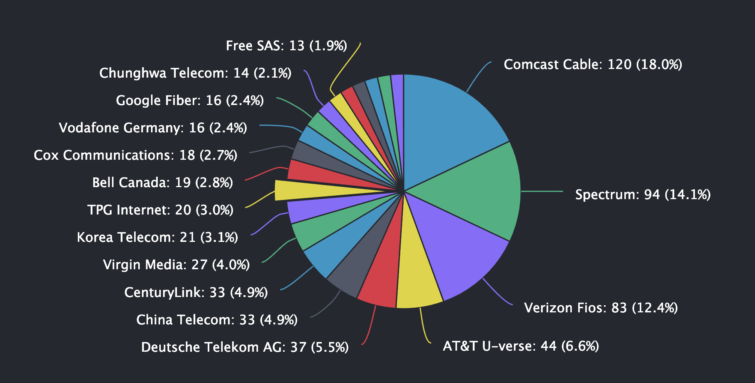 As a result, Amazon, Verizon, AT&T, Spectrum, and Comcast facilitate about 47% all nodes on the Ethereum network. This percentage matches the total distribution of Ethereum across the US, which is almost 5 times that of other countries. Behind the US is Germany with 11%.
This 47% number is close to the 51% required to destroy a network. If a malicious actor accessed the nodes through nefarious means in an attack that spanned these 5 US companies, they would have the potential to cause damage to the network.
However, as Dankrad Fried, a researcher at the Ethereum Foundation, a 51% attack doesn't give the attacker absolute control, but they can still cause serious problems;
"They can prevent you from using the chain… and reverting the chain, that is, undoing certain blocks and changing the order of the transactions in them."
A 51% attack cannot take coins from the wallet or mint new coins, but reverting transactions can lead to double spending, which is a significant concern.
Will Proof-of-Stake solve the problem?
The merging of Ethereum's Beacon Chain is the final step in the transition to Proof-of-Stake (POS) for the network. According to the document, the event will lead to a more decentralized ecosystem. There are more than 400k validators running on Ethereum, each stake around 32 ETH.
More than 50% of all ETH staked on Beacon Chain held by 3 pools including Coinbase, Lido and Kraken. A similar risk can be attributed to these pools as stakers delegate ETH to pools to remove the 32 ETH minimum to "unlock a validator key set". Pooling is not inherently available on-chain, which has led to staking protocols as a service to help facilitate demand from smaller investors.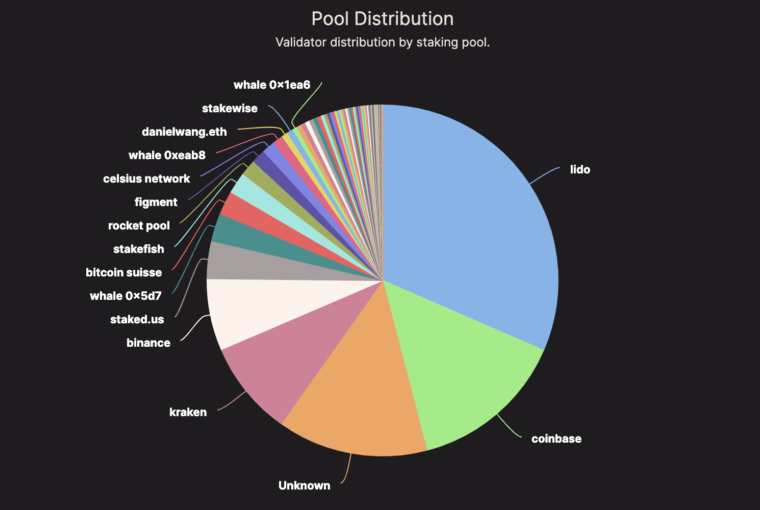 Amazon AWS in Ethereum
In 2021, Amazon Launches Ethereum on Amazon Managed Service Blockchain to allow users to activate Ethereum nodes within minutes. Developers find that AWS is easy to use because of its familiarity and integration with many Internet processes.
A node is indispensable for any dApp any project and wanting it to be reliable, secure, and robust is a top priority for any project. Amazon AWS has earned the trust and respect of the world's biggest companies in web 2, and now it's looking to establish the same in web 3.
The share of hosted nodes running on Amazon AWS has decreased by about 3% since 2020, but it still holds a significant share with little competition. Alchemy, Ankr and other web 3 companies will provide node provisioning that could theoretically compete with Amazon.
However, many of these services also use Amazon AWS, which has less impact on decentralization. Companies like Gateway.fm are looking to provide OS-less server infrastructure to tackle AWS, but are in the early stages of development.
Using AWS does not present an inherent risk to the viability of blockchain Ethereum. However, it does pose a threat if centralized entities are hacked to distribute the network and cause severe disruption.
Join our channel to get the latest investment signals!