During the last quarter, Bitcoin experienced a large decline with strong downward momentum. In fact, it was the worst quarter ever for the major cryptocurrency.
However, after dropping to 2017 all-time highs around $ 19K, the downside momentum has begun to fade with a consolidation move following. Will this help prices rise again?
Technical analysis BTC
Daily chart
Although the price has plummeted near 74% since recording its all-time high in November 2021, reaching a valuation low based on multiple price patterns, there is no sign of a trend reversal yet. .
This could be due to amplified negative sentiment and lack of demand, increasing the likelihood another sale caused the critical level at $ 17k to be broken, marking the low of this bear market. If that happens – it will likely push prices BTC down to the next support at $ 15K.
4 hour chart
The $ 18K level supported the price Bitcoin in the past few days. However, the price has failed to break above the midline of the channel and there is no sign of a reversal pattern on the lower timeframes.
The market often forms a corrective pattern right after an extended move. Bitcoin is currently doing so as it consolidates inside a triangle, as happened in the second half of May when the price consolidated above the $ 28K level. In the future, there are two possible cases:
Bullish: Price broke above the midline of the channel and the upper boundary of the triangle and attempted to break through the $ 22k resistance. This move will help the price retest the upper boundary of the channel.
Down: The price failed to initiate a new upward move and broke below the triangle, turning the $ 17K level into critical resistance.
Therefore, the direction of the breakout out of the triangle will determine the direction of the next move of . Bitcoin.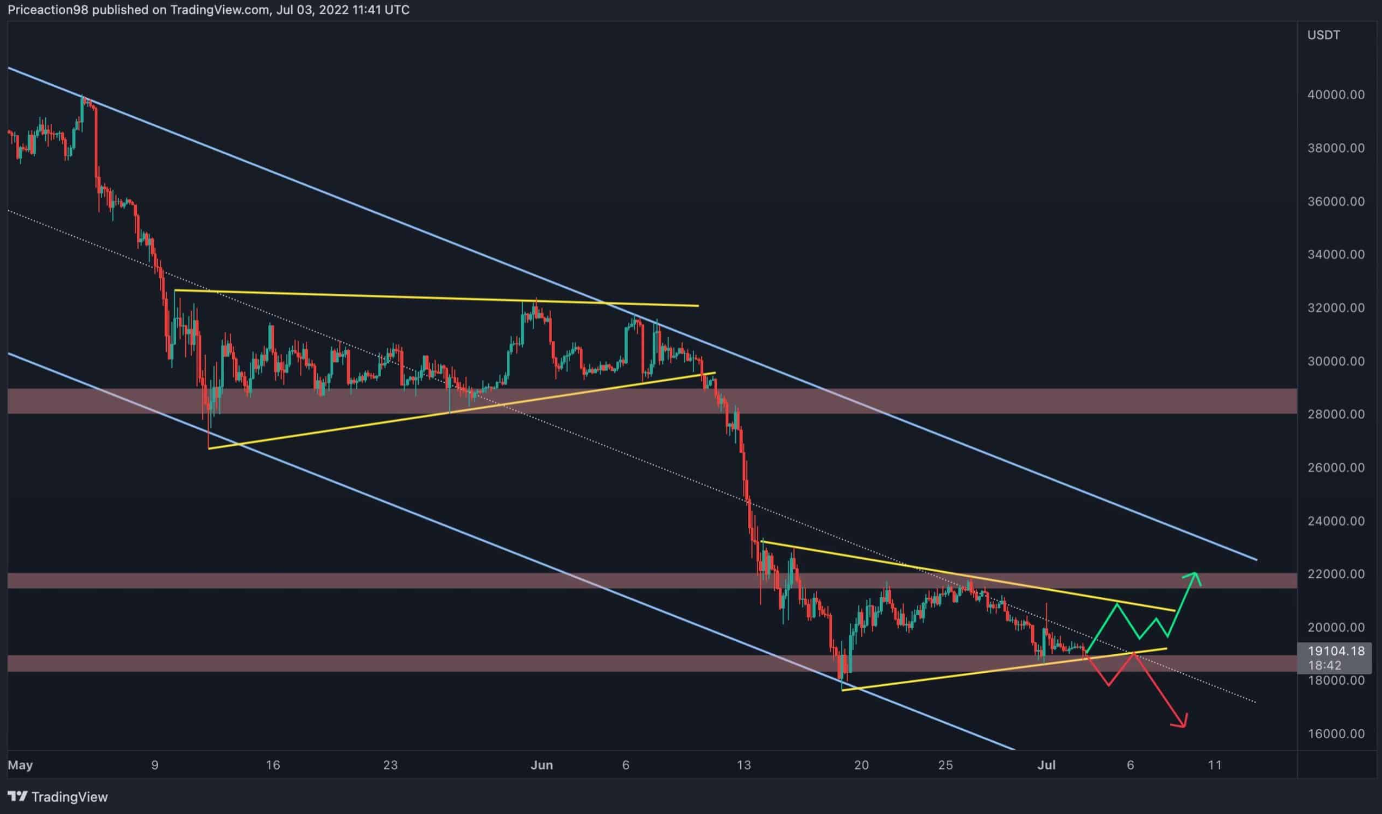 Join our channel to get the latest investment signals!