Stablecoins not the most exciting part of the industry cryptocurrency, especially when there are NFT and TVL. However, it is an important indicator of activity related to Bitcoin or Altcoins.
What are Bitcoin and altcoins affected by?
Santiment data reveals that whales are increasing their trades stablecoins even when the market enters the red zone. Initially, there seemed to be no connection between the market and this volume of transactions, but the spike in transactions stablecoins Big can sometimes push traders to buy.
On April 6, most of the major transactions that day, worth more than $100,000, were made in USDC, with 7,453 transactions.
While, Tether (USDT) saw 6,450 whale trades. Currently, the market capitalization of Tether about 30 billion USD higher than USDC.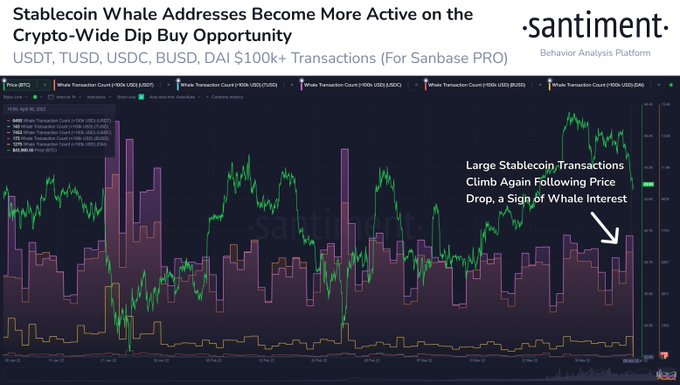 Source: Santiment
Whales rock the market
As expected, USDC recorded a small increase in trading volume, which started around three days ago and is continuing at the present time. This has important implications, as previous spikes have occurred close to the time Bitcoin price increase.
USDC Trading Volume | Source: Santiment
Turning to the velocity indicator, we can see that USDC-related activity has indeed increased since mid-February, albeit by a small amount. knife quite large, especially on 4/3 and 25/3. However, the question is are users buying or selling?
USDC Velocity Indicator | Source: Santiment
The supply on exchanges can give us a better hint and in this case, this is an indication of a sell signal.
This conclusion was made based on an increase in the volume of USDC returning to the exchange. However, this trend has prevailed since around early December 2021, when the crashes started. In other words investors sold their USDC and bought dip Bitcoin, Ether or Altcoins. Currently, this is still ongoing.
USDC Supply on Exchange | Source: Santiment
Optimistic investors felt quite sad when Bitcoin drops below $45,000. Many lamented that the "king" had finally slipped below its old resistance level.
However, Bitcoin may not be the starter for this drop, as data from Glassnode revealed that investors seem to be showing more interest in Ethereum and Altcoins.
#Bitcoin traded volume down -26% in Q1 2022 as per Q1 2021.

Q1 2021 $BTC return: +103%
Q1 2022 #BTC return: -1.46%

More money is spreading to #Ethereum and altcoins. Read more here 👉 https://t.co/puXlRHCMaK pic.twitter.com/Oe8zgdEDZV

— (@Negentropic_) April 4, 2022
With potential DeFi For these assets, it seems likely that stablecoin whales will continue to increase stablecoin trading in the near-term.
Join our channel to get the latest investment signals!