Bitcoin (BTC) recovers more than $ 1,000 before Wall Street opens on Nov. 10 as US inflation and jobs data boosted risk assets.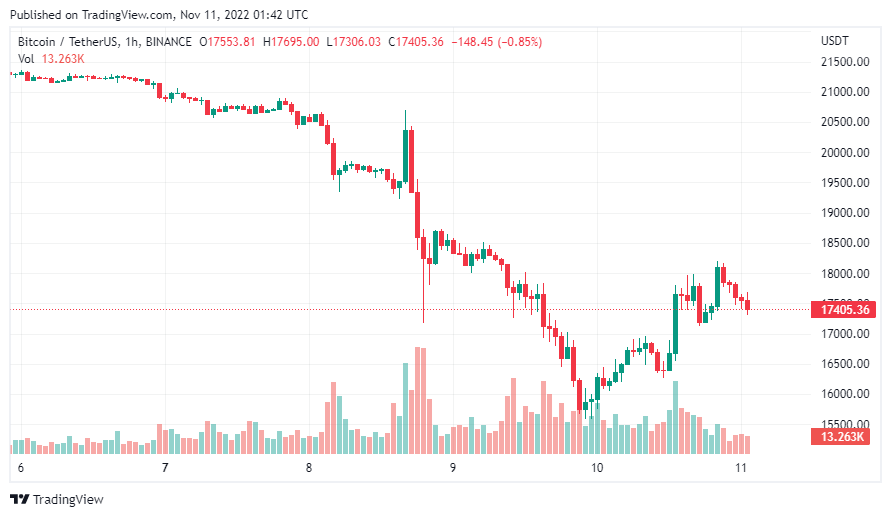 US Stocks
U.S. stocks posted their biggest gain since 2020 on Thursday (November 10), after October consumer price index (CPI) data raised investors' hopes that inflation had peaked. .
At the end of the session, the Dow Jones index rose 1,201 points (equivalent to 3.7%) to 33,715 points, marking the strongest increase since US stocks recovered after the Covid-19 pandemic. The S&P 500 Index jumped 5,54% to 3,956 points in its biggest session since April, and the Nasdaq Composite jumped 7,35% to 11,114 points, its best session since March 2020.
October CPI in the US increased by 7.7% year-on-year, the lowest annual increase since January 2022 and down from 8.2% last month. Economists had forecast CPI to rise 0.6% in October and increase 7.9% year-on-year, according to Dow Jones. Excluding food and energy, the core CPI increased by 0.3% in October and by 6.3% year-on-year, both lower than forecast.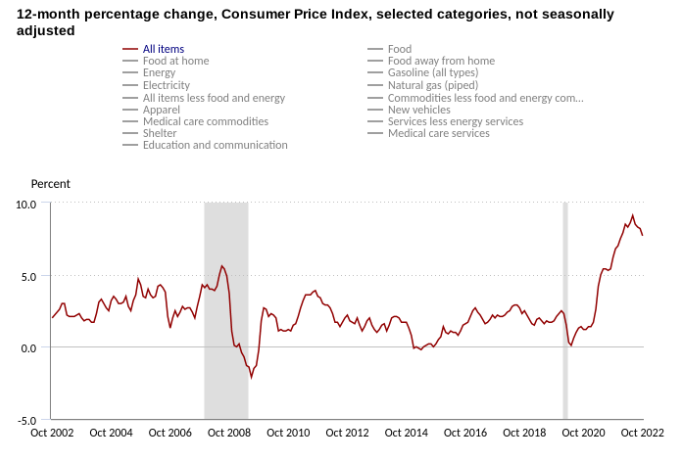 US bond yields fell after the CPI report, with 10-year yields losing about 30 basis points to 3,81% as investors forecast the US Federal Reserve (Fed) will raise interest rates slowly. again. Yields on 2-year US government bonds fell 30 basis points to 4,32%.
The dollar, another pressure point for equities, weakened and recorded its worst session since 2009.
DXY has hovered around 108.6, its lowest level since September 13.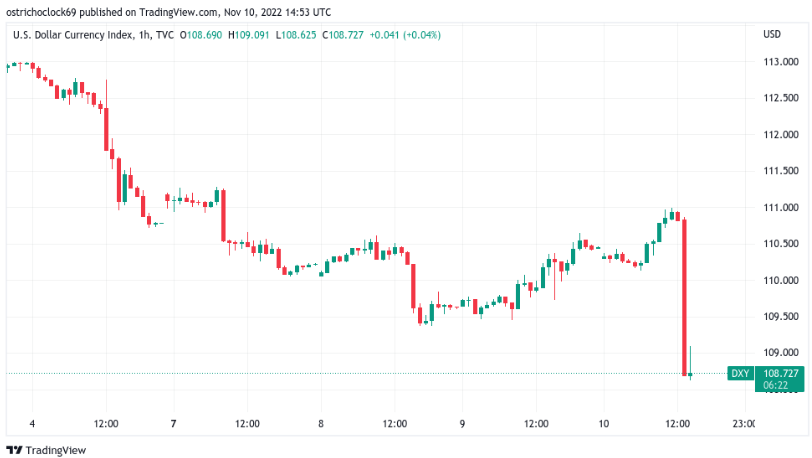 Tech stocks hit hardest by high inflation and rising interest rates were on the upswing on Thursday. Amazon stock rallied 12.2%. Apple and Microsoft shares both rose more than 8%; Meta increase more than 10% and Tesla there are more 7%.
Semiconductor stocks also gained, with Lam Research stock climbing 12%; Applied Materials jumped more than 11% and KLA gained 9%.
The Dow Jones hit its highest level since August and the S&P 500 crossed the 3,900 mark, which is a key resistance level for the market.
Following the stock market momentum, oil prices rose for the first time this week on Thursday, as weaker-than-expected US inflation data overshadowed concerns that the Covid-19 lockdowns in China Country will affect fuel demand.
Ending the session, the Brent oil contract increased by 1.02 USD (equivalent to 1.1%) to 93 USD/barrel. The WTI oil contract added 64 cents (0.8%) to $84 a barrel.
Bitcoin and Altcoins
Data from TradingView shows BTC/USD has established a daily top at $ 18,199.
At the present time, at the moment, BTC/USD is hovering around $ 17,600 with volatility still in play as the US releases its Consumer Price Index (CPI) for October, along with jobless claims.
Both showed positive signals as CPI and jobless claims were better than expected, implying that the rate hike by the US Federal Reserve (Fed) has paid off and the agency soon could change the current hawkish policy.
Analysis of the reaction of Bitcoin on the order book Binance, Material Indicators shows The nearest resistance is at $ 18,500.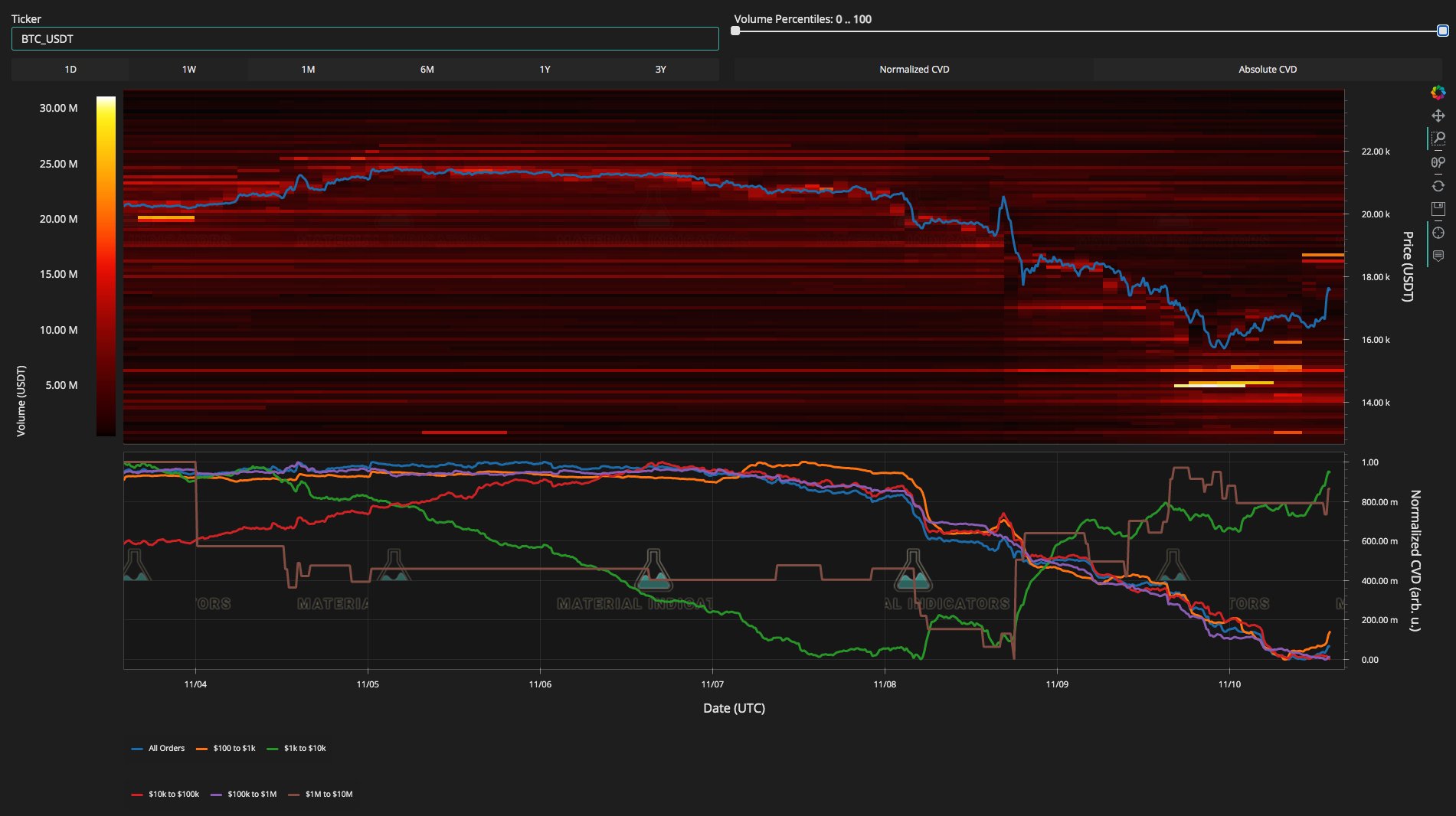 IncomeSharks trading account even optimistic more, assuming the market could go back to $ 20,000.
"Bitcoin is likely to easily bounce back to $ 20,000 as stocks rally and CPI better than expected."
Along with Bitcoin's recovery momentum, the market altcoin also showed signs of improvement.
Many projects in the top 100 have increased by 2 digits, the most prominent of which is Chiliz (CHZ) with an increase of nearly 40% on the day.
After losing more than 90% of value due to a liquidity crisis, the exchange's token FTX recovered more than 35% in the last 24 hours and now FTT is being traded around $ 3.4.
Other projects like Polygon (MATIC), Solana (SOL), Lido KNIFE (LDO), Aptos (APT), Maker (MKR), Cosmos (ATOM), Kava (KAVA)… also bounced above 20%.
Ethereum (ETH) is also trying to regain $ 1.300 level with the recovery momentum of 13%, after establishing a local bottom at $ 1.126. Currently the smart contract token is being traded around $ 1,271.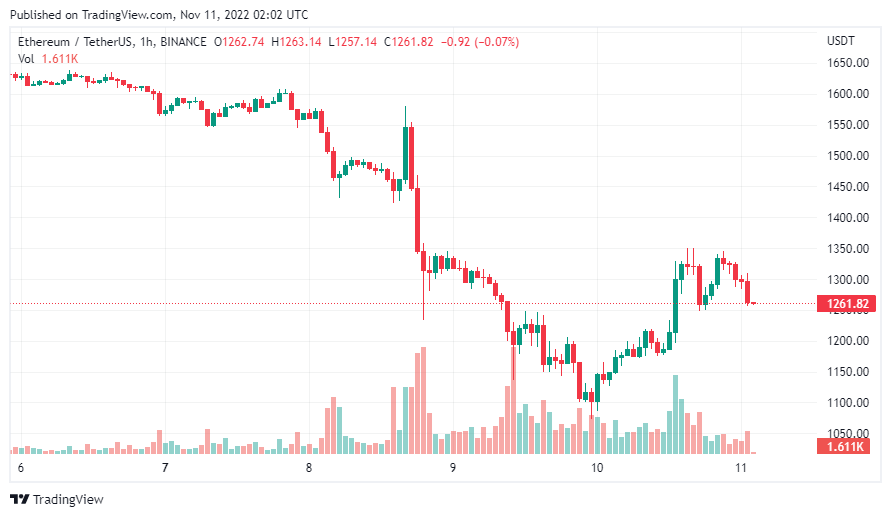 Join our channel to get the latest investment signals!