Market cryptocurrency is showing negative sentiment among investors when the price Bitcoin failed to hold the support above $ 30,000.
The loss of this price zone is a signal that no trader wants to see. Seems like smart money is powerful enough to hold the price down BTC. Now that the previous bullish thesis is invalid, the bears are building short positions to aim lower. The bulls in the market should step back and gather more evidence from technical indicators before placing a long entry.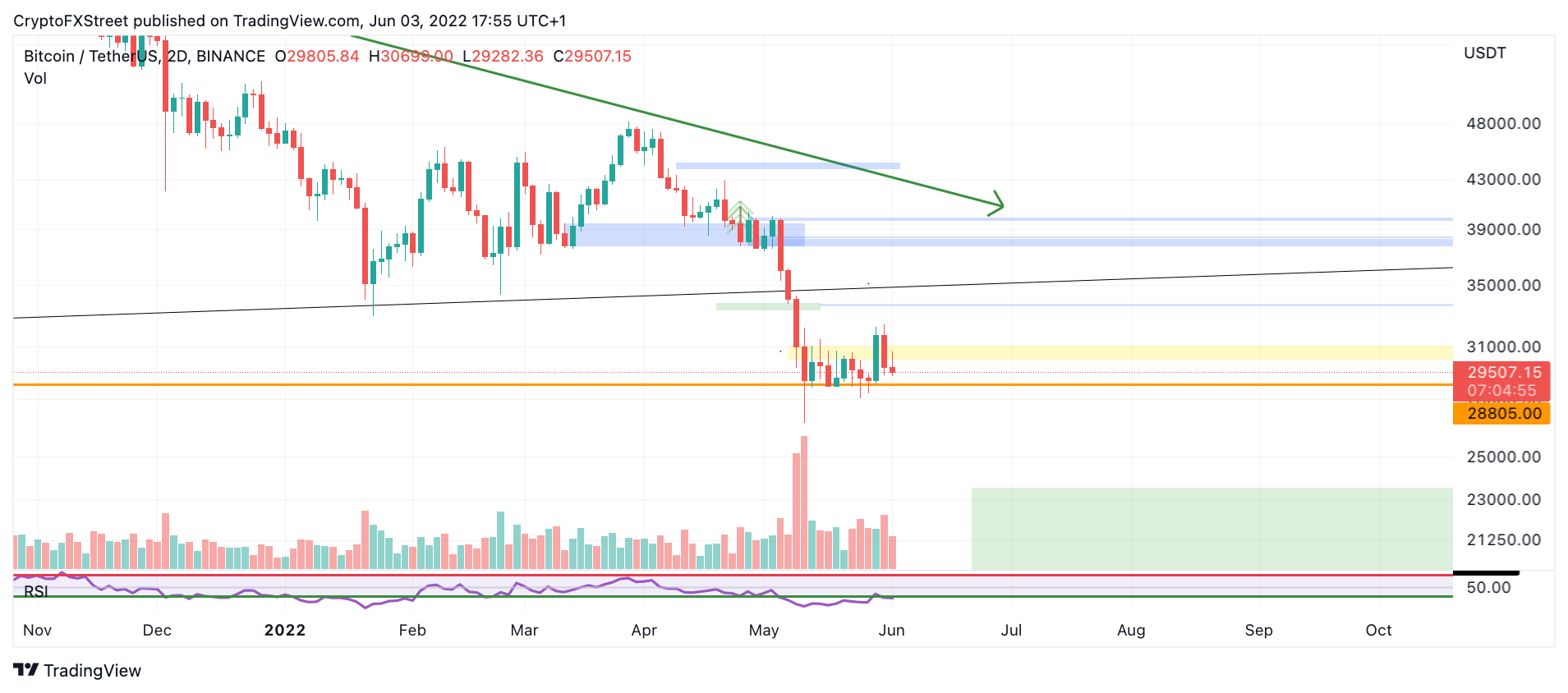 Chart BTC/USDT 2 days. Source: TradingView
$32.630 is still an important level that the bulls need to overcome to invalidate the downtrend. If this level is broken, the bulls will be able to push the price BTC up to $38,000, resulting in a 30% increase from current levels.
Market cryptocurrency has been in a downtrend all week, extending its losing streak to an all-time high of nine consecutive red weekly candles. Some altcoin this week is green, such as Cardano (ADA) and Stellar (XLM), but both saw 50-70% of that gain wiped out.
While, Ethereum still down from $2,000. Price ETH currently trading at $ 1,762 as bears continue to follow the previous month's technical indicators.
Price Ethereum There is no sign of any upside. Price ETH restrained and reduced in a near-freefall manner. The $ 1,400 target is imminent and unsurprisingly the price targets lower levels. There are no indicators that can invalidate the bearish thesis at the moment.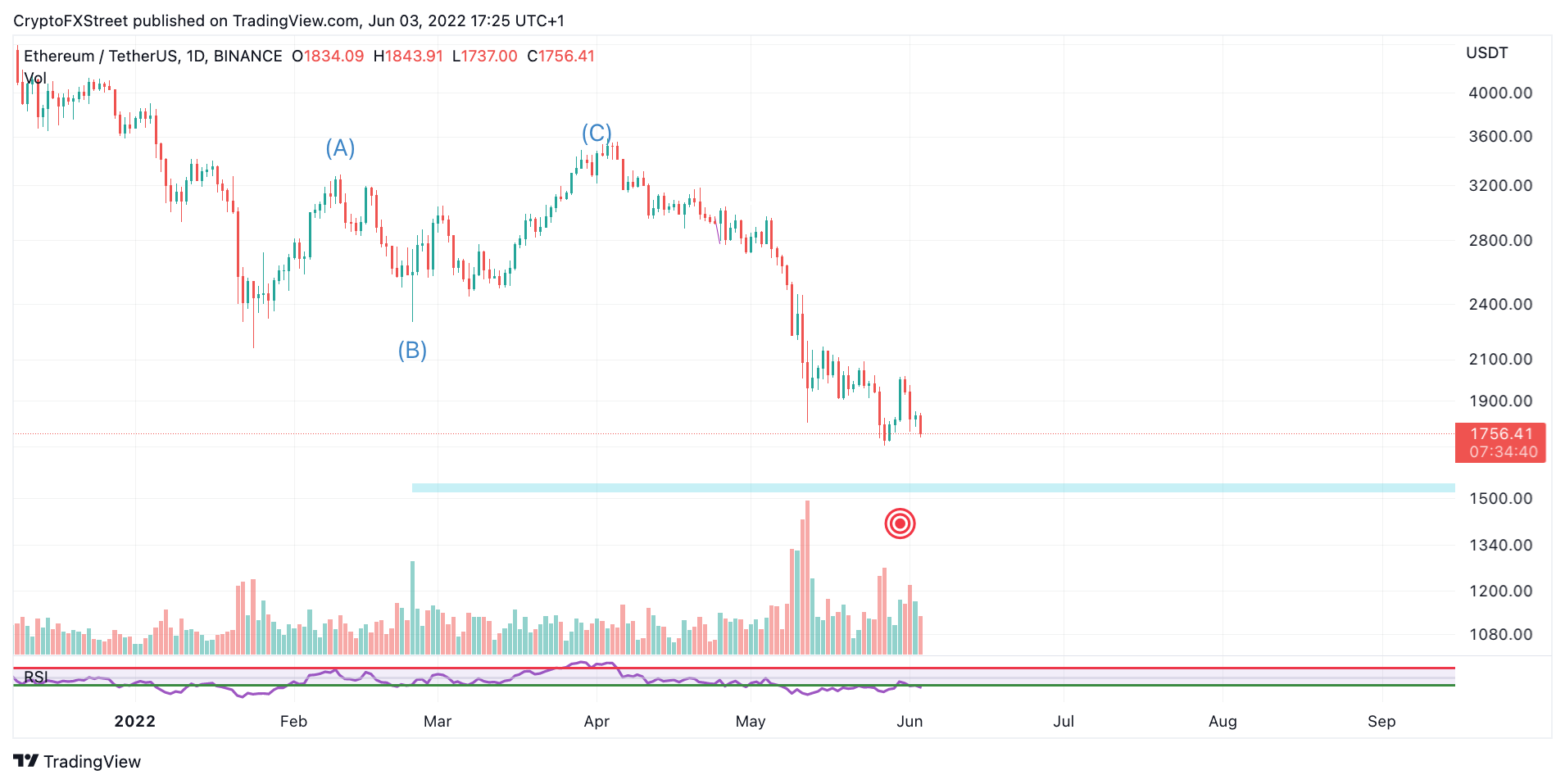 Chart ETH/USDT 4 o'clock. Source: TradingView
The situation of the altcoin Others are also not very good when the eldest brother lost the $30k mark and is losing more than 3% during the day. The biggest loser coin of the day is Internet Computer (ICP) which is currently down 14%. A series of altcoin Another is moving after ICP with losses near 10% of Kadena (KDA), Solana (SOL), Avalanche (AVAX), Fantom (FTM) and Tron (TRX). In the top 100, the only altcoin that has increased in price is Waves (WAVES) which is increasing by 0.51%.
Total market capitalization cryptocurrency stands just above $1.2 trillion, slipping uncomfortably toward the important $1 trillion mark.
Total crypto market cap weekly chart. Source: TradingView
US Fed Governor Talks About Crypto Regulation
The Governor of the United States Federal Reserve (Fed), Christopher Waller, said at the SNB-CIF Conference on Cryptocurrencies and Financial Innovation in Zurich, Switzerland that financial intermediaries can help manage risk risks for new crypto users, but it is impossible to dismiss it, and at the same time, new and fast-growing financial products need public trust to survive.
Bank officials used historical examples to show the relationship between technical innovation, regulation, and wealth accumulation.
"New technology – and lack of clear rules – means that wealth has been created, even as others have been lost."
Experienced investors know how to operate in unregulated markets and may not need or want regulation, Waller continued. He pointed to a recent Fed survey showing that even with crypto assets exploding in recent years, only 12% American adults own crypto, and 99% of them hold it for investment purposes.
Financial market intermediaries may want regulation as new users who have a negative experience with cryptocurrencies may have a dispute with them.
"As everyday investors begin to lose their life savings, for no reason other than wanting to enter a hot market, the demands for collective action can grow rapidly."
Those needs can evolve into socialization of individual losses, such as calls for refunds to small investors who were damaged in an ecosystem collapse. Terra. That leads to the need to strengthen regulations to prevent this situation from happening again.
US Stocks
US stocks fell at the end of the week as investors received a stronger-than-expected jobs report and pondered its impact on monetary policy.
Ending Friday's session, the Dow Jones Industrial Average fell 348.5 points (equivalent to 1.1%) to 32,899. The S&P 500 Index fell 1.5% to 4,108 points. The Nasdaq Composite Index lost 2.5% to 12,012 points.
All three indexes have fallen over the past week, with the S&P 500 falling 1.2%, while the Dow Jones and Nasdaq both fell nearly 1%.
On June 3, the US Bureau of Labor Statistics released the May employment report, in which the US economy added 390,000 jobs. Earlier, economists forecast 328,000 new jobs.
Average hourly earnings rose 0.3% in May, less than forecast for an increase of 0.4% and equal to April levels.
"Good news is now bad news. It reminds us that the Fed is still the main driver," said Mark Hackett, head of investment research at Nationwide.
A strong jobs report could provide a reason for the Fed to tighten policy more aggressively. Traders are probably selling stocks out of fear that the Fed will tighten policy harder. The 10-year US bond yield rose after the jobs report, to 2.9%.
Oil continues to rise
Light crude oil futures prices continue to rise and could complete an implied close near a 14-year high, levels not seen since late July 2008. From April 11 to March 3. 6, oil has risen over 20% and is just below $ 120.
Weekly crude inventories data for June 1 showed a larger decline of -5 million barrels compared to the -1.35 million estimate. Even the recent OPEC+ agreement to nearly double output has been unable to stop oil's rally.
U.S. dollar
The greenback is bouncing off a technical pullback from prolonged overbought conditions. Thus, in the Ichimoku Kinko Hyo system, the US Dollar Index has a higher implied weekly close with a profit margin of 0.3%.
A strong weekly Tenkan-Sen technical rally saw DXY rise by more than 1%, but most of those gains have since been wiped out. DXY could drop to the critical 100 near the weekly Kijun-Sen, but a hidden bullish divergence between the histogram and the composite could prevent further downside pressure.
For crypto traders and investors, the DXY is sometimes considered an uncorrelated market. In other words, as DXY increases, Bitcoin and altcoins will fall.
Coupled with the ongoing economic uncertainty and some shaking in the labor market, DXY could continue to climb steadily higher.
DXY chart. Source: TradingView
Join our channel to get the latest investment signals!