Bitcoin is showing some positive signs above the $20k support. At the time of writing, BTC trading around the $20,300 mark. Even so, there is still a lot of risk as on-chain data shows investors exiting their positions over a 3-day period, accepting losses after buying at much higher prices.
Price bottom prediction Bitcoin
Market participants Bitcoin is very close to historically high financial pain thresholds. Investors got out of position BTC worth a record $7.3 billion in the past 3 days according to the analysis company Glassnode. In fact, the last 3 consecutive days recorded the largest real loss in the history of BTC in US dollars.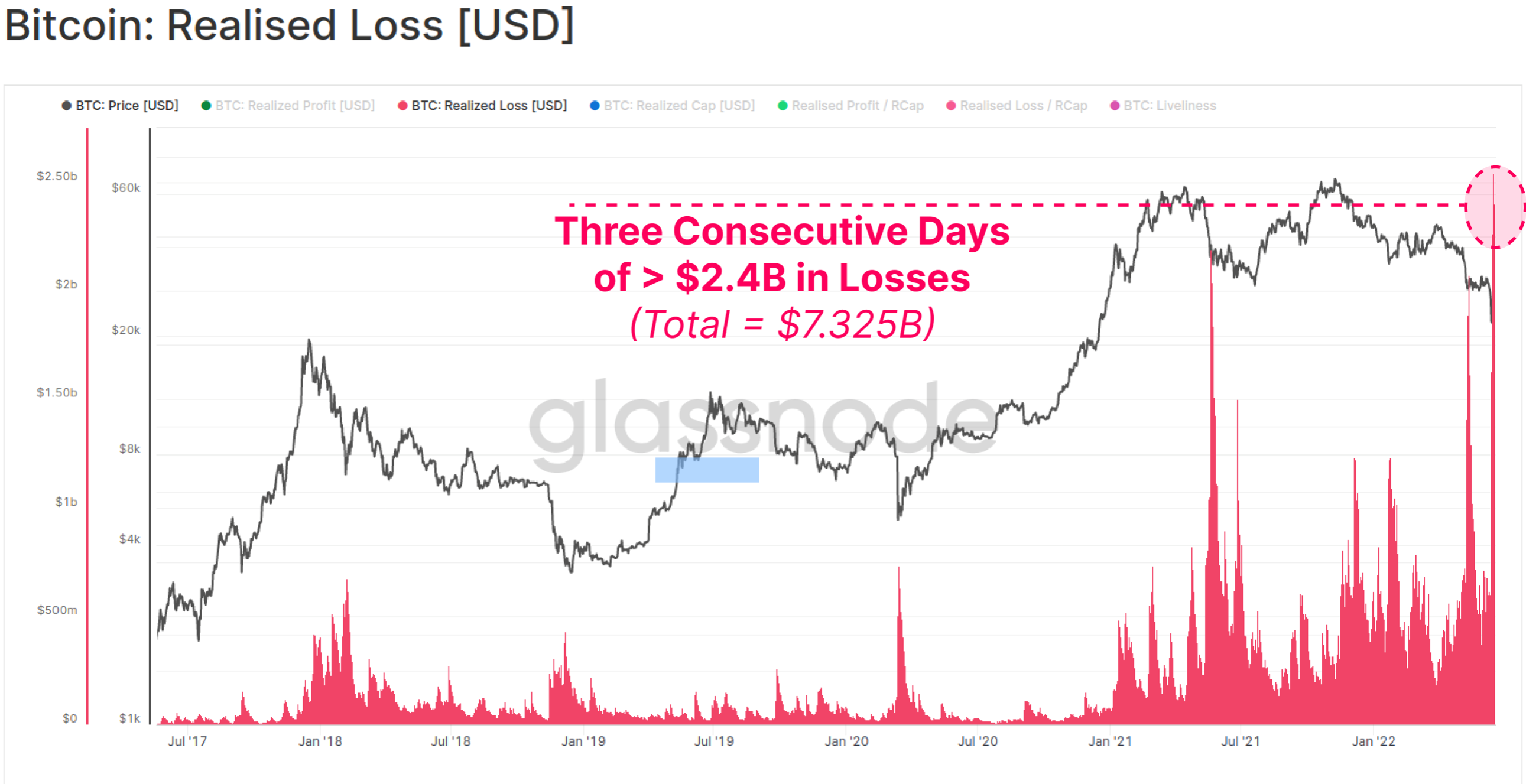 Real Loss | Source: Glassnode
According to the research firm Glassnode, when the price Bitcoin investors quickly sold about 555,000 BTC in the $23k – $18k price range. In it, many people bought at much higher prices. Specifically, loss knife from $1.5 billion to $2 billion per day.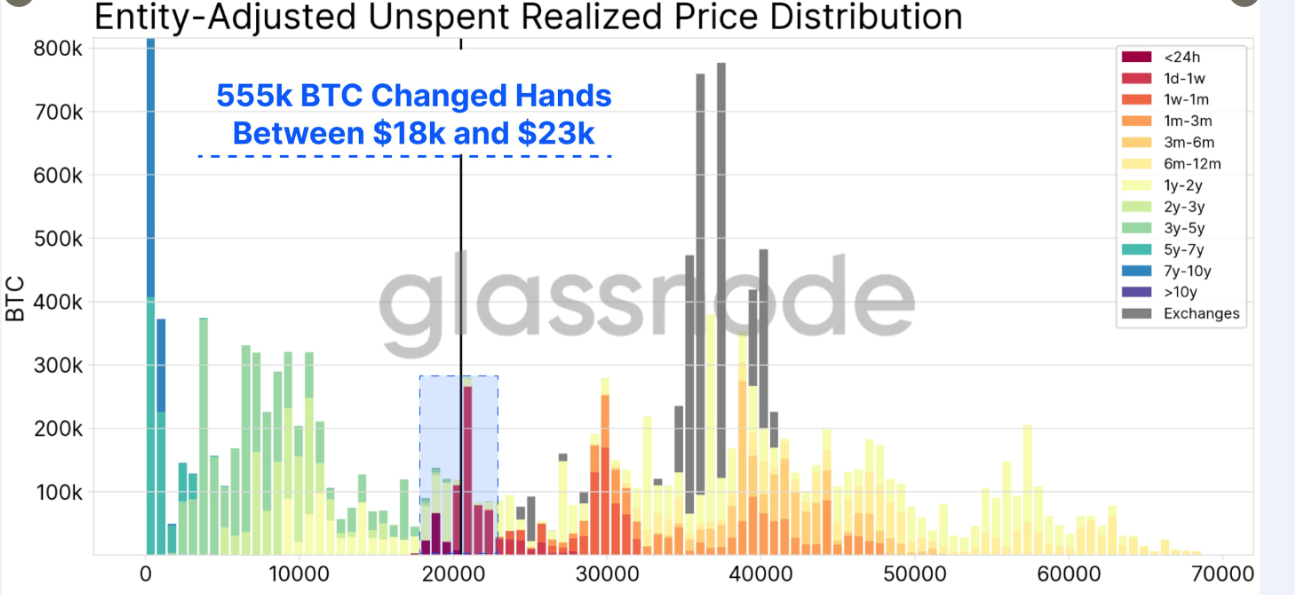 Real-time unspent price distribution by entity | Source: Glassnode
What is the "loyal" holder doing?
Even long-term holders bid farewell to the king cryptocurrency. Notably, long-term (LTH) holders sold 178k BTC, of which some were purchased at ATH of $69k in November 2021. This group of sellers lost 75% of their investment.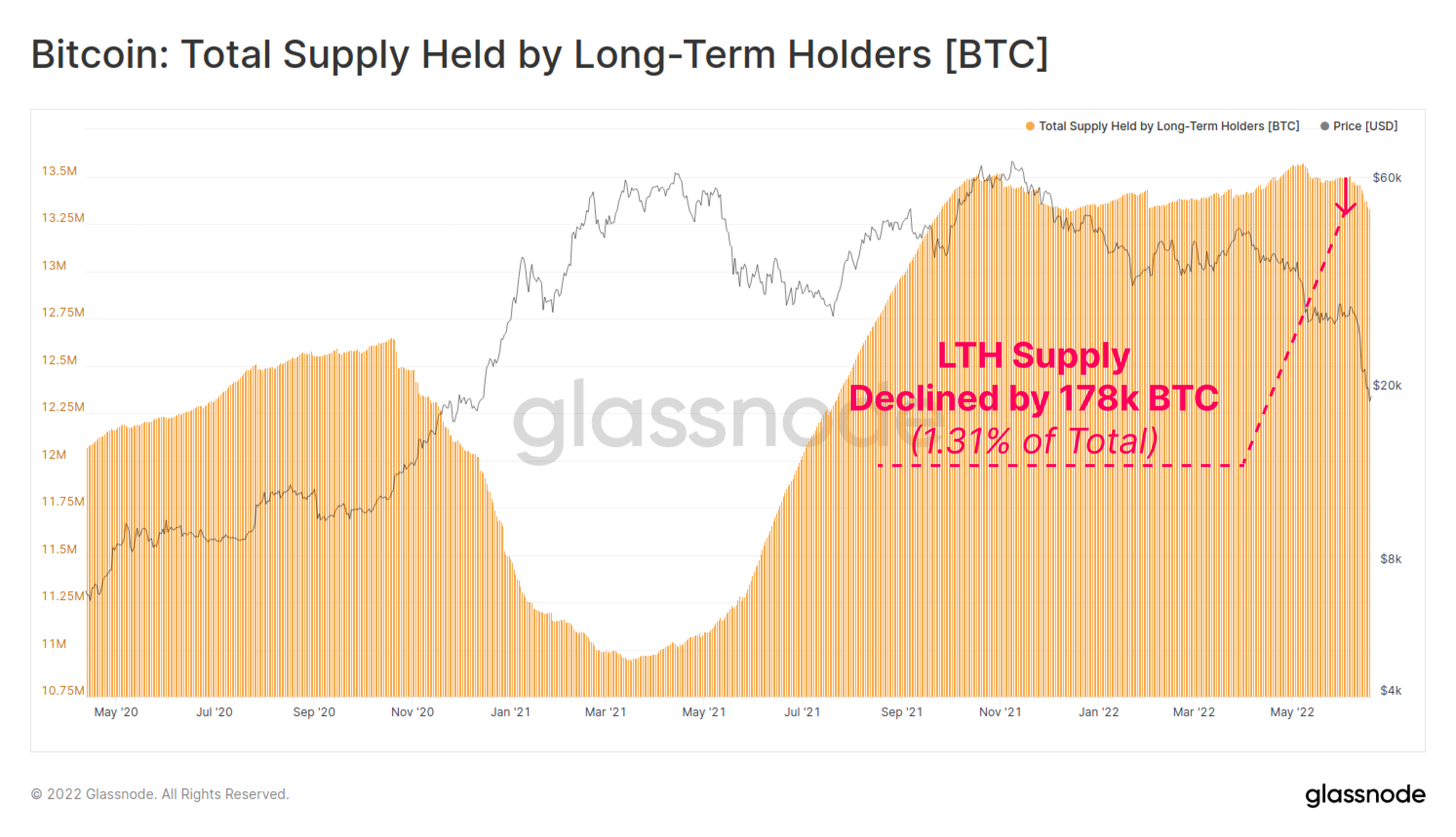 Total supply held by LTH | Source: Glassnode
Other data from the analytics firm shows that LTH also capitulated deeply during this period of record losses.
Investigating the profit and loss by Long-Term Holders sending coins to exchanges, we can see a deep capitulation took place.

A few #Bitcoin LTHs even bought the $69k top, and sold the $18k bottom, locking in -75% losses🩸.

Total LTH losses 0.0125% of Market Cap per day.

5/9 pic.twitter.com/bTCvuciUMX

June 19, 2022
"Through investigation of profits and losses ofolder long term sending coins to exchanges, we can see deep capitulation. Some Bitcoin LTHs even bought at the top of $69k and sold at the bottom of $18k, taking a loss of -75%. LTH total losses represent 0.0125% market cap per day."
Besides, short-term holders (STH) also suffered heavy losses. STH-SOPR has reached the equivalent of the bear market capitulation event of November 2018.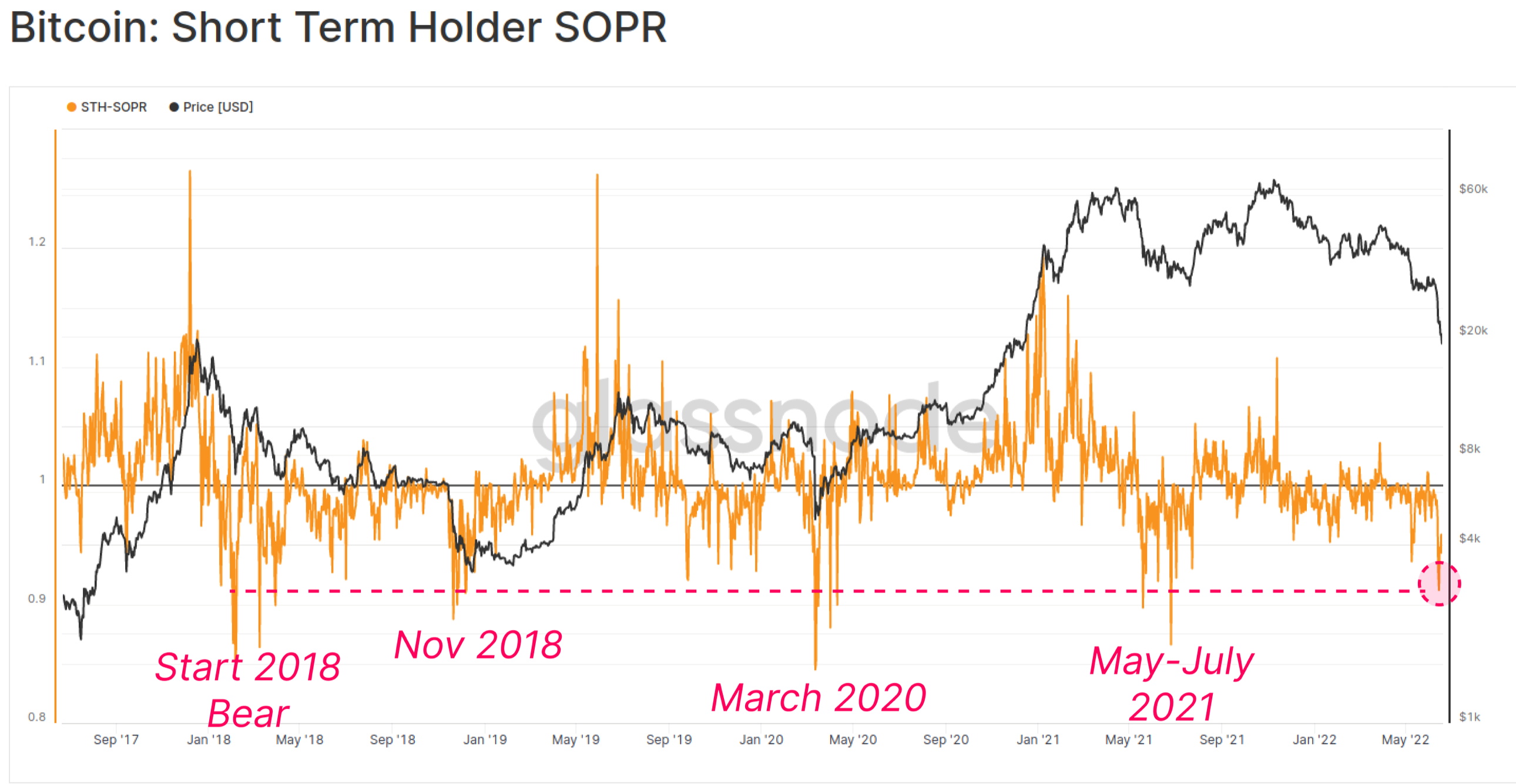 STH-SOPR | Source: Glassnode
Almost all wallet groups from "shrimp to whale" have large unrealized losses, worse than the whole of March 2020. Currently, the least profitable wallet group holds 1-100 BTC and has an unrealized loss equal to 30% market cap.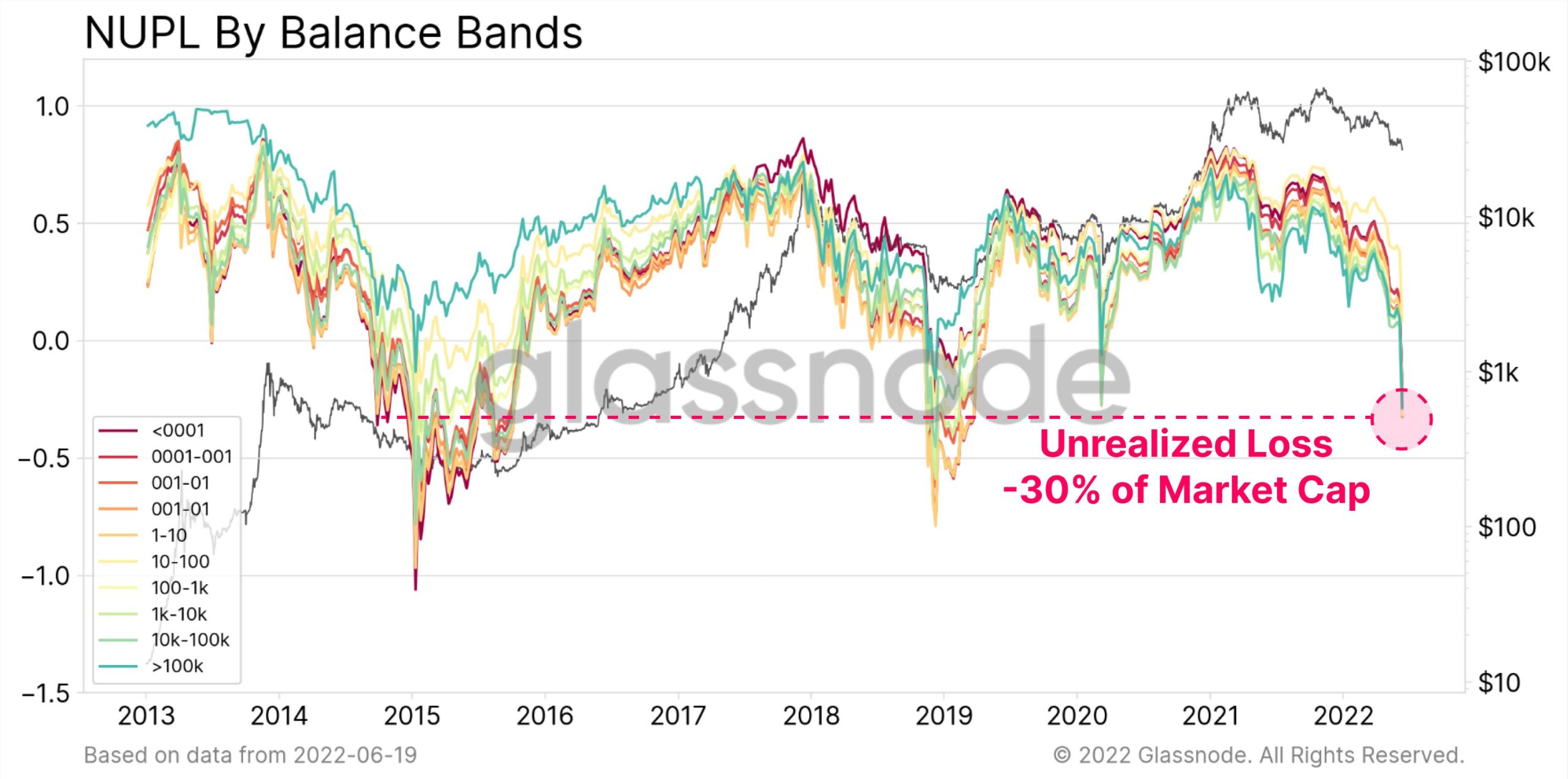 Unrealized net profit/loss by balance range | Source: Glassnode
Not stopping there, the price slide below the 2017 ATH at $20k led to a different story. Bitcoin may be nearing a temporary bottom because cryptocurrency This has historically bottomed as its Profitable Supply Percentage (PSP) hit 40% to 50%.
Profitable percentage of supply | Source: Glassnode
It is obvious that the confidence of BTC investors is being rigorously tested under such conditions.
Join our channel to get the latest investment signals!