Bitcoin (BTC) experienced one of its most devastating slumps ever in 2022, with prices plummeting below $ 20,000 in June after peaking at $ 68,000 in 2021.
June 2022 turned out to be the worst month for Bitcoin since September 2011, when suffering a loss of up to 40%. Copper cryptocurrency It also recorded its heaviest quarterly loss in 11 years.
However, the sell-off in the current market does not make Bitcoin crash and the market has seen many bear markets before. In fact, Bitcoin managed to survive many winters cryptocurrency since the first Bitcoin block, or genesis block, was mined in January 2009.
When zooming out the price chart, Bitcoin has had 5 strong price drops in the past.
1. Bitcoin crashed from $ 32 to $ 0.01 in 2011
Time to return to previous peak: 20 months (June 2011 to February 2013)
Bitcoin price broke the first psychological mark at $ 1 at the end of April 2011, to initiate a strong rally reaching $ 32 on June 8, 2011. But, the joy didn't last long, as the market then plummeted to a bottom of just $ 0.01 within a few days.

Bitcoin plunges to $ 0.01 | Source: Twitter
The sharp sell-off was attributed to security issues at Mt. Gox, the Japanese cryptocurrency exchange, was responsible for trading the majority of Bitcoin at the time.
The exchange saw 850,000 BTC stolen due to a security breach on the platform, raising concerns about the security of Bitcoins stored on exchanges.
With BTC losing around 99% of value in a few days, Bitcoin's flash crash in June 2011 has become a major part of market history. This event took BTC quite a while before recovering back to its previous peak of $ 32 and establishing a new high in February 2013.
It is very difficult to track Bitcoin price at this time because popular price tracking services and websites like CoinGecko or CoinMarketCap do not mention Bitcoin price before April 2013.
CoinGecko CEO Bobby Ong said: "Bitcoin was created a lot in its infancy before 2013 and there are not many places Bitcoin transaction at that time". He added that CoinGecko did not receive many requests for data prior to 2013, so the platform did not prioritize tracking BTC prices during this period.
2. Bitcoin plunged from $ 1,000 to less than $ 200 in 2015
Time to return to previous peak: 37 months (November 2013 to January 2017)
According to the data collected, Bitcoin price hit $ 100 in mid-April 2013 and then continued to skyrocket to $ 1,000 shortly, in November 2013.
Bitcoin entered a massive bear market shortly after breaking above $ 1,000 for the first time in history, dropping below $ 700 a month later. The price drop comes amid the Chinese central bank's crackdown on Bitcoin in late 2013, banning domestic financial institutions from processing BTC transactions.
The cryptocurrency continued to plummet over the next two years, moving around $ 360 in April 2014 and then further falling to a low of $ 170 in January 2015.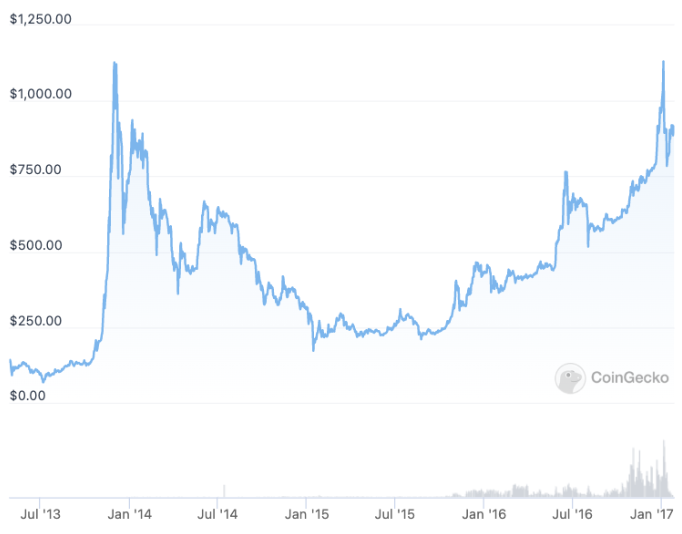 Bitcoin price chart from April 2013 to January 2017 | Source: CoinGecko
The long crypto winter of 2014 is tied to the fact that cryptocurrency exchange Mt. Gox was hacked, causing the exchange to suspend all Bitcoin withdrawals in early February 2014. The platform subsequently suspended all trading and eventually filed for bankruptcy in Tokyo and the United States.
Several major financial institutions have also raised concerns about Bitcoin, with the U.S. Commodity Futures Trading Commission (U.S. Commodity Futures Trading Commission)CFTC) claimed that Mt.Gox had the ability to "manipulate the price of Bitcoin" in late 2014.
The overall sentiment around Bitcoin was mostly in the negative territory until August 2015, when the trend started to reverse long term. In the midst of a strong bull market, Bitcoin finally returned to the $ 1,000 mark in January 2017. This is the longest recovery period in Bitcoin's history.
3. Bitcoin drops below $ 3,200 after hitting $ 20,000 in December 2017
Time to return to previous peak: 36 months (December 2017 to December 2020)
After recovering to $ 1,000 in January 2017, Bitcoin continued to rally to a peak of $ 20,000 later that year.
However, similar to Bitcoin's previous peak of $ 1,000, the market was only able to touch $ 20,000 in the short term, as it then plummeted and lost more than 60% of value in a few months.
2018 quickly became known as "crypto winter" as the Bitcoin market continued to shrink, bottoming out at around $ 3,200 in December 2018.
Crypto winter started with security issues on Coincheck, another Japanese crypto exchange. In January 2018, Coincheck was hacked resulting in the loss of $530 million worth of NEM (XEM).
Bears continued to control the market as tech giants like Facebook and Google banned ICO ads and token sales on their platforms in March and June 2018.
Global cryptocurrency regulations at the time also contributed to the bear market, with the US Securities and Exchange Commission (SEC)SEC) rejected the Bitcoin fund application ETF.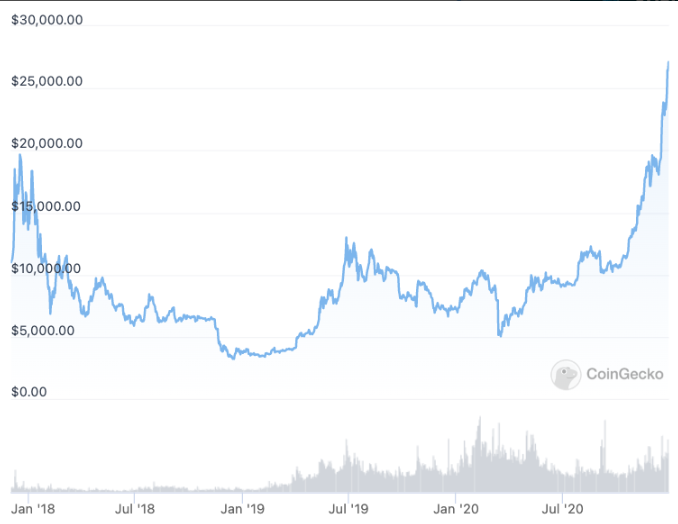 Bitcoin price chart from December 2017 to December 2020 | Source: CoinGecko
4. BTC drops from $ 63,000 to $ 29,000 in 2021
Time to return to previous peak: 6 months (April 2021 to October 2021)
Bearish sentiment dominated the crypto market until 2020, when Bitcoin not only returned to $ 20,000 but also entered a major bull run, peaking at over $ 63,000 in April 2021.
Although 2021 is set to be one of the key years for Bitcoin, with the cryptocurrency surpassing a $1 trillion market cap, Bitcoin has also faced a year-end decline.
Shortly after breaking new ATH levels in mid-April, Bitcoin slipped back to as low as $ 29,000 in three months.
The 2021 mini bear market comes amid growing media condemnation of Bitcoin mining's environmental, social, and corporate governance (ESG) impact.
ESG-Related Global FUD Around Bitcoin Gets More Serious As Electric Vehicle Company Tesla of the Elon Musk decided to stop supporting Bitcoin payments in May, citing ESG concerns. Just three months later, Musk admitted that around 50% Bitcoin mining is powered by renewable energy.
The bear market did not last long, although China began a massive crackdown on domestic mining farms. The uptrend returned in late July, with Bitcoin finally setting an unbroken ATH at $ 68,000 in November 2021.
5. Bitcoin plummets from $ 68,000 to less than $ 20,000 in 2022
Time to return to previous peak: unknown
Bitcoin failed to break $ 70,000 and started its downward momentum towards the end of 2021. The cryptocurrency has been in a bear market since last November, recording one of the steepest drops on record in 2022. .
In June, Bitcoin fell below $ 20,000 for the first time since 2020, causing extreme fear in the markets.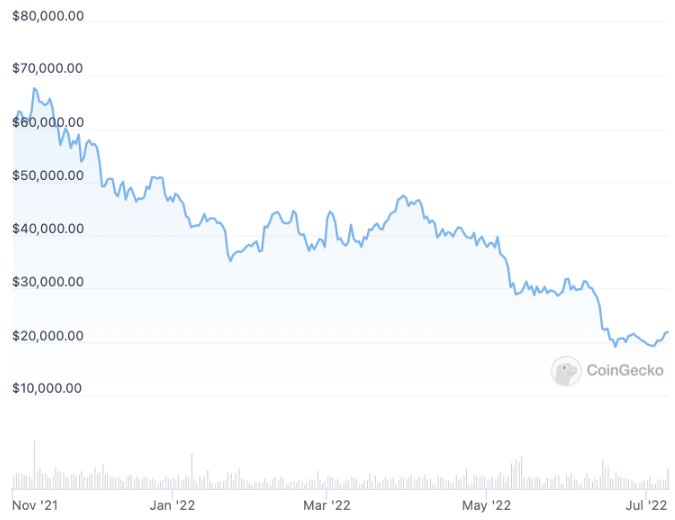 Bitcoin price chart from November 2021 to present | Source: CoinGecko
The ongoing bear market is largely due to the crisis of stablecoins algorithm, namely stablecoins TerraUSD Classic (USTC), designed to support 1:1 peg to USD through algorithms blockchain instead of cash equivalents.
USTC, once the 3rd largest algorithmic stablecoin in the space, lost its peg to the USD in May, causing a massive panic across the entire market.
The Terra's downfall caused a domino effect on the rest of the crypto market. Massive liquidity and uncertainty led to the lending crisis. Some global crypto lenders like Celsius had to suspend withdrawals due to the inability to maintain liquidity in the harsh market environment.
Bitcoin has now seen prices trade below the peak of the previous cycle. It is not yet clear whether the market will be able to make a new high and when this will happen.
Join our channel to get the latest investment signals!