Grayscale Bitcoin Trust (GBTC), fund cryptocurrency currently holds 3,12% total supply Bitcoin (BTC), or more than 640,000 BTC, is trading at a record discount to the underlying value of the asset.
According to the latest data, on September 23, the trust fund worth $12.55 billion was traded at a discount of 35,18%.

For investors, GBTC has long been a great alternative to market access Bitcoin although the annual management fee is 2%. This is mainly because GBTC is easier to hold for institutional investors as it can be managed through a brokerage account.
For most of its existence, GBTC has traded at a rather high premium to the spot Bitcoin price. But it started trading at a discount after the fund Bitcoin ETF first in North America to launch in Canada in February 2021.
Not like ETF, Grayscale Bitcoin Trust has no redemption mechanism. In other words, GBTC stock cannot be destroyed or created as demand fluctuates, which explains its large discount to the spot Bitcoin price.
Grayscale's efforts to convert the trust into ETF failed, after being banned by the US Securities and Exchange Commission (SEC) declined in June. In theory, the approval of SEC could bring the GBTC discount from now to zero, profiting those who bought the stock at a cheaper price.
Grayscale has Sue SEC about denying their ETF application. But in reality, it could take years for the courts to reach a verdict, meaning investors will remain stuck with the ever-decreasing amount of GBTC shares, whose value has fallen by more than 80% compared to the peak in November 2021, at around $ 55.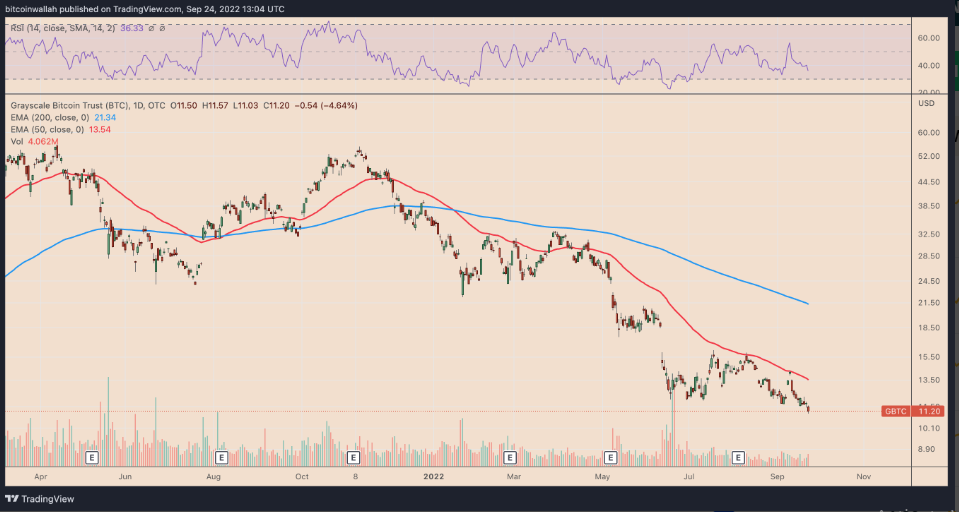 Additionally, GBTC's 12-month Adjusted Sharpe Ratio fell to -0.78, indicating that expected returns from the stock are relatively low compared to its high volatility.
Simply put, institutional interest in Grayscale Bitcoin Trust is slowly drying up.
Alert for spot Bitcoin price?
Grayscale is the world's largest passive Bitcoin investment vehicle by volume of assets under management. But it doesn't necessarily have to have a dramatic effect on the spot BTC market following the emergence of many other competing ETFs.
For example, according to report CoinShares weekly, investment funds cryptocurrency has attracted a total of nearly $414 million by 2022. In contrast, Grayscale has seen $37 million out of funds, including Bitcoin, Ethereum and trusts of other tokens.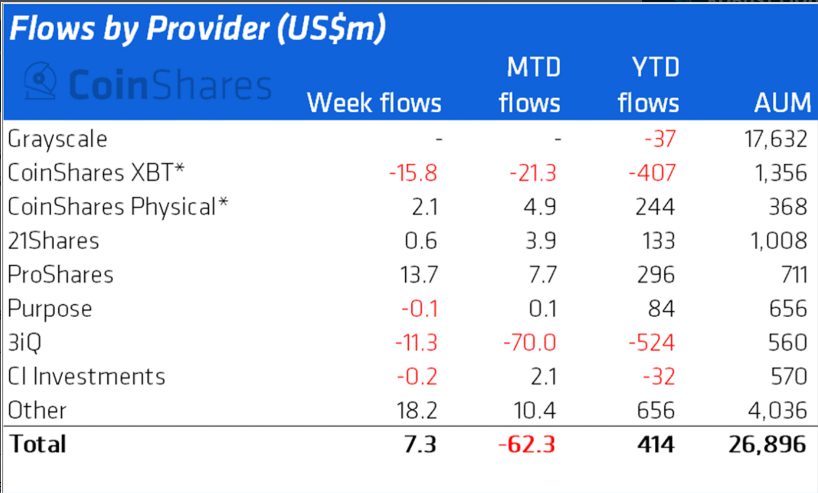 Instead, the daily volatility of the spot Bitcoin price is driven by macro factors.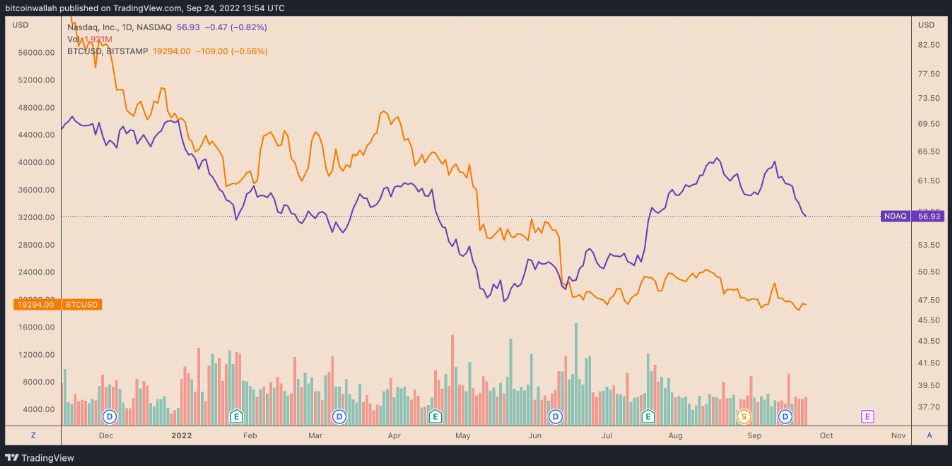 A stronger USD also affects Bitcoin's bullish outlook, due to their negative correlation in a higher interest rate environment.
On September 23, the US Dollar Index (DXY), which measures the greenback's strength against a basket of foreign currencies, surpassed 113, its highest level in 20 years. Similarly, yields on 2-year and 10-year US Treasuries rose to 4.21% and 3,69%, respectively.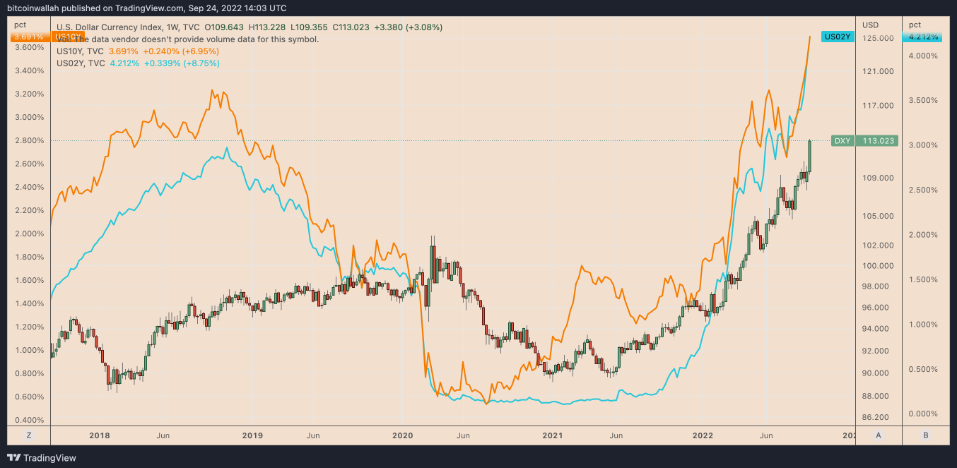 However, some on-chain indicators suggest that Bitcoin may soon bottom out. However, according to independent analyst il Capo of Crypto, from a technical point of view, BTC price is still at risk of falling to the $ 14,000 – $ 16,000 region.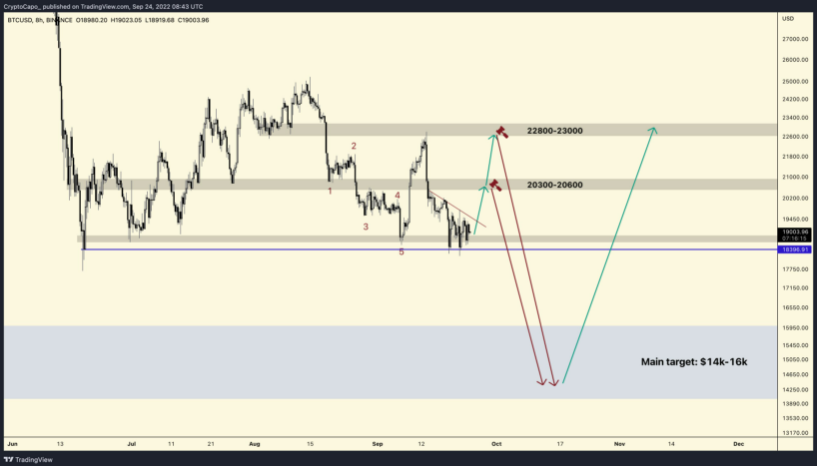 It is more likely that Bitcoin will reject the first resistance at the zone extending from $ 20,300 to $ 20,600.
Other Bitcoin analysts have also come up with even lower price targets such as $ 10,000 – $ 11,000, due to this being a range of extreme volume in the past.
With the macroeconomic situation still bleak, over the past 24 hours, Bitcoin has continued to plunge below the $ 19,000 region, establishing a local bottom at $ 18,808 and then a daily close at $ 18,921.
Currently the market's largest asset is trying to reclaim the $ 19,000 area and is trading around $ 18,960 at the moment.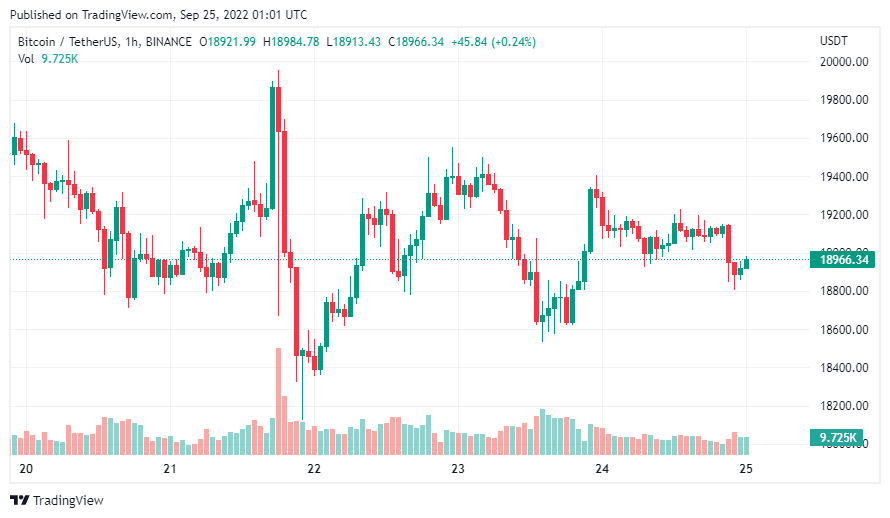 What about Altcoins?
Ethereum (ETH), the second largest project by market capitalization, also had a sideways trading day trying to defend the $ 1,300 area and is currently trading around $ 1.320.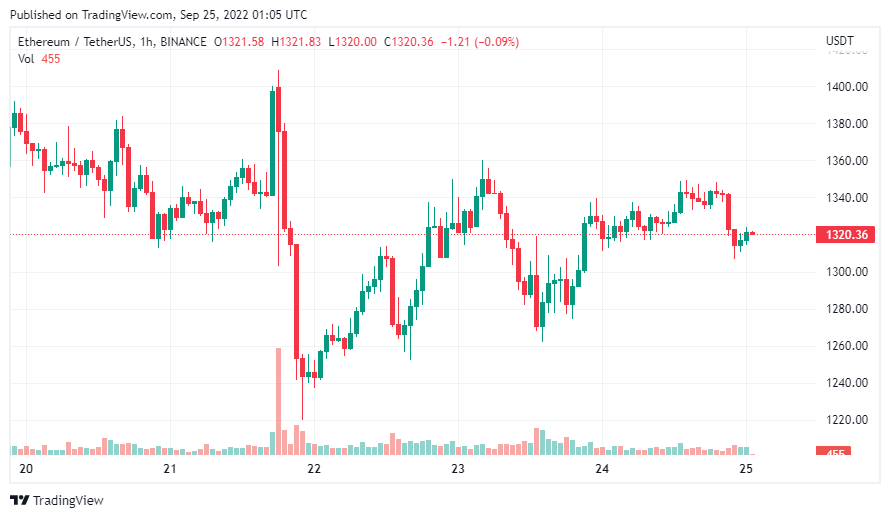 With the negative price action of the top 2 crypto projects, the market altcoin was on fire in yesterday's trading session (September 24).
Leading the decline is Terra Classic (LUNC) with a loss above 10% in 24 hours. Followed by Helium (HNT) and Axie Infinity (AXS) when a decrease above 5% was recorded.
After a strong increase in recent days, XRP showed signs of slowing down after dropping more than 5% in yesterday's trading session. However, on the weekly timeframe, the project is still showing bullish momentum near 30%.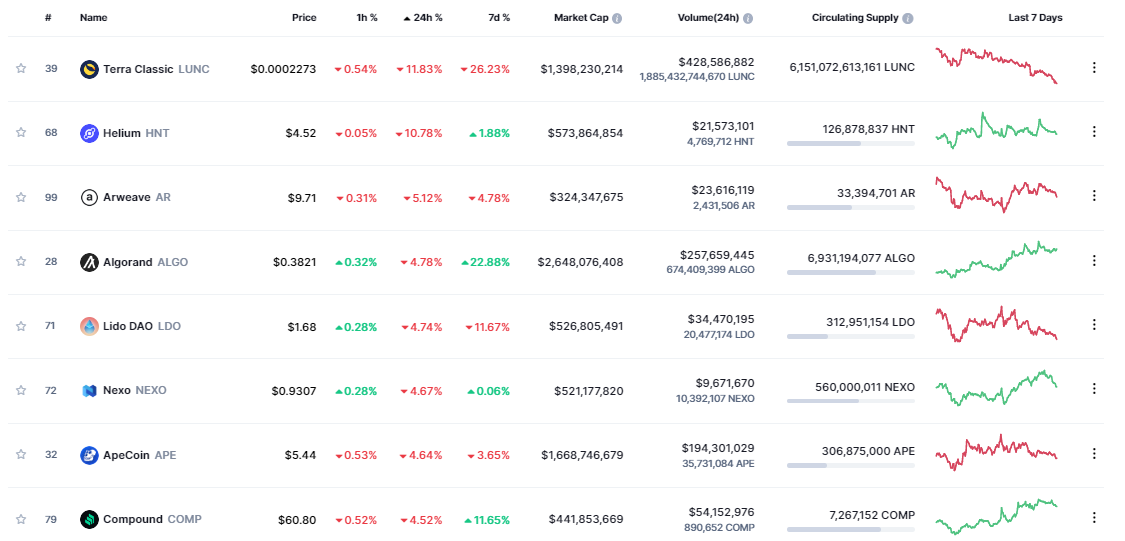 Along with Bitcoin continuously bouncing around $ 19,000, the market sentiment is also showing signs of instability, as the Fear and Greed indicator continues for the 7th day in a row in the Extreme Fear zone.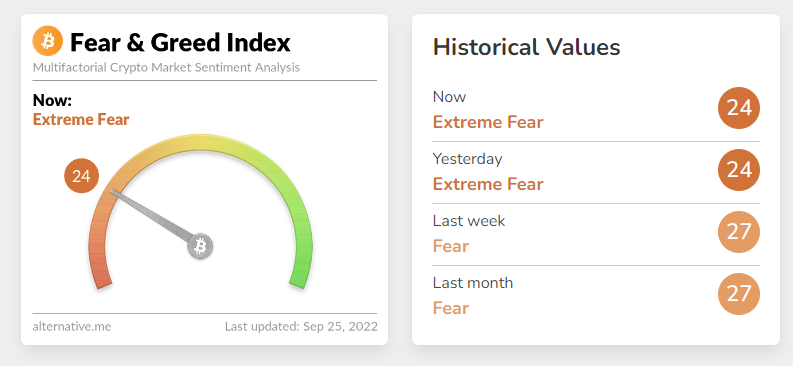 Join our channel to get the latest investment signals!