Bitcoin (BTC) took full advantage of the weekend volatility on June 26 when a squeeze sent pricesBTC/USD hits the highest level in more than a week.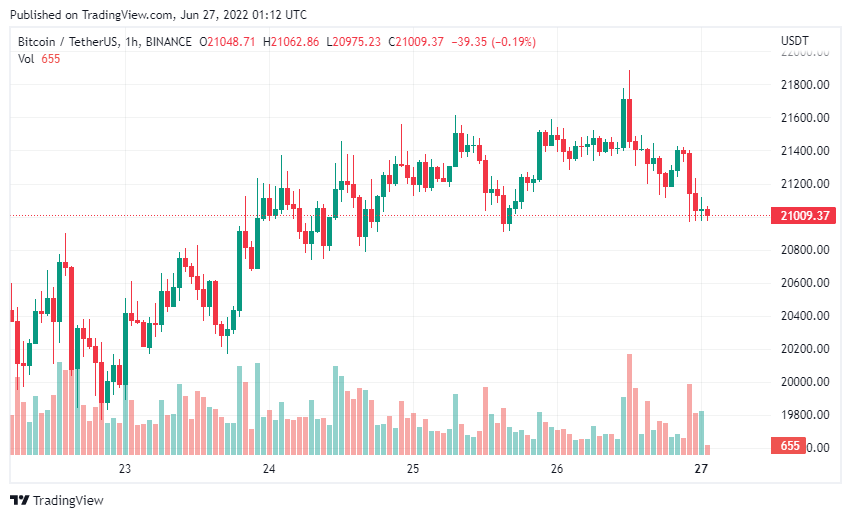 Candlestick chart BTC/USD – 1 hour | Source: TradingView
Macro factors
U.S. stock futures fell on Sunday night after a major rally last week following a steep decline this year. Despite the recovery, Wall Street is preparing to end the worst first half of the year for stocks in decades.
Dow Jones Industrial Average Futures down 75 points, equivalent to 0.2%. S&P 500 Index Futures fell 0.2% and Nasdaq 100 Futures fell 0.2%.
The move comes after a week that saw the Dow rise more than 800 points, or 2.7%. The S&P 500 gained 3.1% and the Nasdaq Composite gained 3.3%.
The rally helped the major averages post their first week of gains since May. The Dow rose 5.4% last week. The S&P 500 rose 6.5% and the Nasdaq Composite gained 7.5%.
Market participants continue to gauge whether the stock has found a bottom or is recovering briefly from oversold conditions. Stocks may continue to rise in the short term this week, as investors rebalance their holdings for the end of the quarter.
Asia-Pacific shares traded higher on Monday as investors gauged inflation and recession fears.
Japan's Nikkei 225 gained nearly 1% in early trading hours, while Topix gained 0.94%. In Australia, the S&P/ASX 200 gained 0.41%. Kospi in South Korea is up 0.91% and Kosdaq is higher by 1.28%.
The MSCI Asia-Pacific Stock Index also gained 0.28%.
Meanwhile, the leaders of the G-7 nations will announce a ban on Russian gold imports because of Moscow's invasion of Ukraine, US President Joe Biden confirmed on Sunday morning.
When the leaders met in Munich, Germany, for the framework of the most recent G-7 summit, Biden tweeted to confirm previous reports of an impending ban.
Bitcoin and Altcoins
Data from TradingView shows that the largest cryptocurrency has reached $ 21,888 on the exchange Binance.
A subsequent reversal brought the price down to the $ region of 21,000, but it was still enough for the market to close its first "green" weekly candle since May.
The event followed warnings that volatile conditions could return. However, on-chain data has shown the price Bitcoin The bounce was due to the biggest buyers entering the market.
Analyst, Game of Trades comment:
"Detect unusual whale activity Bitcoin. Supply by institutions with balances of 1,000 to 10,000 BTC has just seen a spike in demand."
Charts from on-chain analytics firm, Glassnode, which is also attached shows a marked change from when BTC/USD hit as low as $ 17,600 this month.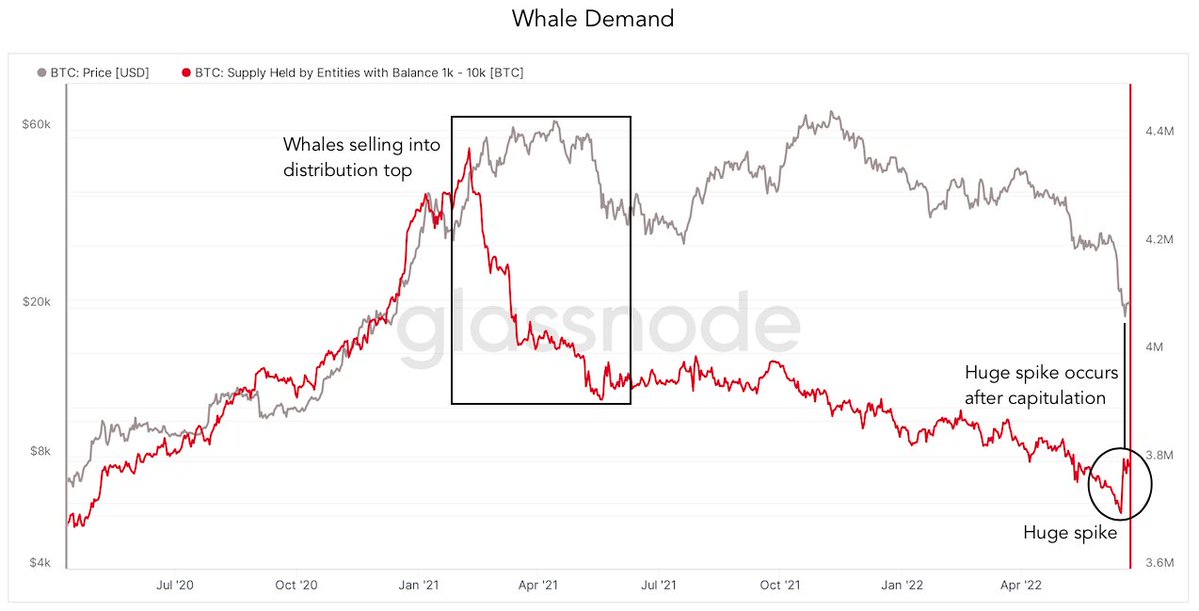 Supply held by entities with between 1,000 – 10,000 BTC | Source: Game of Trades
Whales have been eager to buy BTC below $ 20,000, forming new clusters of support in the process.
However, others still offer cautious views on the current BTC price action.
Michaël van de Poppe sees BTC definitively breaking above the $ 21,600 threshold to secure a chance for further upside. Alternatively, last week's closing price of $ 21,100 for CME Group's Bitcoin futures could provide a short-term target.
"Weekend fakeouts are happening and could end as CME closes at $ 21,100 for Bitcoin," he said. forecast.
"There is no clear breakout above $ 21,600 at this point."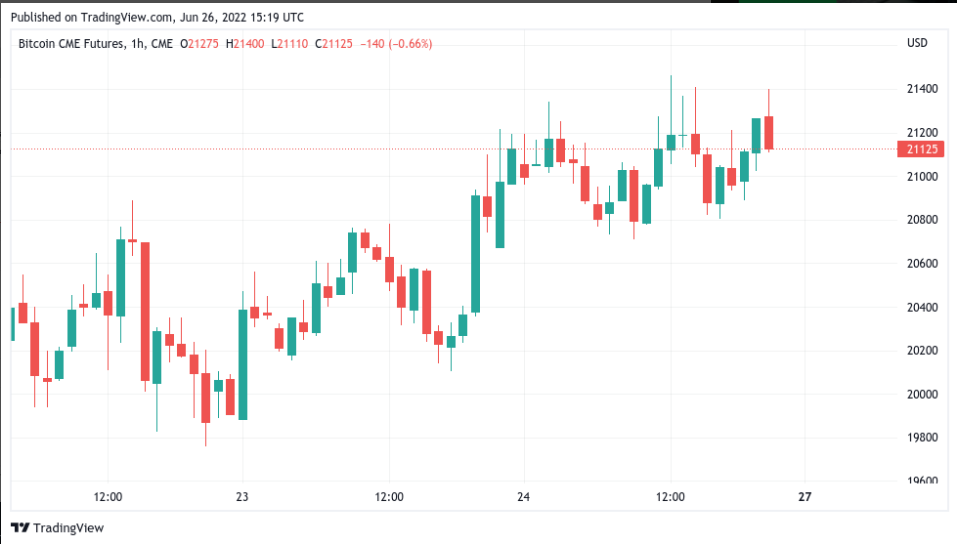 CME Bitcoin futures candlestick chart – 1 hour | Source: TradingView
The monthly close still shows that June was Bitcoin's worst month, with monthly losses, so far, near 33%.
Data from Coinglass confirms that, along with May 2021, this will also be the worst performing month since BTC bottomed in a bear market in 2018.

Bitcoin Monthly Profit Chart | Source: Coinglass
Even though Bitcoin closed its weekly candle in the green, the market altcoin seems to be showing signs of correction after a strong recovery in recent days.
Leading the decline is Gala (GALA) when losing more than 11% of value in the last 24 hours, followed by THORChain (RUNE) with a drop of 9.8%. However, the majority altcoin are still recording a 7-day uptrend.

Source: Coinmarketcap
Ethereum (ETH), the market's largest smart contract network, has also shown slight downward momentum, recording a loss of 2.5% in 24 hours. However, over a longer time frame, ETH is still showing a pretty good recovery when it still maintains a growth rate of more than 10% in the past 7 days.
Join our channel to get the latest investment signals!