Bitcoin (BTC) set a three-day low on July 10 but had its best weekly close since March 2022.
Candlestick chart BTC/USD weekly | Source: TradingView
Macro factors
U.S. stock market futures fell on Sunday night as Wall Street reviewed major corporate earnings reports and key inflation data. Dow Jones Index futures down 51 points, equivalent to 0.1%. S&P 500 futures lost 0.2% and Nasdaq 100 futures lost 0.4%.
On Friday, the Dow and S&P ended slightly lower, while the Nasdaq Composite rallied for a fifth straight day. All major indexes were in the green for the week after Friday's jobs report showed the recession has yet to begin, helping to boost positive sentiment from investors.
However, amid the US Federal Reserve's (Fed) efforts to contain its worst inflation in 40 years, a closely watched metric indicates that the US economy may have contracted. in the second quarter of 2022, after declining in the previous quarter.
Some economists believe that the world's leading economy has fallen into a technical recession, as economic growth fell for two consecutive quarters. Meanwhile, other economists argue that a recession could come months later.
Treasury yields spiked, with 2-year Treasury yields higher than 10-year yields, a reversal signal that many see as a recession indicator.
The jobs report, while good for the economy, could prompt the Federal Reserve to continue raising interest rates in the coming months to combat inflation. It will be tested this week with a flurry of fresh moves from major banks and the release of consumer inflation data.
PepsiCo and Delta Air Lines are expected to report earnings on Tuesday and Wednesday. JPMorgan Chase, Morgan Stanley, Wells Fargo and Citigroup are expected to report by the end of the week.
Investors are also looking at key inflation data this week. The June Consumer Price Index is due out on Wednesday and is expected to show inflation, including food and energy, surpassing May's 8.6%.
The June producer price index is due on Thursday and the University of Michigan's consumer sentiment report for July is due on Friday.
Shares in the Asia-Pacific region were mixed on Monday, after better-than-expected US jobs data.
The Nikkei 225 in Japan gained 1,55% and the Topix index gained 1.5%. Meanwhile, Australia's S&P/ASX 200 fell 0.19%. In South Korea, Kospi lost 0.28% and Kosdaq lost 0.33%. The MSCI index of Asia-Pacific shares outside of Japan also showed slight declines.
Macro conditions remain uncertain, with protests in Sri Lanka deepening the world's energy, food and financial crises.
Besides, the US dollar index (DXY) has returned to weekly support after surging to a 20-year high.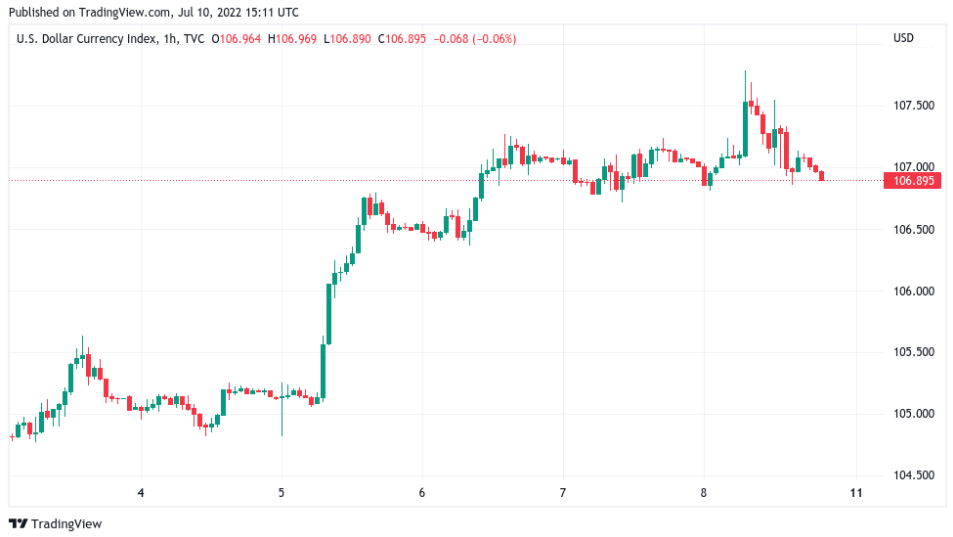 US Dollar Index (DXY) Chart – 1 hour | Source: TradingView
Bitcoin and Altcoins
Data from TradingView shows BTC/USD erased some of its gains earlier in the week but managed to post its best weekly gain since March closing the week at $20,937.
The trading pair is hovering around $ 20,500 at the moment, about $ 1,700 below the weekly high at the 200-week moving average.
Despite not continuing the breakout momentum, Bitcoin still generate some cautiously optimistic signals before the start of the new week.
"The market is showing bullish divergence on a higher time frame", Michaël van de Poppe summary. "A reversal setup is forming and it could accelerate quite quickly. Invest when no one is interested and sell when everyone is interested."
Meanwhile, the famous trader, Crypto Tony, thinks the market could start a new sideways phase, before falling deeper.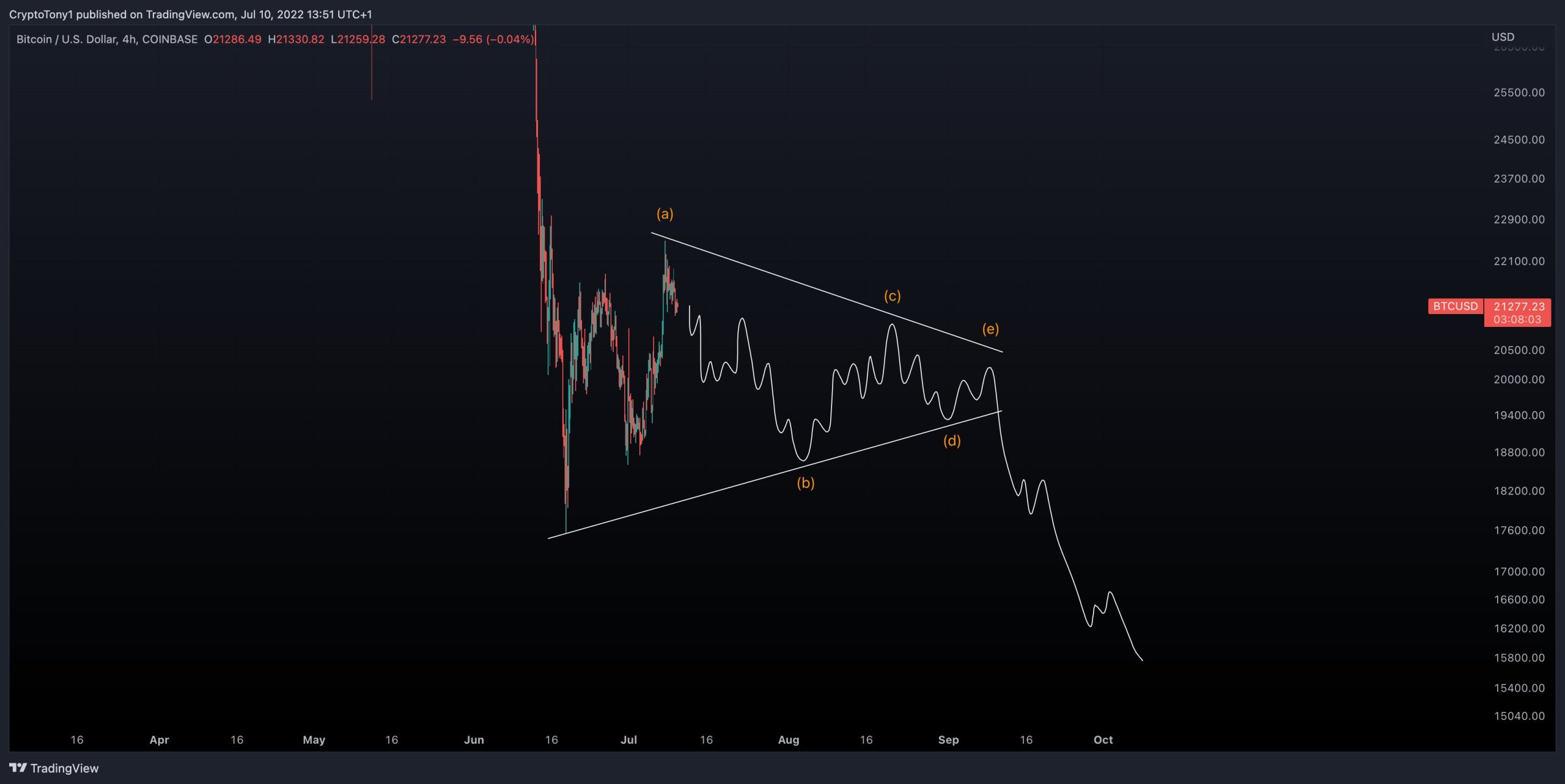 Price chart BTC | Source: Crypto Tony
Meanwhile, those looking to buy BTC have received a new important signal from the Reserve Risk indicator (a cyclical indicator that tracks the risk-reward balance in relation to confidence and trust). trust of long-term holders).
Follow record by commentator Murad over the weekend, Reserve Risk shows that long-term holders sentiment hit an all-time low in July.
"The indicator has broken down or we are bottoming out on the high time frame. And I am leaning towards the possibility that the indicator has bottomed out."
Bitcoin Reserve Risk Indicator and BTC/USD price chart | Source: Murad
Previously, Reserve Risk has been back in the "buy" zone since March, which represents an optimal investment opportunity with "extraordinary returns".
With Bitcoin reversing to the downside and closing weekly below $ 21,000, the market altcoin also sunk in red, when most of the projects in the top 100 simultaneously dropped in price.
Leading the decline is Convex Finance (CVX) with a loss of 9.5% in the last 24 hours. Followed by THORChain (RUNE), STEPN (GMT), NEAR Protocol (NEAR) and Curve KNIFE Tokens (CRV), all recorded a decrease of more than 8% during the day. However, most of the projects still created a recovery momentum in the past 7 days.
Ethereum (ETH), the market's largest smart contract token project, also lost the $ 1,200 threshold, turned down 5% in 24 hours and is currently trading around $ 1,150.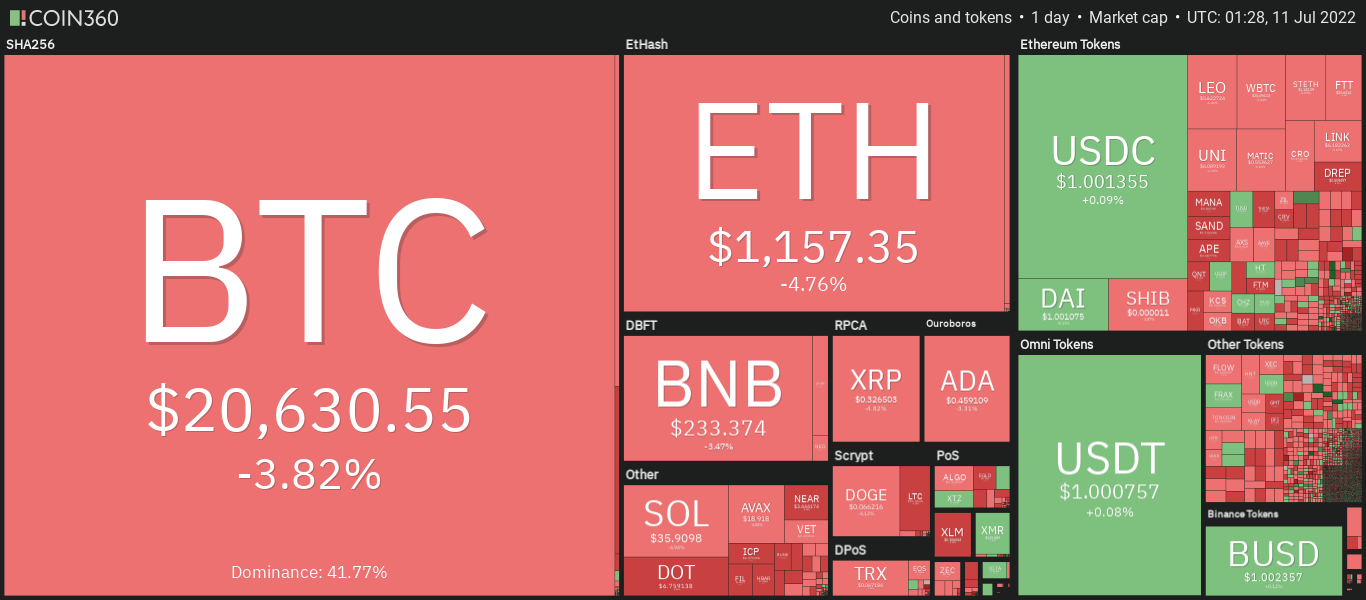 Source: Coin360
The market sentiment had positive changes at the end of the week, however, with the current reversal, the Fear and Greed indicator also showed a slight decrease, when it returned to the threshold of 22, down 2 points from the current level. level 24 was recorded yesterday.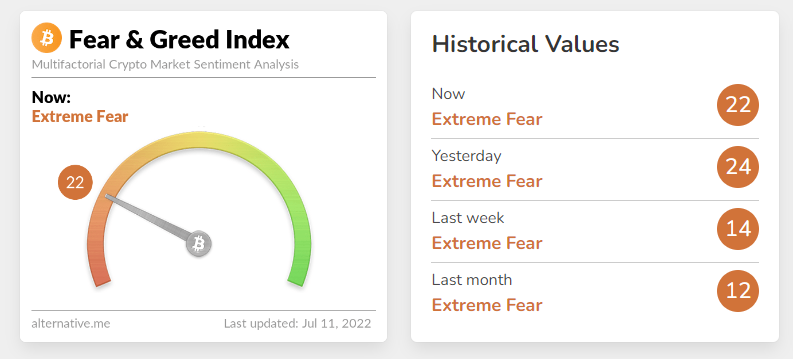 Source: alternative.me
Join our channel to get the latest investment signals!