Global financial markets were once again on a downward trend since last night after the US reported that the Consumer Price Index (CPI) rose 8.6% year-on-year, its highest level since 1981.
Macro factors
Inflation in the US increased sharply in May 2022 to the highest level since December 1981 Magazine Bitcoin reported last night.
Costs related to housing, gasoline and food prices contributed largely to the strong rise of CPI. Rising prices are eroding the purchasing power of workers. Real wages – excluding inflation – fell 0.6% in April 2022, although average hourly earnings rose 0.3%. Over the 12-month period, average hourly earnings fell by 3%.
The latest inflation figures dashed hopes that inflation may have peaked and fueled fears that the US economy is about to fall into a recession. Preliminary results on the University of Michigan Chindex index showed US consumer sentiment in June was much lower than expected, hitting a record low.
The above inflation report comes as the US Federal Reserve (Fed) is still in the early stages of raising interest rates to fight inflation. The May report may increase the possibility that the Fed will raise interest rates by 50 basis points several times in the near future.
The market immediately reacted negatively to the inflation report, with the Dow Jones Industrial Average falling more than 800 points, while yields on US Treasuries soared.
Ending Friday's trading session, the Dow Jones Industrial Average fell 880 points (equivalent to 2,73%) to 31,392 points. The S&P 500 Index dropped 2,91% to 3,900 points. The Nasdaq Composite Index lost 3,52% to 11,340 points.
The sell-off was widespread, with nearly every Dow Jones component in the red. More stocks fell on the NYSE than rose by more than 5:1.
A sharp drop in US stocks on Friday meant that Wall Street had its worst week in months. The Dow Jones Industrial Average lost 4,58%, recording its 10th weekly loss in the past 11 weeks. The S&P 500 and Nasdaq Composite fell 5,05% and 5.6%, respectively, recording their ninth weekly loss in 10 weeks and their worst week since January 2022.
Investors seem to be bracing for a more drastic Fed response to high inflation. Yields on two-year US Treasuries, seen as one of the most sensitive channels for a Fed rate hike, surpassed 3% on Friday, hitting their highest level since 2008. .
Technology stocks are under pressure as investors face high interest rates and the possibility of recession. Netflix stock lost more than 5% after being downgraded by Goldman Sachs. Nvidia shares fell nearly 6%.
Banking and cyclical stocks are also on fire, possibly reflecting concerns about inflation. Wells Fargo stock fell 6%, Goldman Sachs stock lost more than 5%. Boeing shares fell 5%.
On the same day, oil prices fell after the CPI report of the US and China imposed new blockade measures because of Covid-19. Ending Friday's session, the Brent oil contract fell $1.19 (equivalent to 1%) to $121.88 per barrel. WTI oil contract lost 1 USD (equivalent to 0.8%) to 120.34 USD/barrel.
The effect of a high CPI on two financial market benchmarks, the dollar index (DXY) and the S&P 500 (SPX), has been reported by the il Capo of Crypto shown in the chart below:
"After CPI was announced, DXY continued to rise while SPX continued to free fall."
DXY 4H chart vs SPX 2H chart. Source: Twitter
Bitcoin and altcoins
Hotter-than-expected CPI report leads to collapse of $30,000 support and price Bitcoin pushed to a daily low of $28,852 before the dip buyers managed to push the price back above $29,000.
Chart BTC/USDT. Source: TradingView
Market analyst Kevin Svenson also thinks the Fed's failure to rein in inflation is likely to impact price action next year.
"With inflation, at 8.6%, that means a rate hike is likely.
DXY is going parabolic.
BTC and most asset classes will likely face a lot of range at the lows. Possibly flat for a year. There is no immediate possibility of recovery."
If the price BTC continue to trend lower, trader Altcoins Sherpa said it could trade under $28,000.
"BTC: The EMAs are looking the best we've seen on the 4-hour timeframe but the overall high-timeframe market structure remains bearish. Don't act, watch. It looks like $ 28K will be the next destination if this current area is lost."
BTC/USD 4H chart. Source: Twitter
Market Analyst CrediBULL Crypto provides details on what to do to avoid a fall back towards the $28,000 support. He posted the following chart showing a "sad" retracement from the $30,000 region. The analyst suggests that this is "a time where we need to take a closer look."
"At support, but it has been tested four times so far, so it will most likely give way to the $ 28K. If the price can get back above $30k, $28k will be avoided."
BTC/USD 2H chart. Source: Twitter
Meanwhile, the altcoin still shows no signs of improvement. Altcoins biggest Ethereum has now lost $1,700 and is trading at $1,676 with a drop of over 5% on the day.
Recording the biggest loss in the past 24 hours was Convex Finance (CVX) when it lost up to 15%, followed by LINK (-12%) and KSM (-11%). In general, most of the coins in the top 100 are correcting down. However, there are still some bright spots and the unexpected name BSV is leading the increase with 2,79%.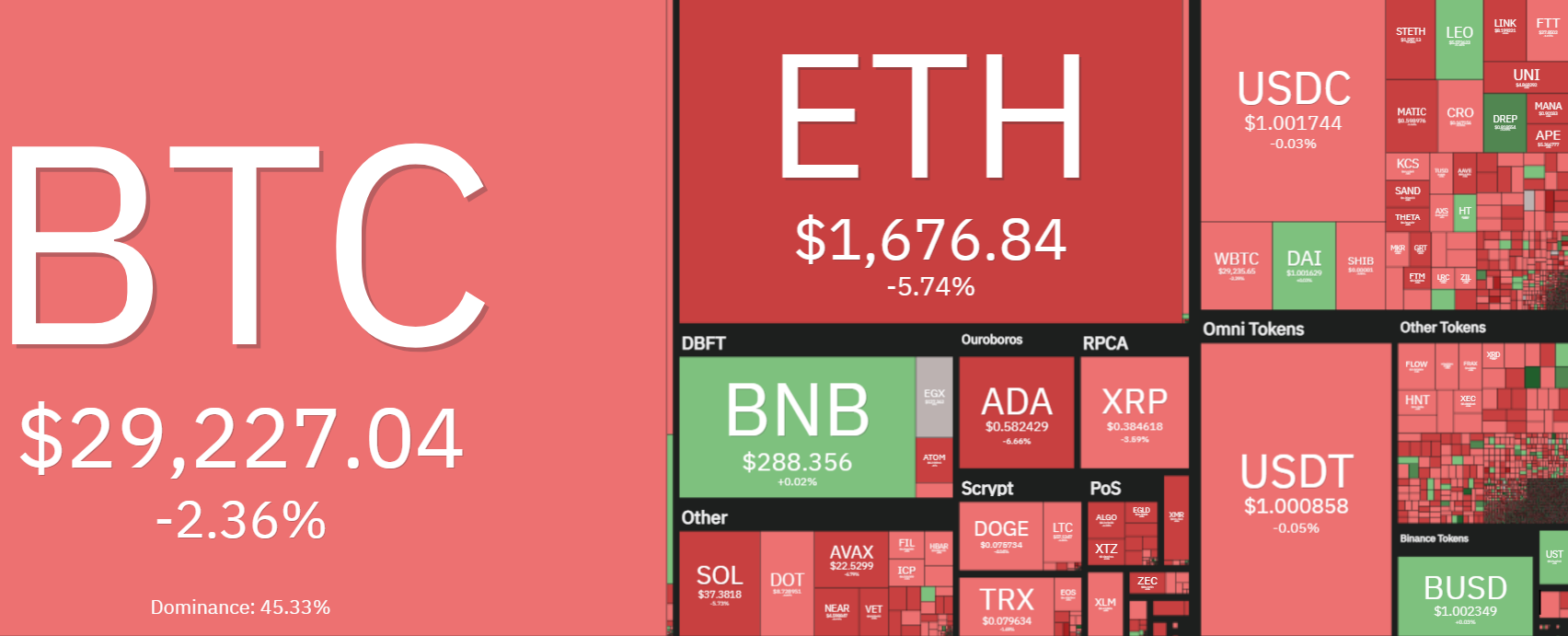 Source: Coin360
Join our channel to get the latest investment signals!