Bitcoin (BTC) has bottomed? Some of the higher time frame indicators suggest its true bottom will be around $10,000.
Bear markets are always challenging for traders, and the usual set of "reliable" indicators that identify good entry points cannot predict how long the crypto winter might last.
The rally is back to bring BTC The recent move above $20,000 is a sign to many traders that the price has bottomed out, but diving deeper into the data that short-term rally may not be enough evidence of a trend change at this level. macro level.
Evidence for the necessary caution was provided in a recent report by crypto research firm Delphi Digital, which suggested that "we need to feel a little more pain before we believe it." that the market is bottoming out."
Despite the difficulties that have occurred since the price BTC hit an all-time high (ATH) in November, the comparison between its decline since then and 2017's ATH suggests further near-term decline is likely.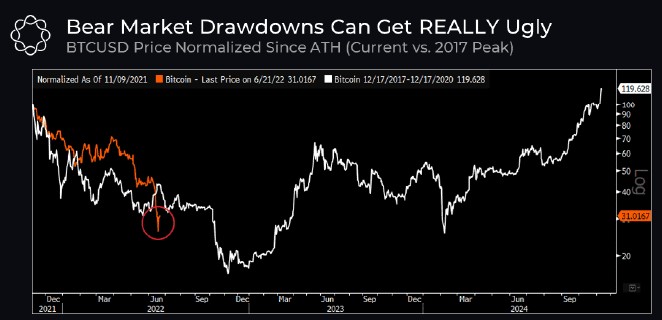 Price BTC/USD normalized since ATH levels (current to 2017 peak) | source: Delphi Digital
During previous bear markets, BTC price dropped around 85% from top to bottom. According to Delphi Digital, if history repeats itself, it will move back to $10,000 and drop another 50% from current levels.
Outlook for Ether (ETH) made even worse as the previous bear market took away 95% in value since the peak. If the same scenario happens around this time, the price ETH can drop to as low as $300.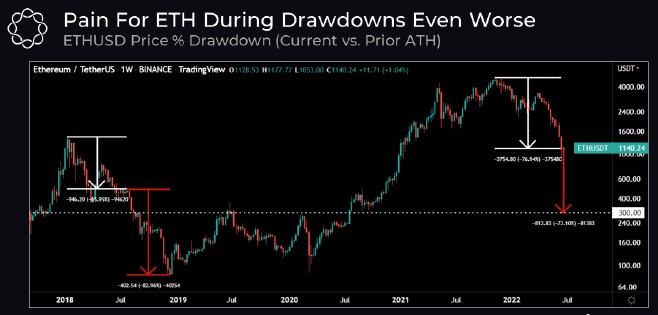 Price ETH/USD as a percentage (current vs. previous ATH) | Source: Delphi Digital
"Risk of a repeat of the same breakdown, especially if BTC fails to hold support in the 14,000 – 16,000 range" USD".
Oversold conditions prevail
For traders looking for a bottom in the current market, the data shows that "previous major market lows coincide with oversold conditions."
As shown in the weekly chart below, BTC's 14-week RSI recently dipped below 30 for the third time in its history, with the previous two coming close to a market bottom.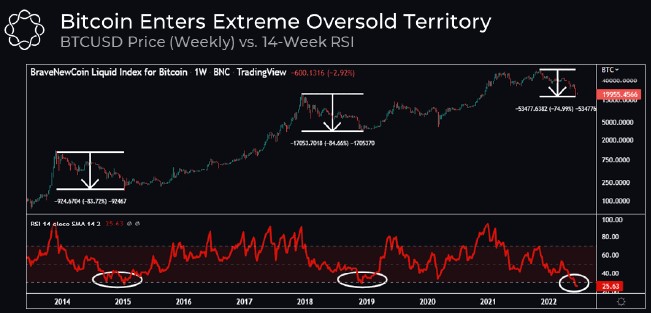 BTC/USD weekly frame price chart vs. 14-week RSI | The source: Delphi Digital
While some may take this as a sign that now is a good time to re-enter the market, Delphi Digital offers a warning to those expecting a "V-shaped" recovery. , noting that "In the previous two cases, BTC was sideways for several months before initiating a strong recovery."
The view on the 200-week simple moving average (SMA) also raises questions about whether historical support holds.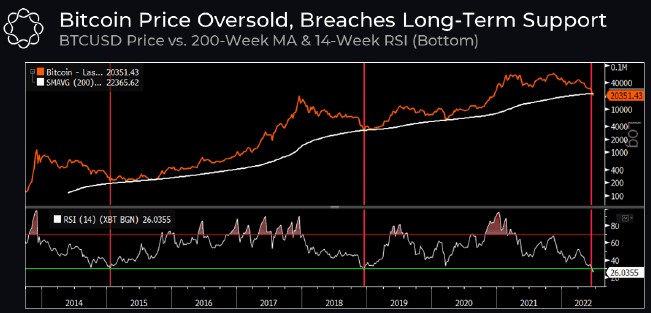 BTC/USD price vs. 200-week SMA vs. 14-week RSI | Source: Delphi Digital
Bitcoin recently broke below the 200-week SMA for the first time since March 2020. Historically speaking, BTC price has only traded below this level a couple of weeks during previous bear markets, suggesting a possibility. soon find the bottom.
The Last Surrender
What the market is really looking for right now is the ultimate capitulation in history, marking the end of one bear market and the start of the next.
While sentiment in the market is currently at its lowest level since March 2020, it has yet to reach the depths of despair seen in 2018.
"We may need to feel a little more pain before sentiment really bottoms out."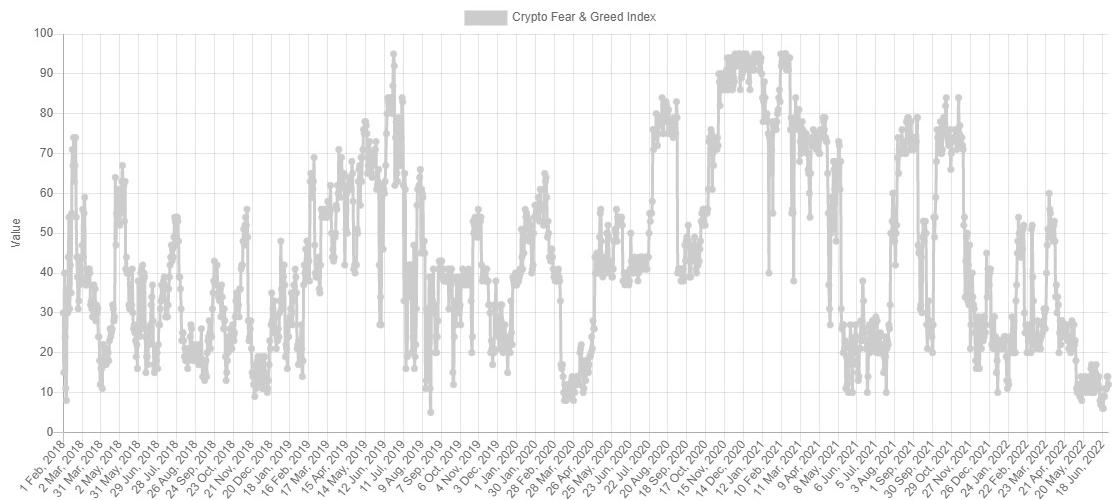 Crypto Fear & Greed Index | Source: Alternative
The weakness in the crypto market has been evident since late 2021, but the real drivers behind the market crash include rising inflation and interest rates.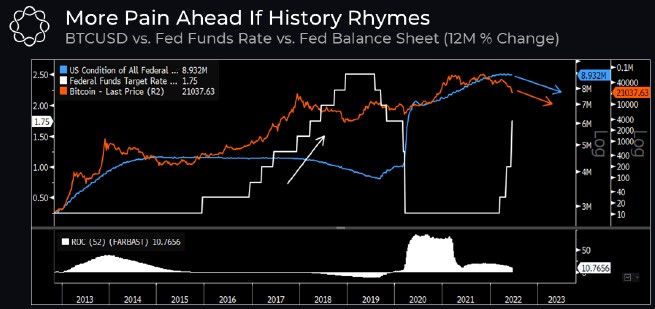 BTC/USD vs. Fed funds rate vs. Fed's balance sheet | Source: Delphi Digital
Rising interest rates tend to be followed by a market correction, and as the US Federal Reserve (Fed) intends to maintain its pace of gains, Bitcoin and other risk assets are likely to fall further.
One final metric that shows that the last investment event that needs to happen is the percentage return of the BTC supply, which reached as low as 40% during previous bear markets.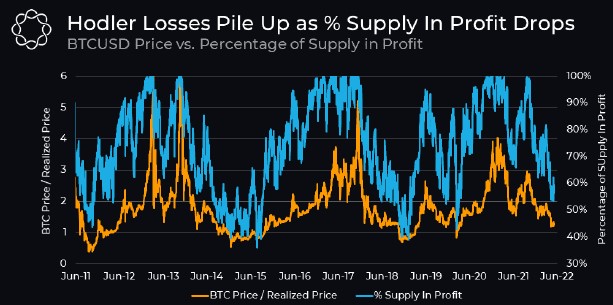 BTC/USD price vs. profit percentage of supply | Source: Delphi Digital
This metric currently stands at 54.9%, according to data from Glassnode, which adds credence to the view that the market could still experience another drop before the bottom actually appears.
Join our channel to get the latest investment signals!