Bitcoin regained some of the points lost last night amid talk of an impending Short squeeze.
US Stocks
US stocks continued to decline on Monday (August 29) as investors struggled to regain their positions from last week's sell-off amid growing concerns about rising interest rates and the political economy. tighter monetary policy in the US.
Ending the session, the Dow Jones dropped 184.41 points (equivalent to 0.57%) to 32,098 points. The S&P 500 lost 0.67% to 4,030, and the Nasdaq Composite dropped 1,02% to 12,017.
Technology was the worst performer in the S&P 500 as interest rates rose, while energy and utilities outperformed. 3M and Salesforce were the biggest losers in the Dow Jones. That drop was partially offset by a near 1% rally in Walmart and Chevron shares.
US stocks continued to fall while yields on US government bonds for 2 years recorded a 15-year high as concerns about high interest rates remained.
Wall Street experienced a sharp sell-off on August 26, when the brief and blunt remarks by US Federal Reserve Chairman Jerome Powell at the Jackson Hole Conference in Wyoming seemed to stamp out. hopes for the central bank to change its course of drastic rate hikes in the coming months.
Investors are waiting for more Fed speech this week before the US August jobs report is released on September 2nd.
Oil prices rose more than 4% on Monday, extending last week's gains, as the possibility of OPEC+ production cuts and the conflict in Libya helped offset a rally in the dollar and a worsening US growth outlook. Ending the session, the Brent oil contract advanced $ 4.1 (equivalent to 4.1%) to $ 105.09 / barrel, after increasing 4.4% in the previous week. The WTI oil contract added $3.95 (4.2%) to $97.01 a barrel, after rising 2.5% in the previous week.
Gold prices turned slightly higher on August 29 after falling to a 1-month low at the beginning of the session. At the end of the session, the spot gold contract inched up 0.04% to 1,737 USD/oz. The price of gold has hit its lowest level since July 27, 2022 at $1,719 an ounce.
The US Dollar Index (DXY), which previously hit a new 20-year high, has begun targeting a return to the top following an earlier pullback.
"$ DXY may be close to reaching a macro peak similar to how Bitcoin did in April 2021," summarizes trader Jackis. Many bearish divergences seen on the daily chart are blurring something to watch. The time when DXY peaks is when the main assets print the macro bottom."
$DXY could be nearing its macro top similar way #Bitcoin has in April 2021

Many bearish divergences seen on the Daily chart is defo something to keep an eye on.

The moment #DXY tops is the moment major assets print the macro bottom ️ pic.twitter.com/NPNgdakiqJ

August 29, 2022
Bitcoin and altcoins
Data from TradingView shows BTC surged to nearly $20,400 as US stocks started trading.
The move signaled welcome relief for the hodlers, who had been looking for as the price rallied after sliding below $20,000 throughout the weekend.
Now, with the market "strong short positioning", conditions seem favorable for a further slight rally to burn off short trades.
Looks like we're doing a little bearbecue. https://t.co/smRfCWC2C0

— Byzantine General (@ByzGeneral) August 29, 2022
"You know what comes next," popular Twitter account Il Capo of Crypto warning, reinforcing his belief that the upside momentum will be followed by a deeper retracement.
Meanwhile, data from on-chain monitoring resource Coinglass shows liquidations starting to increase at press time, with total liquidations reaching $166 million in 24 hours.
Analysts' mood remains dim in the face of ongoing macro uncertainties.
"It's hard to get excited about BTC and big pumps when SPX looks like this," concludes analyst Josh Rager. "There will be exceptional assets that perform better and still pump in this bearish environment but that's it."
It's hard to get too excited about $BTC and major pump pumps when the SPX looks like this

There are going to be outlier assets that outperform and still pump in this bearish environment

But overall, outside of those tokens it's hard to want to go heavy with equities downtrend pic.twitter.com/W96uzRRuE6

— Rager 📈 (@Rager) August 29, 2022
Toward altcoin, the top 100 are showing mixed progress as Bitcoin 3% gains on the day, with some noting double-digit gains over the same time period.
COMP is leading this rally with a profit of 17,34% in the last 24 hours, followed by LDO and SNX both increased by 16%. Two altcoin other is also increasing two digits is ATOM + 13% and FLOW + 12%. Remaining bullish altcoins see gains knife active in the range 1-9%.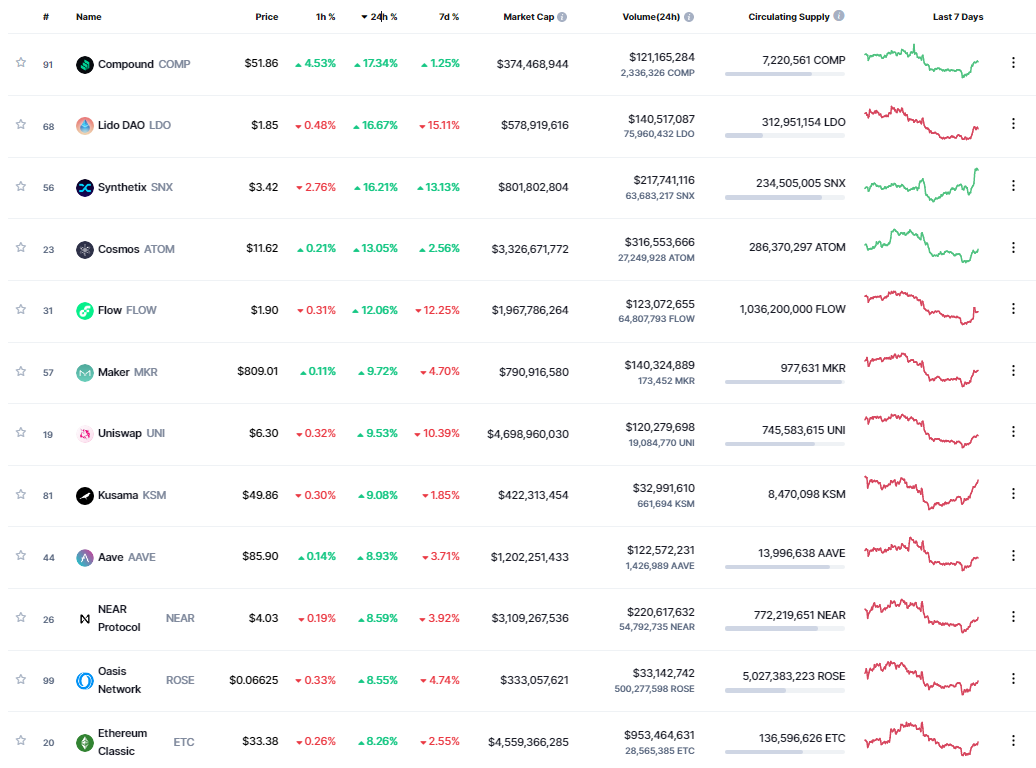 While, cryptocurrency second largest ETH has been trading up around 7% on the day at press time, breaking through $1,500.
Investor sentiment has improved somewhat as the greed and fear index has moved from the extreme fear zone to the fear zone and is reaching 27 at press time.
Join our channel to get the latest investment signals!