Bitcoin still consolidating within the $ 20k range after the sharp drop from the $ 30k in June. This zone also coincides with the 2017 ATH and provides psychological support. In case it holds, a short-term rally will occur.
Technical analysis BTC
Daily chart
As mentioned above, if the price recovers from the current consolidation zone, the $ 24K resistance and the 50-day MA will be the first major hurdle ahead of the supply zone at $ 30K.
On the other hand, if the price breaks below the $ 17 – $ 20k support area, the price will drop quickly to $ 15k.
Considering the signal on the chart, a short-term bullish pullback is still the most likely scenario, as BTC is being oversold and trading above strong support.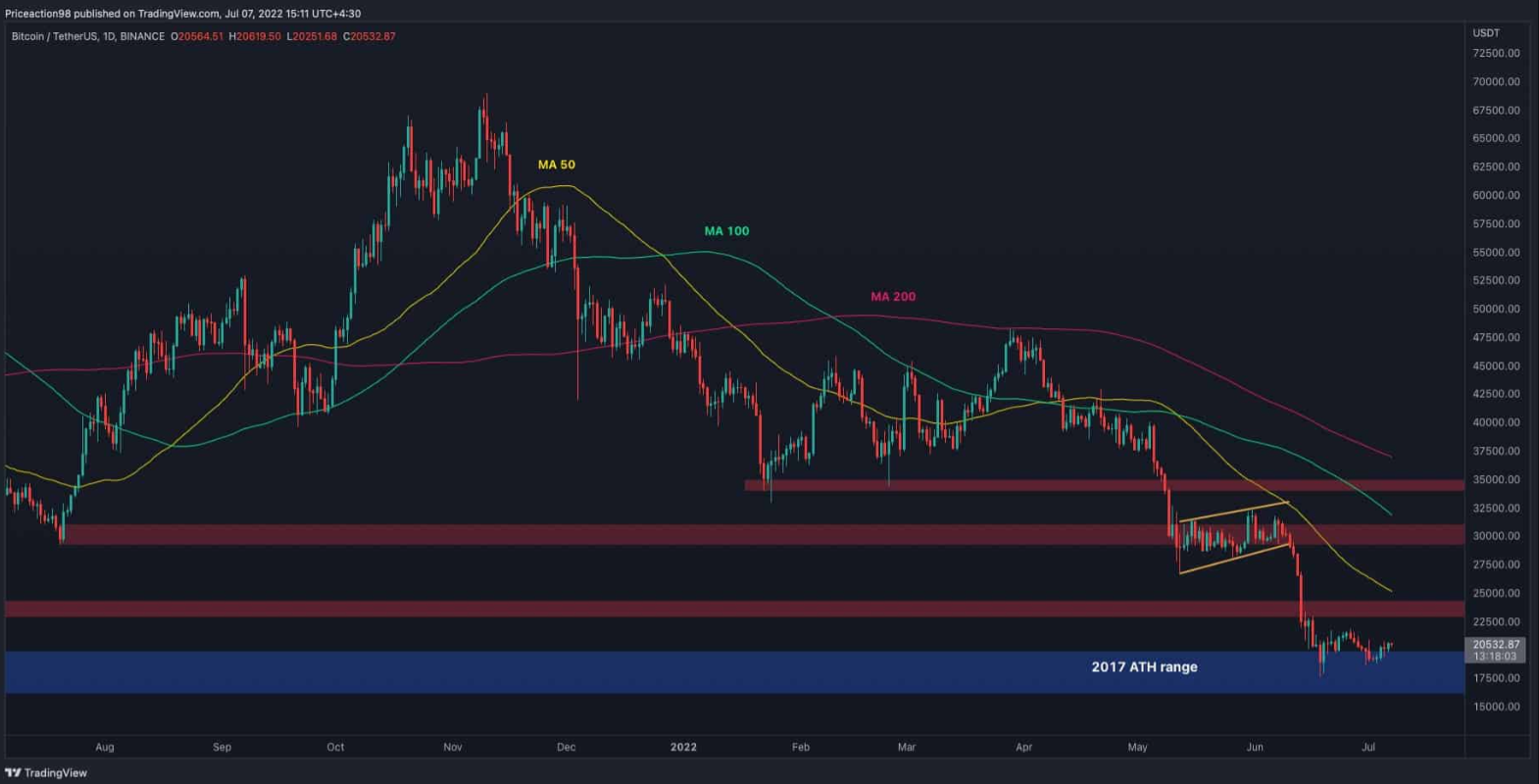 Chart BTC 4 hours
The 4-hour chart shows that the price has knife Moving inside a triangle pattern over the past few weeks.
The triangle pattern can turn into a continuation or reversal pattern, depending on whether the price breaks to the upside or down. Present, BTC is testing the upper border of the triangle after finding support at the lower border a few days ago.
In case the price breaks above, a rally to $ 24k is possible. The RSI is sloping up and consolidating above 50, showing the relative dominance of the bulls in the market over the past few days.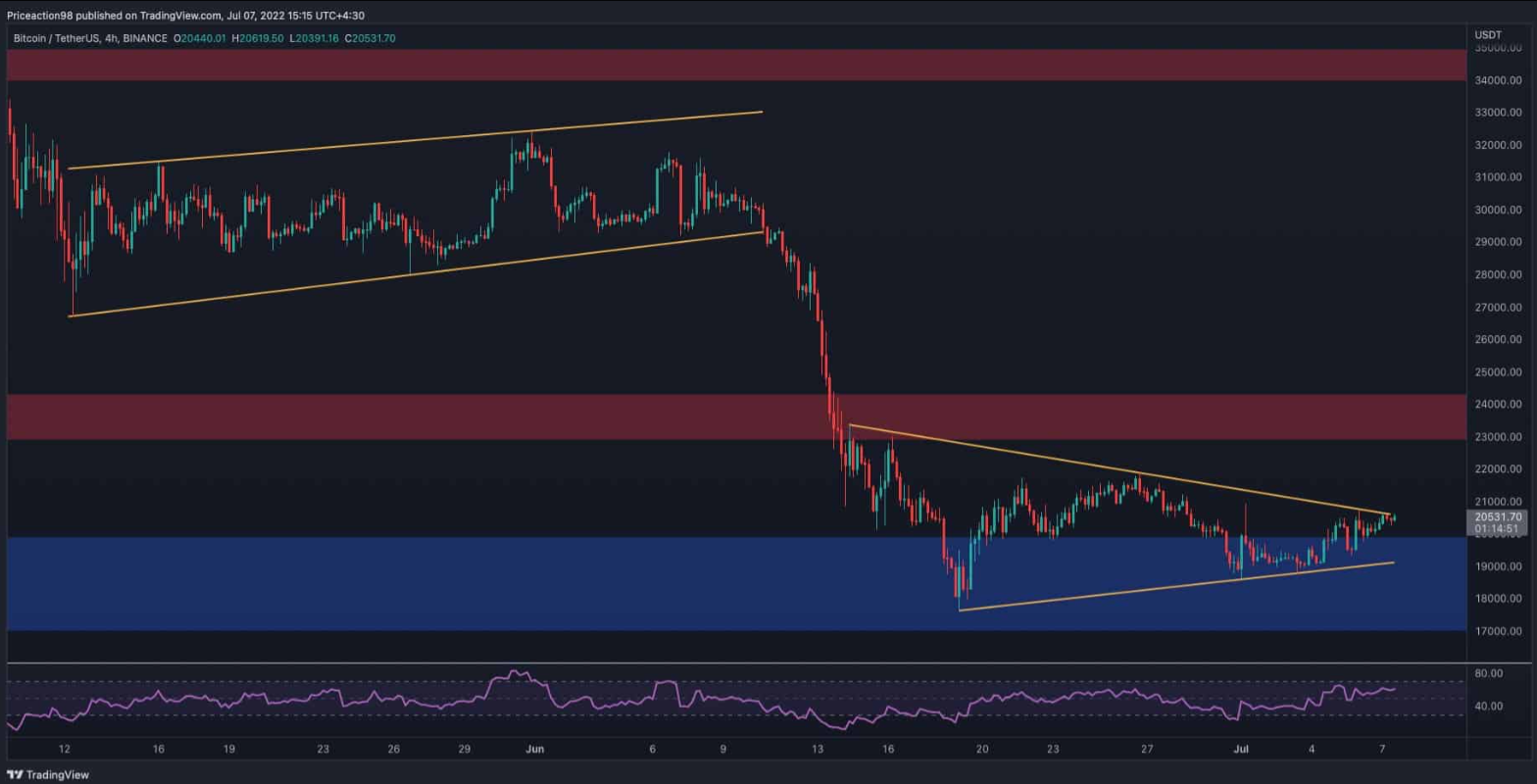 On-chain analysis
MVRV of whales Bitcoin
In the past, market cycle bottoms were often formed when prices knife moved in 'extreme fear.' The majority of market participants are underwater during this period, and the weaker hands tend to cut their losses. Meanwhile, some stronger people will continue HODL.
The second group mainly consists of whales, which are large capital investors who are financially stable and can tolerate more risk than others. Whales are usually the last group to enter a loss zone, and this phase will mark the final phase of a bear market.
One of the best indicators for assessing unrealized profit/loss in the market is the MVRV ratio. MVRV is the ratio between the market capitalization and actual capitalization of a coin.
As demonstrated in the Whale MVRV chart, previous bear market lows are usually created when the Whale MVRV is below 1, which indicates that most whales are at a loss. It is clear that the index has recently dropped below 1 again, signaling the beginning of the final phase of capitulation and possibly a cycle bottom in the next few weeks.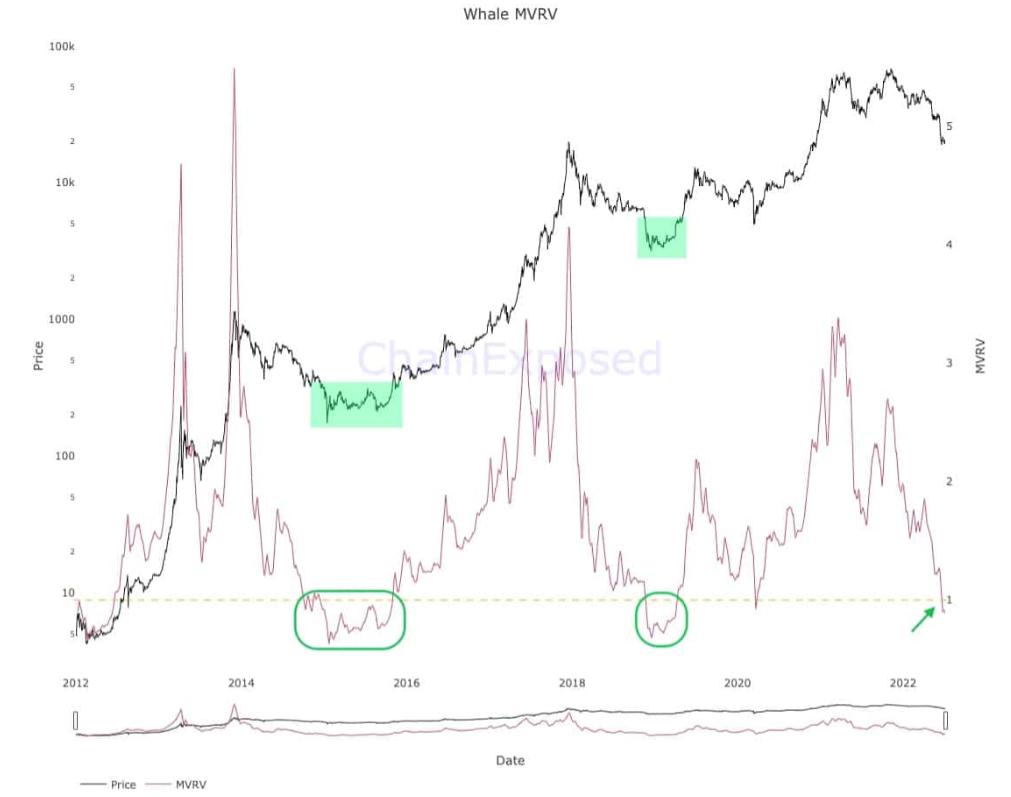 Join our channel to get the latest investment signals!