Technical and on-chain indicators show Bitcoin as Ethereum will face more difficulties for the rest of 2022.
US Stocks
US stocks rallied in volatile session on Monday (September 19), ahead of the US Federal Reserve's two-day policy meeting, which begins on Tuesday (September 20). /9).
At the end of the session, the Dow Jones index rose 197 points (equivalent to 0.64%) to 31,019 points. The S&P 500 added 0.69% to 3,899 and the Nasdaq Composite added 0.76% to 11,535.
The market fluctuated throughout the session, with the Dow Jones falling as much as 263 points at the beginning of the session. Before that, the S&P 500 and Nasdaq Composite also lost more than 0.9%.
This week, Fed and some of the major global central banks will likely try to contain rising inflation by raising interest rates further.
Data compiled by Bloomberg shows that the US central bank, along with Sweden's Riksbank, Swiss National Bank, Norway's Norges Bank, the Bank of England and other central banks, will increase lending interest rate totaling 500 basis points, equivalent to 5%.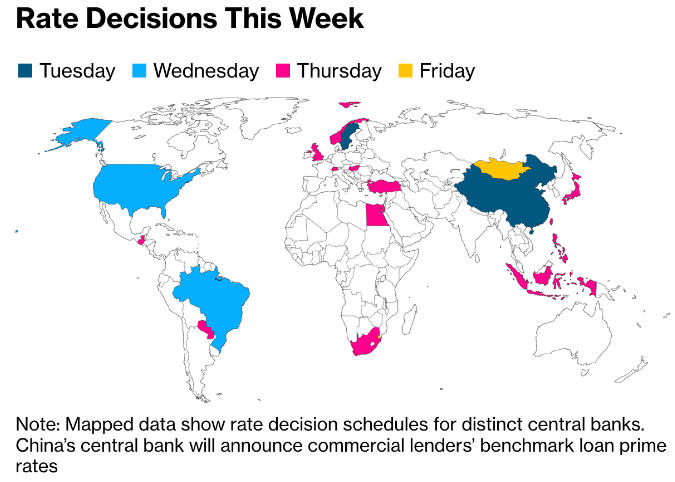 Investors are currently looking for safety in less volatile assets, including the dollar and government bonds.
The US Dollar Index, which measures the greenback's strength, rose 0.5% to 110 on September 19 after closing the week at its highest level since 2002.
Meanwhile, the US 10-year Treasury yield passed its June high as Bitcoin dropped to annual lows.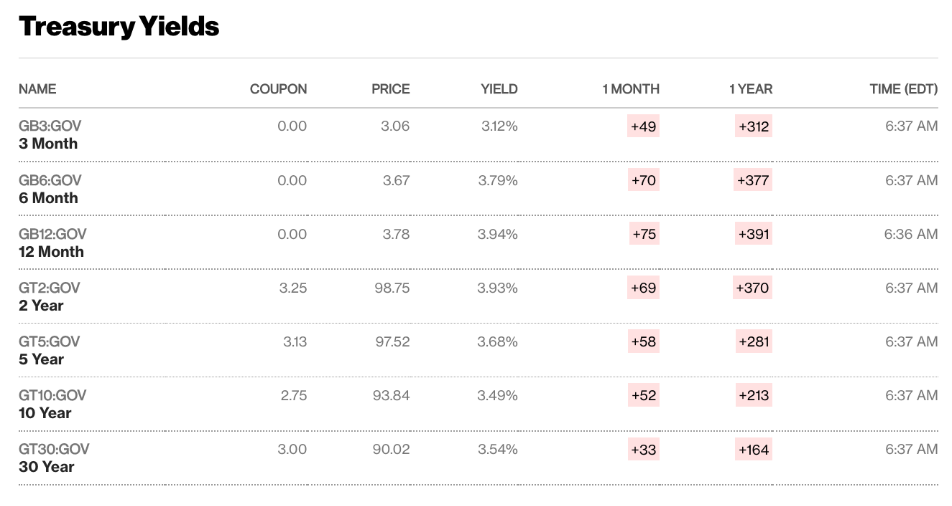 After some hope that the Fed may have completed its aggressive policy tightening campaign, investors have once again sold off stocks on fears the central bank will go too far and push the economy. fall into recession.
The market is focused on the Fed's policy meeting scheduled to start on Tuesday (September 20), where the central bank is expected to continue raising interest rates by 75 basis points. Investors also keep an eye on corporate earnings forecasts before the next earnings season begins in October.
9/11 sectors in the S&P 500 closed in the green, led by gains in materials, non-essential consumer goods and industrials. The financial sector also prospered when some investors predicted that high interest rates would bring profits to banks.
US stocks plunged last week as investors reacted to a report of higher-than-expected inflation and a warning from FedEx about a "worsening" global economy. Major stock indexes posted their fourth weekly loss in five weeks.
Along with the rally in stocks, oil prices edged up slightly in volatility on Monday (September 19), as concerns about resource scarcity outweighed concerns about a possible drop in global demand due to the dollar. strength and the ability to raise interest rates from the Fed.
Ending the session, Brent oil contract increased 47 cents (equivalent to 0.51%) to 91 USD/barrel. WTI oil contract inched slightly 42 cents (equivalent to 0.49%) to 85 USD/barrel.
Contrary to the slight gains in stocks and oil, gold prices weakened on Monday (September 19), retreating to a 29-month low, as the dollar and US bond yields rose, as did the US dollar. US Federal Reserve (Fed).
At the end of the session, the spot gold contract edged up 0.01% to $1,675/oz. knife just above the lowest level since April 2020. Gold futures fell 0.06% to $1,684 an ounce.
Bitcoin and Altcoins
Bitcoin (BTC) and Ether (ETH) got off to a rather dismal start to the week as investors braced for a flurry of interest rate hikes from central banks, including the US Federal Reserve and the Bank of England.
The market's riskier assets reacted negatively to the upcoming policy meeting.
On September 19, BTC was not able to regain the psychological zone $ 20,000. Trading Pairs BTC/USD drops 6.5%, while ETH reduced 4% to $ 1,280.
However, after establishing a local bottom at $ 18.250, Bitcoin has turned upside down over $ 1,000 in the short term, closed daily with a green candle and is currently trading around $ 19,400.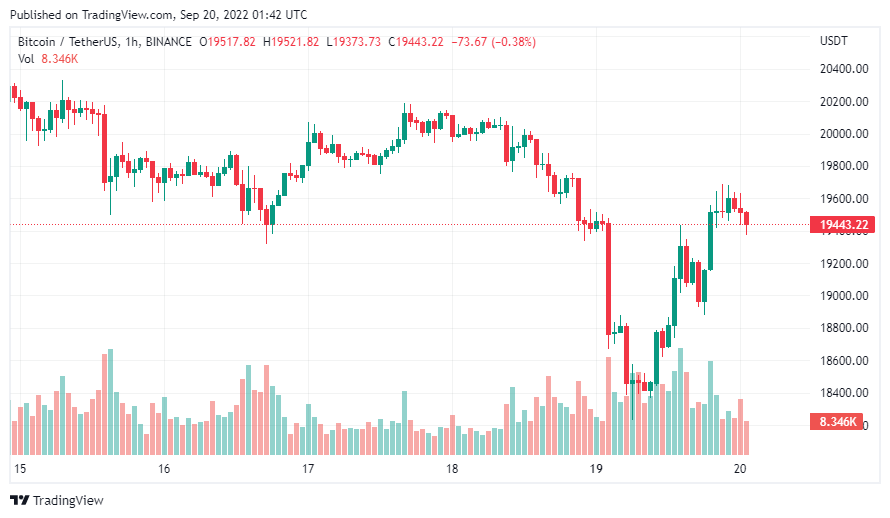 Last week, the MSCI ACWI Index, a combined indicator of developed and emerging equities, fell 4,25% to nearly $ 84 from a peak of $ 107 in November 2021. Interestingly, Bitcoin and Ethereum also peaked last November at $ 69,000 and $ 4,950.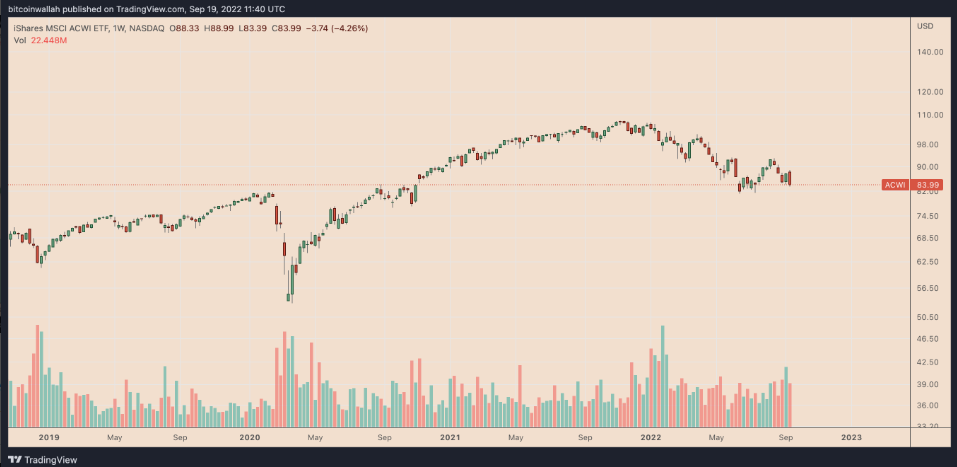 Given the growing correlation with equity markets, the prospect of a global interest rate hike could continue to pressure BTC and ETH.
The combination of technical and on-chain indicators continues to hint at an impending drop in the Bitcoin market and Ethereum.
First, Bitcoin Spent Output Age Bands (from 7 to 10 years), which tracks the amount of BTC spent and lumps them into categories depending on their age, has shown the movement of more than 5,000 BTC on the day. 4/9. MACD_D, user at on-chain analytics platform, CryptoQuant, arguments that this is usually bad news for the Bitcoin price.
"The fact that 7-year holders start moving over 5,000 BTC could be a signal of a strong downtrend in the future. In the past, BTC has dropped in price 6 out of 7 times with this indicator flashing a negative signal. Long term holders moving BTC means there will be an unusual price movement in the future."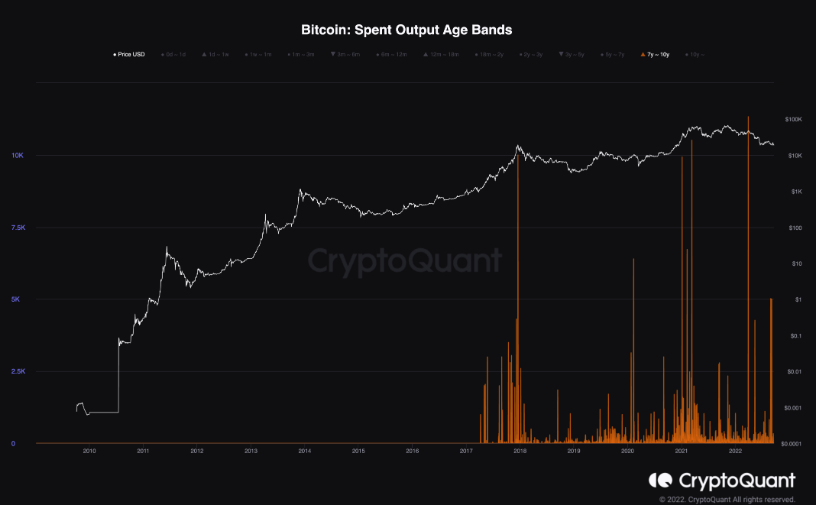 The recent increase in Ether dominance, to over 20%, is also suggestive of a bubble about to burst.
"When BTC goes sideways, Ethereum's overshoot will create a bubble. In particular, if ETH dominance rises above 20%, it is considered a good time to enter a short position."
From a technical point of view, Bitcoin has entered a breakdown (bearish) phase of a "bearish flag" pattern, with the flag's profit target at around $ 14,500 in 2022.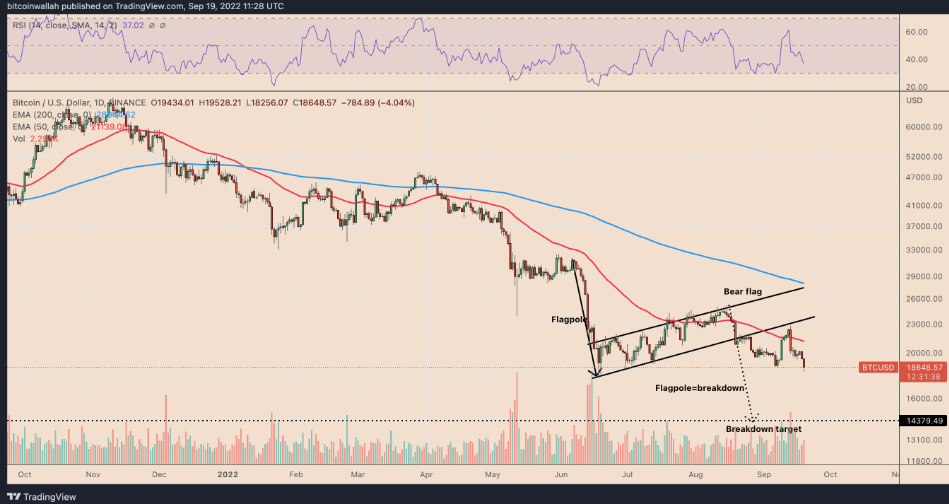 Meanwhile, Ether has also broken out of a symmetrical triangle pattern. Therefore, ETH could drop to $ 750 if a bearish continuation price pattern forms along with weakening technical indicators for the ETH/BTC trading pair.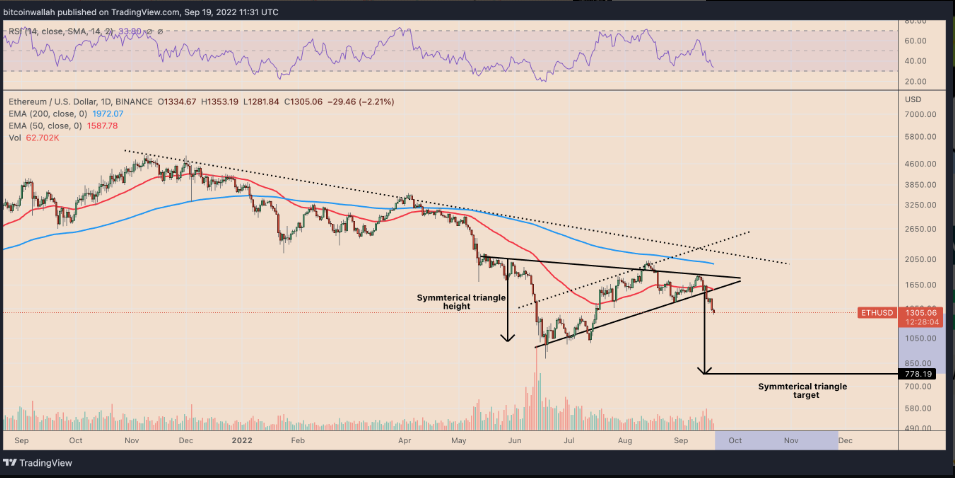 Although the long-term outlook is quite bleak, with Bitcoin turning bullish in the short-term, the market altcoin also showed signs of improvement.
Leading the recovery is Helium (HNT) on the rise of more than 16% in the last 24 hours, followed by ApeCoin (APE) and Algorand (ALGO) when both projects recorded an increase of more than 10%.
NS altcoin others such as TerraClassicUSD (USTC), Convex Finance (CVX), Lido KNIFE (LDO)… are showing profits over 5% for the day.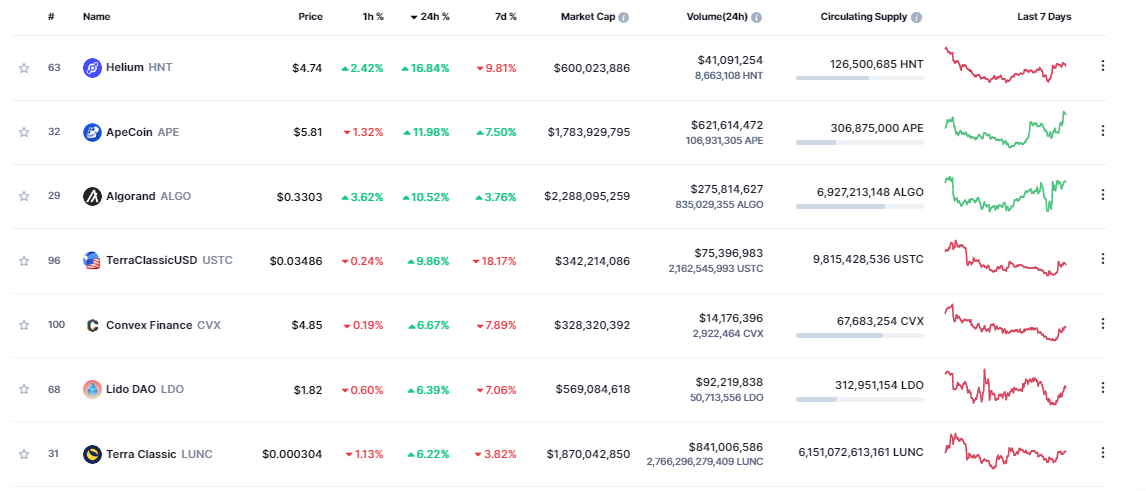 Join our channel to get the latest investment signals!