Month-long choppy price action of Bitcoin ended on June 13 after a deep sell-off in the market forced copper cryptocurrency leading to below the $29,000 support. The move came as the stock market also sold off sharply, hitting a year low.
Data from TradingView shows sell-off Bitcoin started late on 12/6 and escalated at midday yesterday, when BTC hit a low below $21,000.
Chart BTC/USDT 1 day. Source: TradingView
Gold, US stocks were sold off together
The world gold price yesterday lost more than 50 USD an ounce, while the S&P 500 index fell nearly 4%.
Closing the trading session on April 13, each ounce of world gold for immediate delivery fell by nearly 54 USD, to 1,818 USD, the lowest in more than a month. The reason is that the dollar price skyrocketed due to investors' concerns about the global economic slowdown, and the expectation that the US Federal Reserve (Fed) will raise interest rates strongly. These things make gold less attractive.
"There is no shelter trading at all. Gold is being sold off. The market is having a huge correction. When volatility gets to this high, you don't see a safe place," said Phillip Streible, chief market strategist at Blue Line. Futures explain.
US inflation data at the end of last week led investors to forecast that from now until September, the Fed will raise a total of 1,75% interest rates. In which, this week's increase will be 0.75%.
After the inflation data, the world gold price fell sharply to 1,824 USD, then increased sharply when investors were concerned about the global economy. The volatility continued into this week, showing a tug-of-war from factors affecting gold.
On the market US stocks, the S&P 500 index fell 3,88% to 3,749 points – the lowest since March 2021. The index has also fallen into a bear market, having lost a total of 21% since its January peak.
DJIA yesterday fell 2,79% to 30,516 points. Nasdaq Composite lost 4,68% to 10,809 points.
Stock investors also fear a recession ahead of this week's Fed meeting. Shares of Boeing, Salesforce and American Express fell 8.7%, 6.9% and 5.2%, respectively, dragging down the DJIA. Tech groups like Netflix, Tesla and Nvidia also lost more than 7%, sending Nasdaq to a new 52-week high and lowest since November 2020.
Travel stocks even fell by double digits. Carvival Corporation and Norwegian Cruise Line lost 10% and 12%. Delta Air Lines drops more than 8%. United Airlines lost 10%.
All major sectors in the S&P 500 fell yesterday, led by the energy group, which fell more than 5%. Non-essential consumer goods, communication services, information technology and electricity - water - gas decreased by more than 4%.
"Yesterday's performance showed that many investors are taking profits or reorganizing their portfolios," said Jeff Kilburg, chief investment officer at Sanctuary Wealth.
Bitcoin is at risk of slipping below $10,000
Previous bear market capitulations have seen solid support at the 200-week moving average of Bitcoin, as shown in the chart below by analyst "Rekt Capital".
The source: Twitter
Based on the trend from the previous two cycles, Rekt Capital suggests that maybe BTC could see a "macro double bottom at the 200-week moving average" in the future if price action plays out in a similar fashion.
Details on Bitcoin's next destination if it continues to break below established support levels were provided by analyst "Whalemap" who posted the following chart highlighting established support levels. previous setup that could now turn into resistance.
"Bitcoin has broken through key actual price support levels, where they are likely to become new resistance levels. $ 13,331 is the ultimate painful bottom."
Source: Twitter
According to Francis Hunt, a market analyst also known as "The Market Sniper," the Bitcoin price could drop to as low as $8,000 before hitting a real bottom.
Source: Twitter
Most of the top 100 is still in the red and has not found the impetus to reverse with the current double-digit loss. However, in the midst of the bad situation, there are still a few typical names that successfully weather the storm, typically FTM is raising 7% and KDA makes a profit of 6% and a few altcoin Others note blue as the table below.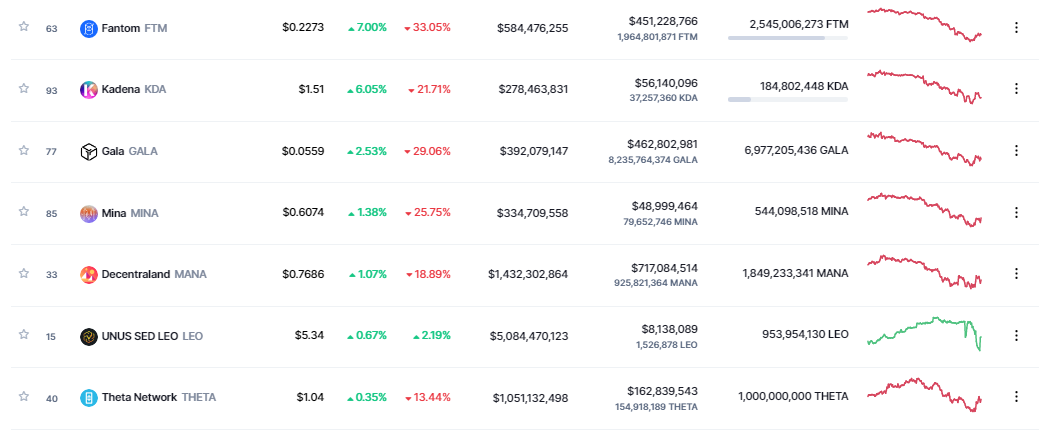 Source: Coinmarketcap
Join our channel to get the latest investment signals!