Although there has been a lot of discussion regarding proof of stock, self-custody and over $5 billion BTC, ETH left exchanges between 7/11 and 14/11/2022, but no Bitcoin of the Binance significantly increased since 11/12.
In fact, the figures from Cryptoquant indicate reserves BTC of the Binance reached an all-time high on November 19, 2022. Specifically, the platform holds about 582,054 BTC, or $9.41 billion at press time.
Binance Holds Nearly 600,000 Bitcoins
Centralized exchange (CEX) Binance is an exchange cryptocurrency is the largest by trading volume and the platform holds quite a bit of digital assets. There has been a lot of discussion lately regarding proof of reserve and exchanges have shared wallet addresses to prove they hold specific assets.
After the fall of FTX, CEO Changpeng Zhao (CZ) of Binance declare to the public that "Binance will soon start implementing proof of reserve." The exchange has since made available hot and cold wallet addresses linked to Binance, and the company has promised to add a "proof-of-reserve Merkle tree" with plans to share it with the "community over the next few weeks." .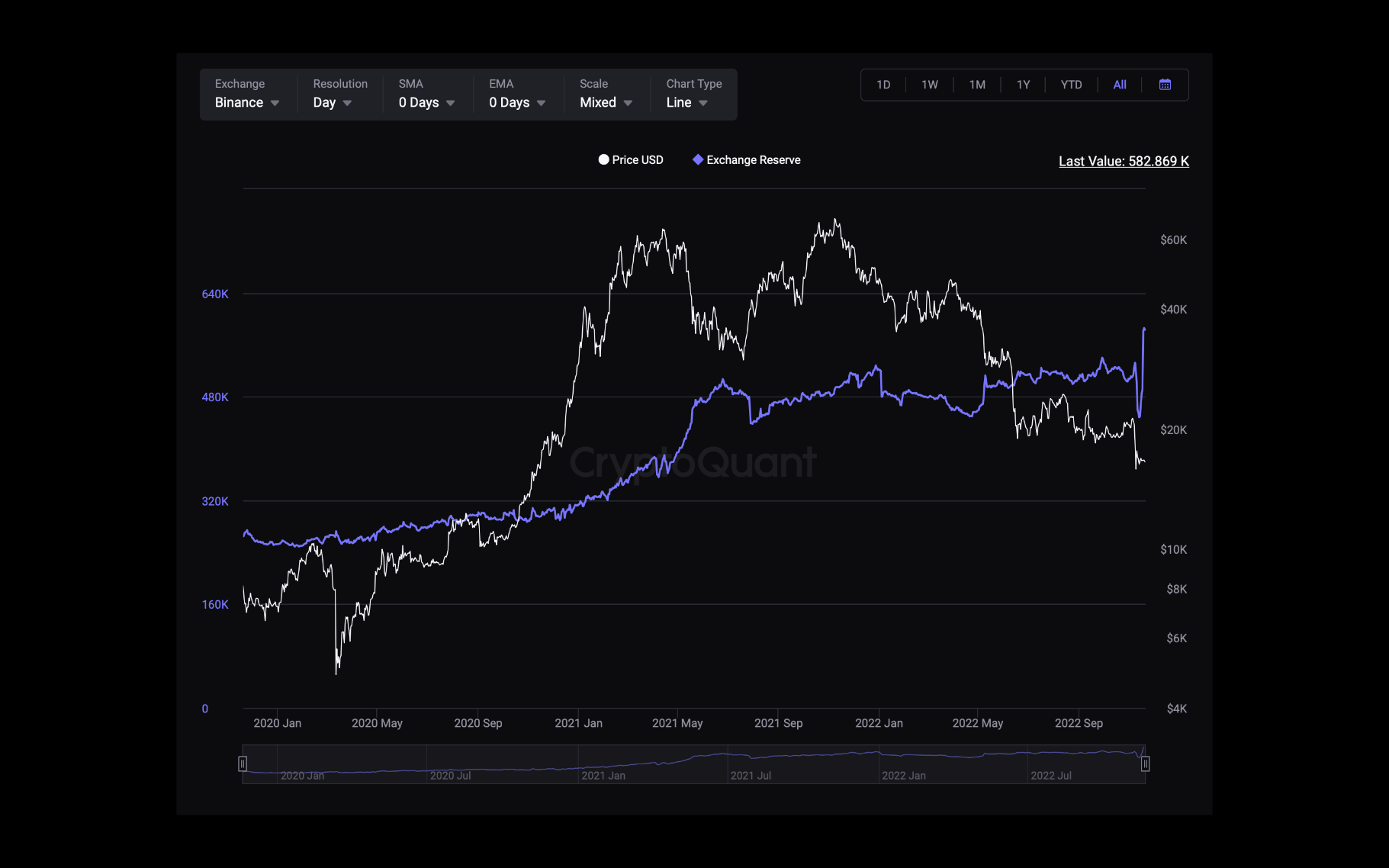 Reserve BTC by Binance on 19/11/2022 | Source:cryptoquant
Analytics firm Nansen has also published a dashboard covering Deribit's digital currency reserves, Crypto.com, Okx, Kucoin and Binance. Snapshot from archive.org shows that the reserve status of Binance on 11/11/2022 is $26.71 billion. On 9 days later, Nansen's Binance reserves dashboard said the company is now holding cryptocurrency worth 65.69 billion dollars.

Reserve BTC by Binance on the 20th/11/2022 | Source:oingglass
According to reports, more than $5 billion in BTC and ETH was withdrawn from exchanges from November 7 to November 14, 2022. According to statistics from Cryptoquant, Binance held about 526,128 BTC on November 6, 2022, and on November 12, Binance's BTC reserve was only 447,964, a decrease of 78,164 BTC after 6 days. On November 18, the analyzers blockchain and more specifically BTCparser3 noted that Binance is transferring a lot of BTC from cold wallets and hot wallets.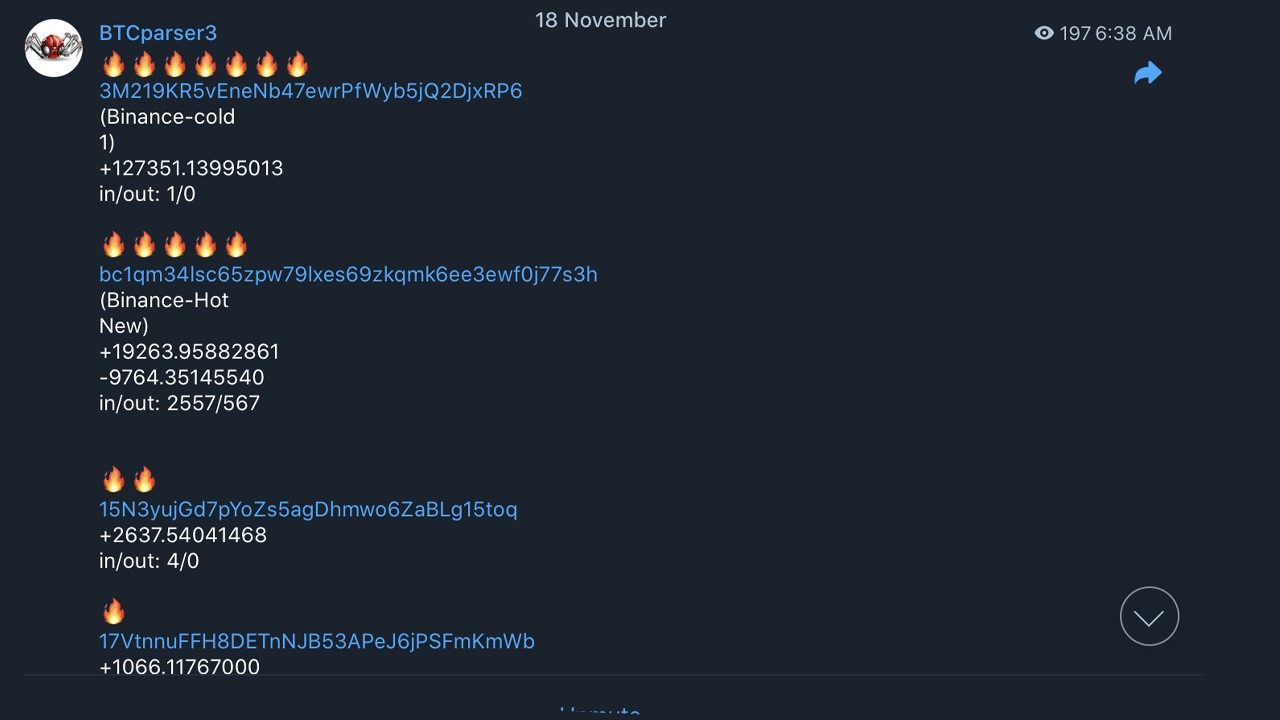 Source: BTCparser3
After that, Binance's BTC reserves hit an all-time high, at least according to Cryptoquant statistics. On November 19, 2022, as many as 582,511 BTC were stored on Binance. If Cryptoquant data is correct, Binance holds 2.77% out of a total supply of 21 million coins.
Balance data Bitcoin on the exchange from Coinglass represents Binance holding 572,332.34 on 11/20/2022. Additionally, 127.224.9 BTC has been added to Binance's Bitcoin cache in the past 7 days.
Both Binance exchange balance statistics from Cryptoquant and Coinglass show that the exchange currently holds more BTC Coinbase. According to Cryptoquant data, Coinbase Pro there are 533,946 BTC on 11/19/2022. Coinglass.com data records Coinbase Pro holds 529,544.83 BTC on 11/20/2022.
Join our channel to get the latest investment signals!