Bitcoin (BTC) experienced one of its most devastating slumps ever in 2022, with prices plummeting below $ 20,000 in June after peaking at $ 68,000 in 2021.
Here are 5 areas of the blockchain ecosystem that could offer some of the best opportunities for low price accumulation during a bear market.
Layer-1 protocol
Protocols Layer-1 (L1) like Bitcoin (BTC) and Ethereum (ETH) form the foundation to build most of the ecosystem cryptocurrency and most other sectors of the market.
That means, currently, there are not many options available to launch other protocols on the network Bitcoin. While, Ethereum there are scalability limitations, causing high transaction costs and slow processing times.
Due to these factors, other L1 protocols still have the opportunity to establish and create market share in the space. The total revenue generated by the protocol is an indicator that helps determine which networks are used the most.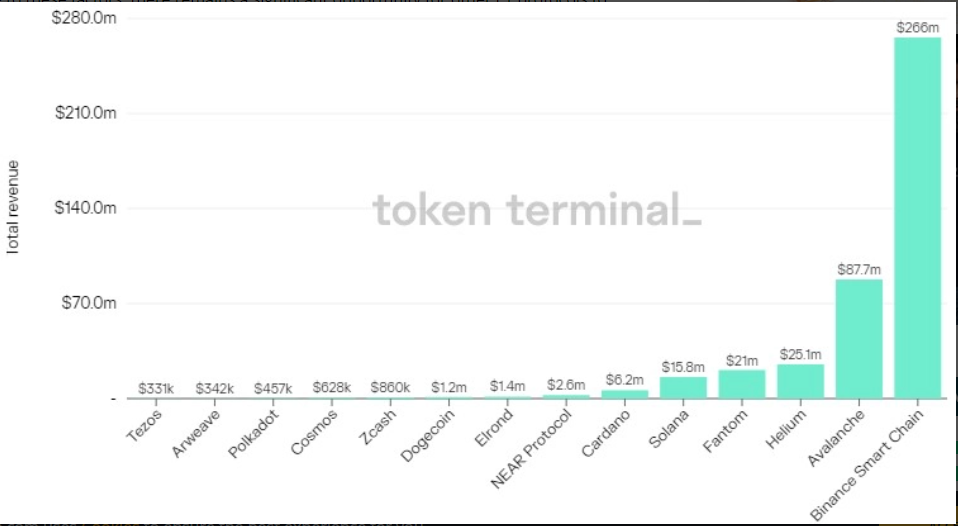 Total cumulative revenue for top L1 chains over the past 180 days | Source: Token Terminal
Follow data from Token Terminal, top 5 L1 protocols in terms of total revenue over the last 180 days, excluding Bitcoin and Ethereum, to be BNB Chain (BNB), Avalanche (AVAX), Helium (HNT), Fantom (FTM) and Solana (SOL).
Layer-2 protocol
As mentioned above, Ethereum has scalability limitations, which will not be addressed until The Merge is implemented. This creates opportunities for protocols Layer-2 while helping to offload operations that happen directly on the Ethereum blockchain.
According to L2Beat, specializing in follow stats of top Ethereum L2s, Arbitrum is the project with the total value of locked assets (TVL) is the highest, followed by Optimism and dYdX.
Top 8 L2 Networks by Total Locked Assets | Source: L2Beat
Follow data from DefiLlama, Polygon (MATIC) is one of the highest accepted L2, with TVL touched $ 1.59 billion, but it was not on L2Beat's statistics list.
As for the Bitcoin network, Lightning Network's L2 solution is currently seeing massive inflows, but it has no tokens associated with the protocol. Instead, users can choose to operate a node if they want to support the network as well as earn passive income.
Social networking platform
Social networking platforms on the market cryptocurrency, similar to Twitter, Facebook or Reddit, has not really received much attention lately, but it represents a good opportunity to help increase adoption.
The leaders in this area include Steem and its community-dependent arm Hive, but so far, neither protocol has really achieved widespread adoption.
While no other protocol is currently capable of attracting large numbers of long-term users, ongoing events in the real world, such as the Elon Musk acquisition of Twitter, show that the social network still need a publicly accessible community-focused platform.
Gaming
The gaming sector of the crypto ecosystem is one of the most flexible spaces in terms of user retention during the current winter.
The emergence of games with play-to-earn mechanics like Axie Infinity (AXS) helped the blockchain-based gaming sector "shine" in the 2021 growth cycle, leading to a host of other protocols such as move-to-earn and learn-to-earn.
Data from DappRadar shows some of the top games in terms of active users include Alien Worlds, Splinterlands and Agricultural World, all of which operate on the WAX network, while Axie Infinity is the top game in terms of assets held in its smart contract.

6 game có số lượng người dùng hoạt động hàng đầu | Nguồn: Dapp Radar
There are also a bunch of other games in development that are still attracting a lot of attention, including Illuvium and Aavegotchi, as well as tokens representing the gaming ecosystem such as Enjin Coin (ENJ), Gala (GALA) và Ultra (UOS).
Metaverse and NFT launchpad
The last area worth watching for investors is Metaverse, due to its appeal to the mainstream market, includes efforts underway to integrate this space into everyday life.
Metaverse is a virtual reality representation of all data and interactions happening on the internet, built on top of blockchain technology.
Although the concept of Metaverse is still in its infancy, it is a popular topic of conversation in the crypto space and has attracted invest from some famous brands as well as leading technology companies in the world including: Microsoft, Meta, Tencent, Nike, Alibaba, Accenture, Adidas, JP. Morgan, NVIDIA, Roblox…
In addition to Metaverse, platforms dedicated to creating and launching NFT, also known as NFT launchpad, also deserves attention because the NFT field has been gradually gaining popularity with the public.
Some of the most popular and developed Metaverse and NFT platforms currently in operation include Decentraland (MANA), ApeCoin (APE) và The Sandbox (SAND), recently partnered with Playboy to launch the MetaMansion game on the platform.
Join our channel to get the latest investment signals!