Market cryptocurrency settled into July without a final surrender event as many had predicted. There is a large sum of money in the stablecoins waiting to re-enter the market when the time is right.
Three of the top 10 assets cryptocurrency by market capitalization is stablecoins. Their combined value at press time is $138 billion, according to CoinGecko.
USDT of the Tether is the third largest cryptocurrency with $66 billion, USDC of the Circle ranked fourth with 54.4 billion USD and BUSD of Binance ranked seventh with 17.8 billion USD.
On July 31, CEO Changpeng Zhao of Binance already only It turns out that a lot of money is lying on the sidelines and waiting to return to the market.
"If people want to get out of crypto, most won't keep it stablecoins".
Cash on the sidelines
Those who need to get out of crypto will convert to fiat and withdraw from exchanges. This mostly happened in mid-June, when more than $400 billion exited the market in a single week.
Since then, the crypto market has generally traded range with recent gains pushing total capitalization to $1.17 trillion, up 33% from the $875 billion cyclical low.
The funds are in the top three stablecoins that account for 12% of the total crypto market capitalization. It remains at a historic high despite a drop over the past month with supply Tether contraction and small recovery.
"Stablecoin dominance (stablecoin cap vs total market cap) is 13%. Cryptocurrency for the first time reached the limit of 1 trillion USD, the rate is 3%".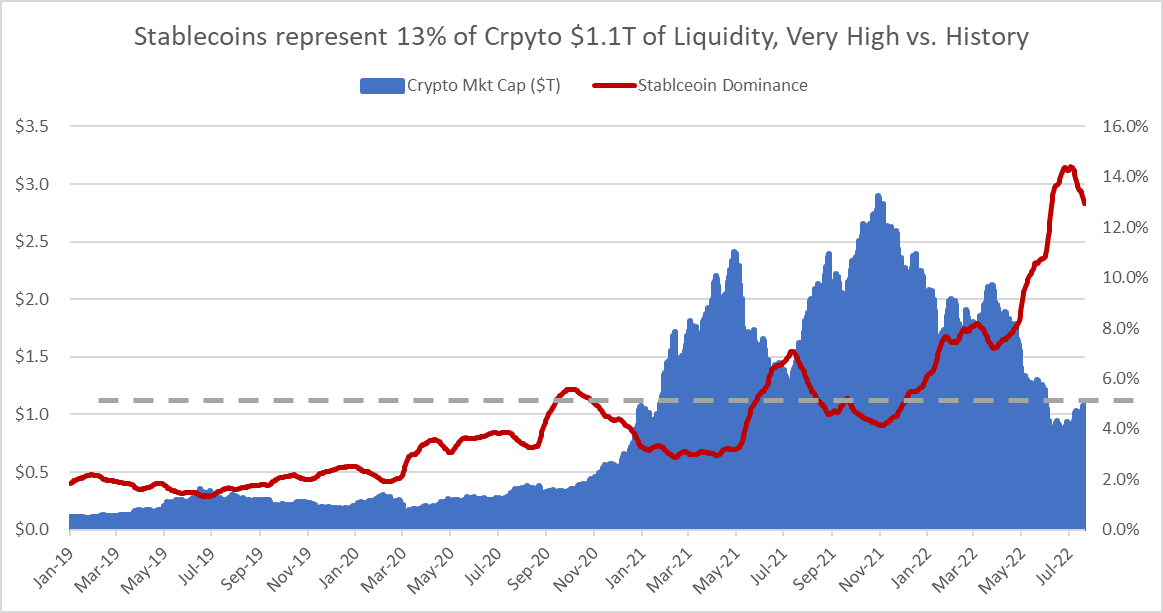 An important topic is inflation. As much of the world is suffering from a cost of living crisis, retail traders don't have enough money to invest in high-risk assets like cryptocurrencies. As a result, the cryptocurrency market is unlikely to turn bullish until inflation drops significantly.
High inflation is another reason to keep stablecoins in countries that are using USD as a hedge against their local currencies. In several Latin American countries with double-digit inflation, the demand for stablecoins is growing.
Cryptocurrency market cools down
After a consolidating weekend, total market capitalization saw a slight decline in the Asian session. The market is down 1.2% to $1.071 trillion at press time.
Bitcoin (BTC) dropped 1.8% on the day to trade at $23,006 while Ethereum (ETH) dropped 5% to $1,608. Almost altcoin are all in the red today with a few having double-digit drops.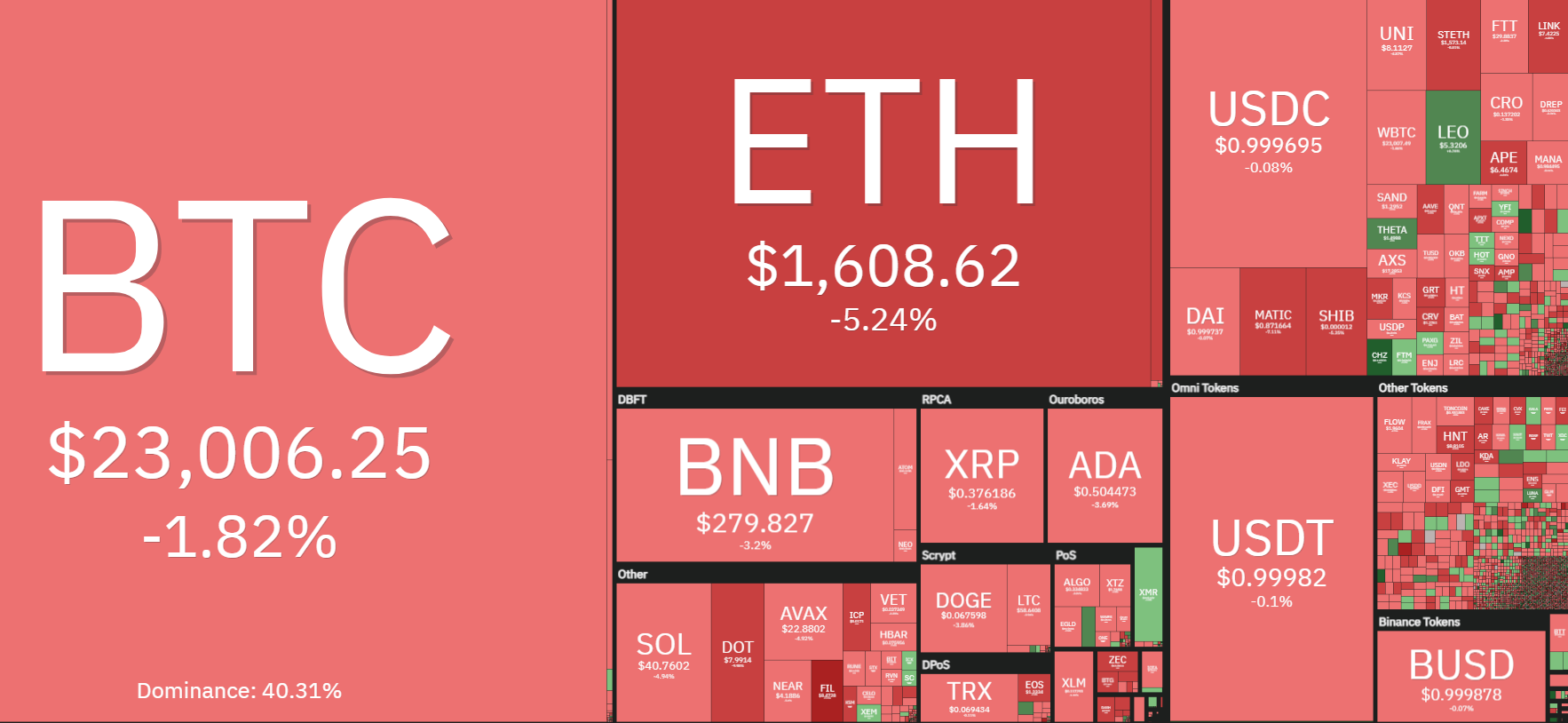 Join our channel to get the latest investment signals!